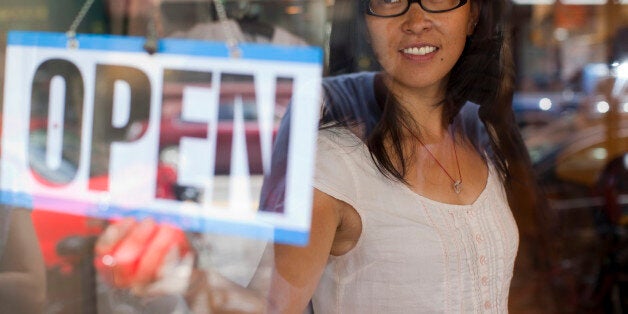 Federal law has banned pay discrimination since 1963. But more than 50 years later, many in the American workplace -- because of their sex, race or ethnicity -- don't get equal pay for equal work. Unlawful pay discrimination shortchanges workers by thousands of dollars a year, affecting people's ability to support their families today and accumulate retirement savings and Social Security benefits for tomorrow.
Today, 57 percent of women work outside the home, but the typical woman working full-time full-year still makes 21 percent less than the typical man working full-time full-year. And the pay gap is significantly greater for women of color: the typical black non-Hispanic woman made only 60 percent of a typical white non-Hispanic man's earnings, while the typical Hispanic woman earned only 55 percent.
That is why today, as the nation commemorates the seventh anniversary of the Lilly Ledbetter Fair Pay Act, the Equal Employment Opportunity Commission is taking another important step toward combating pay discrimination. The EEOC is proposing to revise the Employer Information Report (EEO-1) to require employers with 100 or more workers to report pay data, and is seeking public comment on its approach.
For decades, the EEOC has collected annual workforce demographic data by race, ethnicity, sex and job category from certain private employers, including federal contractors. Now, for the first time, it would also collect certain pay data to help the EEOC and the Department of Labor identify potential pay discrimination and support employers' voluntary compliance with federal law. The new pay data would provide the EEOC and the Department of Labor with insight into pay disparities within industries and occupations. The agencies would use the pay data to encourage compliance with equal pay laws, assess discrimination complaints, better focus agency resources where there may be disparities, and reduce burdens on other employers.
This new pay data will allow the EEOC to compile and publish aggregated figures that will help employers in conducting their own analysis of their pay practices to assist in their compliance efforts. The Labor Department's Office of Federal Compliance Contract Programs, using other data sources, will also make pay data available to the public. These data will also provide job seekers and workers with information on the aggregate pay for job groups across industries, and by gender, race and ethnicity.
To increase efficiency and minimize the burden on employers, the EEOC and the Department of Labor have chosen to collaborate on the collection of compensation data rather than undertake separate collections. Both agencies recognize the need to streamline data collection and avoid duplicative reporting requirements.
Employers, including federal contractors, have submitted similar reports for many years, and this new pay data collection will build on established practices. Employers and contractors with 100 or more employees would supplement their existing reports with basic pay range information and hours worked data starting in September 2017. To protect worker privacy, employers will not be required to submit individual-level pay data; employers would report the number of employees within set pay bands.
The Obama administration has, from early on, placed a premium on combating pay discrimination. "We're going to crack down on violations of equal pay laws so that women get equal pay for an equal day's work," announced President Obama in his State of the Union address on Jan. 27, 2010. He made good on that promise the following month by unveiling his National Equal Pay Task Force. The task force brought together the EEOC, Department of Labor, Department of Justice and Office of Personnel Management to address pay discrimination and has issued reports on its progress, including Fighting for Equal Pay in the Workforce, Keeping America's Women Moving Forward and Fifty Years After the Equal Pay Act.
In addition to these efforts, the president signed a presidential memorandum in May 2013 directing the Office of Personnel Management to develop a government-wide strategy to address the gender pay gap in the federal workforce, leading to a report in April 2014 and new guidance in July 2015 (which cautioned against required reliance on a candidate's existing salary to set pay, which can potentially adversely affect women who may have taken time off from their careers).
The president also issued an executive order in April 2014 prohibiting federal contractors from discriminating against employees who choose to discuss their pay compensation. And today's proposal to collect compensation data is another step toward making equal pay a reality.
The collection of robust, reliable pay data is an important step toward reducing discrimination and finally closing unfair pay gaps. Close collaboration between the EEOC and the Department of Labor, combined with the agencies' significant enforcement experience, will lead to better information for workers, job seekers and employers; improved compliance with equal pay laws; and, ultimately, greater pay equality across the workforce.