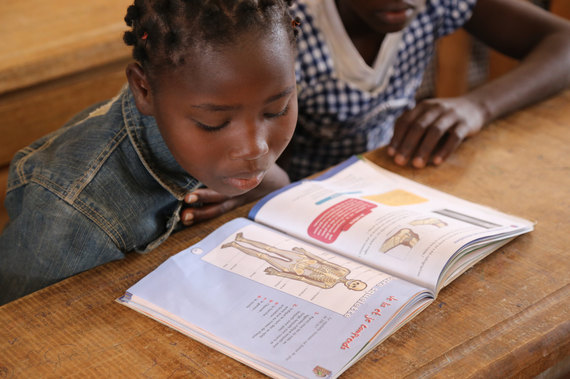 Fourth grade student studying biology at a newly built community school in Côte d'Ivoire. Credit: GPE/Carine Durand
In parts of South America, the Zika virus is challenging public health systems and generating a new wave of uncertainty for us all. And yet it feels like just moments ago that we were in the grips of the Ebola epidemic, which caused such a huge disruption and tragic loss of life.
On a recent trip to Africa, I was reminded that within this global context of new health challenges remains a much too familiar threat: that of HIV.
HIV has been with us for far too long. It was almost thirty years ago that it was swept into widespread public consciousness in Australia with the airing of the Grim Reaper campaign. Whilst much has changed since then - rates of HIV infections globally are down by 28 percent, compared with year 2000 levels - far too many people are being left behind and losing out.
On this International Women's Day, I think it's time to reflect on the particular threat that HIV presents to women.
HIV remains the biggest killer of women of reproductive age. More than one-third of new HIV infections globally occur among young women in sub-Saharan Africa, a group accounting for 68 percent of young people between the ages of 15-24 years living with HIV. This translates into more than 2,000 new HIV infections per week among young women in South Africa alone.
These are shocking statistics, but there is hope. There is compelling evidence that better education outcomes lead to improved health outcomes for young women and girls, especially when it comes to HIV.
A study conducted in Botswana last year showed that for every additional year of schooling there was an eight percent reduction in the risk of HIV infection, particularly for young women. Being in school and learning reduces a variety of health risks for girls, including early sexual debut, exposure to sexually transmitted diseases, pregnancy and gender-based violence. We know that for the 63 million girls of primary and lower-secondary age out of school, it is even worse: they are three times more likely to contract HIV than girls in school.
If we invest in girls' schooling, health benefits will follow. A better-educated girl is less likely to get HIV and more likely to be able to make her own choices about when she marries and how many children she'll have. And it not only makes a difference for her, it makes a difference for generations to come. Her children are more likely to survive infanthood, more likely to be vaccinated and more likely to go to school themselves.
Given the virtuous cycle between a young woman's health and access to quality education, we must ask ourselves - what can we do to make a difference? Building stronger, equitable and more efficient education systems is key to improving learning outcomes - which is at the core of the work of the Global Partnership for Education.
Education empowers girls to make healthy decisions, boosting their self-esteem and building the knowledge and skills they need to negotiate safer relationships. We must continue to place a high premium on access to and the quality of education; because this is the best tool we have for keeping our girls healthy, and keeping the scourge of infections like HIV far away.
Related
Popular in the Community