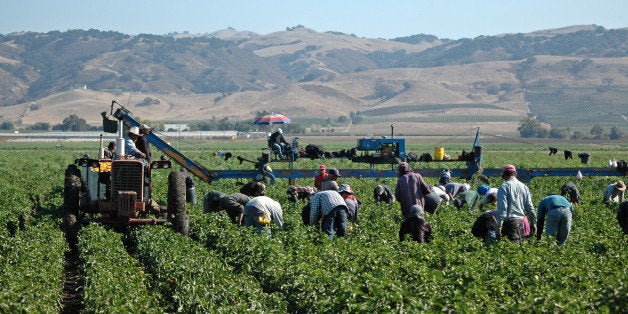 Timelier, more effective, and more consistent inspections of farm and other outdoor worksites under California's recently improved heat-illness-prevention regulations will follow the settlement of two lawsuits between the Jerry Brown administration's work-safety agency and farmworkers partnering with the United Farm Workers (UFW). Announcing changes in how Cal-OSHA protects workers on June 11 in Fresno, California, were family members of workers who had died from heat exposure who are plaintiffs in Bautista v. State of California, plus the UFW, the UFW Foundation and attorneys from Public Counsel and the law firm Munger, Tolles & Olson LLP, which provided legal representation in the lawsuits.
In 2005 the UFW helped convince then-Gov. Arnold Schwarzenegger to issue the first standards in the nation protecting farmworkers and other outdoor workers from dying or becoming ill during times of extreme temperatures, following a spate of farmworker heat deaths in California. However, despite the ease of prevention if the regulations are observed, farmworker heat deaths continued after 2005, including six fatalities in 2008 alone.
Just one example was the needless death of Maria Isavel Vasquez Jimenez, a 17-year-old immigrant from Oaxaca, Mexico, who died after collapsing in a vineyard near Stockton in 2008. If the farm labor contractor who employed Maria Isavel had not committed multiple violations of the heat standards -- including lack of accessible water and a long delay in obtaining medical care -- she might have lived. The contractor had been previously cited for similar violations, but the fine was never collected.
While state officials under Gov. Brown stepped up enforcement, they also recognized that a significant number of agricultural employers violate the standards while a small number of Cal-OSHA inspectors must cover more than 1 million workplaces in the state. So relatives of farmworkers who had died from the heat and the UFW filed two lawsuits, in 2009 and 2012, aimed at improving enforcement. Settlement of the lawsuits produced changes to better protect farmworkers and fulfill the parties' mutual objective of providing safer agricultural workplaces in California.
Changes to Cal-OSHA policies and procedures will provide timelier, more effective, and more consistent inspections of farm and other outdoor worksites to ensure compliance with the recently improved heat-illness-prevention regulations. Cal-OSHA will more quickly turn around inspections and more effectively take action against serious, willful, and repeat offenders. During periods of high heat that pose the greatest risk to workers, all state inspectors will focus on outdoor workplaces, including agriculture.
Procedures will be established so that the UFW and the UFW Foundation can more easily report and refer potential violations of the heat regulations to Cal-OSHA, with clear guidelines on how the agency will respond. Agreed-upon procedures for cooperation will better seek out violators and improve conditions. To help overcome budgetary constraints and a lack of state inspectors, the UFW and UFW Foundation will assist investigations by passing along complaints to Cal-OSHA, which will then respond to such complaints in a uniform and serious manner.
Confidential internal audits of Cal-OSHA's enforcement of heat standards will aim to, among many other things, determine whether there are timely investigations of complaints, whether the agency is checking if violating employers were previously cited in order to focus on repeat offenders, and whether Cal-OSHA is reaching out to complainants in a language they can understand. Plaintiffs in the lawsuits and their lawyers will review the audits to ensure that workers are being adequately protected.
It is important to be able to track, report, and publicly share information about penalties assessed against agricultural employers for heat-standard violations. Cal-OSHA is investigating ways to establish such a database to determine, for example, how much each employer owes in fines, the amount by which penalties have been negotiated down, and how much is still left to be paid.
A pilot project seeks to improve heat-illness-prevention enforcement by taking declarations from workers in the field during heat inspections. When employers appear at proceedings to fight complaints of heat-standard violations long after they have occurred, too often the complainants, who are frequently migrant or seasonal workers, are no longer available because they have left the company or the area. Cal-OSHA will attempt to collect and use in appeal hearings on-the-spot sworn declarations taken from workers by inspectors in the field.
Farm labor -- feeding America and much of the world -- is honorable and important work. Farmworkers shouldn't risk death or illness from extreme heat when reasonable measures can easily prevent such tragedies. Enforcement of these protections will improve through joint efforts by the state of California and the UFW as a result of the settlement of this lawsuit.
Calling all HuffPost superfans!
Sign up for membership to become a founding member and help shape HuffPost's next chapter