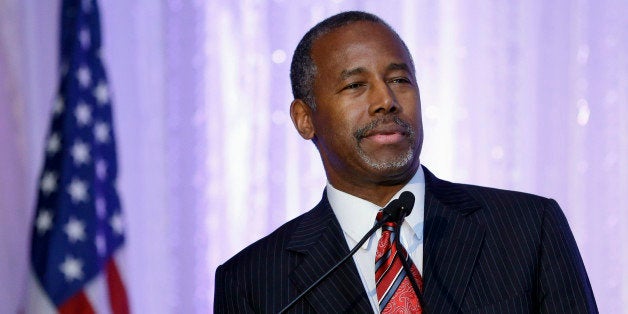 Dr. Ben Carson has been accused of fabricating parts of his biography -- which he has told in some form or another over the years in books, interviews, or a TV movie long before he was a presidential candidate -- which are now coming under media scrutiny. CNN and the Wall Street Journal were unable to verify claims he made by speaking on the record to several people who knew him in high school and college. [Full disclosure: Scott Glover, one of the authors of the CNN report, was my investigative journalism professor in graduate school. I was also formerly employed at CNN.] Politico published an explosive report casting doubt on Carson's claim to having been offered a full scholarship to the U.S. Military Academy, by proving that he had never even applied to the program nor received a scholarship.
Because Dr. Carson has never held elected office, he has no public record which he can be judged on by voters. Therefore, his life story is a big selling part of his appeal as a candidate. A recent Fox News poll found 60 percent of respondents considered him to be honest and trustworthy. Because of this, any findings by the media which disprove or cast doubts on any part of his biography can and should be considered an existential threat to his candidacy.
Having spent three years doing interviews and research for my book, I can tell you first hand that it is not uncommon to get contradictory or differing accounts of historical events. I wrote, "Filmmaker James Cameron described history as 'a kind of consensus hallucination.' Human memory is a curious thing when revisiting the past, especially with the passage of time, the ending of relationships, or the use of mind-altering substances." The problem in Carson's case, at least in the CNN and Wall Street Journal stories, is they can't find a single source who can corroborate Carson's version of events.
On the other hand, I also studied fabricators in graduate school -- particularly Janet Cooke, Stephen Glass and Jayson Blair. There were different personal and institutional failings in each case. The common element was having an allegory or element that was so perfect in many of their fabricated stories, it was too good to be true.
While some of Dr. Carson's claims may meet the "too good to be true" standard, that alone is not enough to accuse him of fabrication. His campaign's admission that he altered some of the names of people mentioned in his books did not help either. Reporters may have spent hours, if not days or weeks, on a wild goose chase looking for a person with the wrong name. Now, reporters assigned to verify Carson's biography are stuck in the frustrating position of having to prove a negative -- that something didn't happen -- with little or no hard evidence to the contrary to support that assertion.
Public figures have been shown to embellish, exaggerate, or fabricate stories: Sen. Richard Blumenthal, presidential candidate Hillary Clinton, sitting president Ronald Reagan, and former NBC Nightly News anchor Brian Williams have said things that were proven demonstrably false by historical evidence. Unless similarly solid historical evidence emerges in the form of records or on the record eyewitness accounts, it will be very difficult, if not impossible, for anybody to credibly challenge the veracity of Dr. Carson's biography.
Popular in the Community