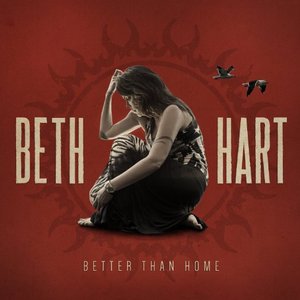 A Conversation with Beth Hart

Mike Ragogna: Beth, your new album is titled Better Than Home. So what's better than home?

Beth Hart: "Better Than Home," the song, is about getting out of your hiding place and having the courage to live as loud as possible. It is about feeling the life that has been given and has been waiting for you all along.

MR: "Might As Well Smile" makes a very good point about trying to stay optimistic through personal challenges, headlines and hypocrisy. To me, those are some excellent, tight lyrics. So how did you come up with this one?

BH: I was going through depression and struggling with powerful cravings to drink. I got so fed up with it that I decided to write something positive to help me realize that all I really have to do is fake it till I make it. I realized that I needed to smile anyway, and find all the wonder in life that's certainly worth some gratitude. And it really worked. I started to come up out of it. I really love that song.

MR: What are a couple more of your favorite songs on the album and what are the stories behind their creations?

BH: "St. Teresa" is one of my favorites. It reminds me of the importance of grace. One of the many wonderful things she said was that the definition of having grace was to give love and help someone who you think does not deserve it. This, to me, is unconditional love--going beyond our judgment and cherishing anyway. The song was inspired by the film Dead Man Walking. It's so brilliant. It carries such weight.
I also love "As Long As I Have a Song." It's my first time opening up about my absolute love for writing. I talk about how when writer's block happens it's not just frustrating, it's terrifying to think that maybe the thing that helps me to heal and pray has possibly been taking away. This song reminds me to always, always, always value the gift of writing and to be so thankful for it.

MR: What was the recording process this time around and which lucky musical pals came to the party?

BH: We recorded in New York City, then mixed in Los Angeles. Ed Cherney mixed, Rob Mathes and Micheal Stevens produced, piano was Rob Mathes and myself, guitars were Rob and Larry Campbell, bass was Zev Katz, and drums were Charlie Drayton. We spent seven days in the studio and it was real cool. I was surrounded by great people...and how can ya not love New York?

MR: Speaking of pals, you recently did a project with Joe Bonamassa who adores you in my interviews with him. But the adoration doesn't stop there. What's going on with all this Beth Hart luv?

BH: Well, I hope he loves me because I love and adore all the musicians in his camp and the producer, Kevin Shirley. We've made two records now and a live DVD together...but it's not that kind of love. I have a husband who's the sexiest man that's ever lived!! And I adore my Scotty more than anything and anyone, forever!!!

MR: Nice. How would you define your music these days?

BH: I call it Americana--rock, blues, soul, story-teller, gospel, and sometimes a sprinkle of jazz--all the stuff Americans invented. The best.

MR: I've interviewed you like thirty times now, if by thirty, I mean twice. We've basically talk about your latest project, which, of course, we're doing again here. But let me ask you about your roots this time. Which artists were you listening to growing up and what songs really got to you?

BH: I listened to a ton of different genres. From classical--Beethoven, to jazz--Dinah Washington, Billie Holiday, Thelonious Monk, Anita O'Day, to reggae--Steele Pulse, Bob Marley, Peter Tosh, to soul--Aretha Franklin, Otis Redding, James Brown, Etta James, to blues--Howlin Wolff, Big Joe Turner, Robert Johnson, etc), to hard rock--Led Zeppelin, ACDC, Rush, Black Sabbath, Sound Garden, Alice In Chains, Tool, Les Claypool in Primus, to punk--Ramones, Black Flag Pattie Smith, to story tellers--Carol King, James Taylor, Ricky Lee Jones, Eagles, Tom Waits, etc.--and this long ass list could go on and on and f**kin' on!
You know, sometimes the songs that really affected me were not from the artist catalogue of their music, like the song "Thunder Road" by Bruce Springsteen. I never got into any of his other music, but that song to this day is in my top three lyrical masterpieces of all time. It so beautifully describes longing. It's clever, but never reaching. It's full of promise, but never a bullshit fairy tale. It's the shit that writers should study on how to craft a great lyric. Also, The Stones song "You Can't Always Get What You Want" is perfect and so f**king true, but never preachy. There is a humility to knowing. I love it. The song "Summertime" is, to me, a musical feat. Just the music alone does it for me--soaring melodies, both gentle and powerful, like classical music, then a total blues style lyric over it. So fantastic. And last but not least, "Strange Fruit" by the great Billie Holiday and Nina Simone--genius!. This song musically is so gorgeous and DARK DARK DARK, which is so totally appropriate for the darkest of lyrics covering, in such a poetic way, the true depths of slavery, cruelty, and depravity. It's brave, it's honest, and it will never let us forget. It's art.

MR: What are the stories behind the transitions from music fan to performing musician to recording artist?

BH: The transition from fan, to performer, to recording artist for me was like learning how to dive...and each board got higher and higher. I wanted so much to do it, but I was afraid I'd be hurt. Now I'm used to being hurt and I know it is part of it, and that's okay, because it also brings such love and joy. It's totally worth it every time.

MR: What advice do you have for new artists?

BH: The best advice I can give is to do it because you have to, and try to never rate yourself or your work based on others' reactions. This is very important. It's a gift to enjoy, not to get more and more. If more comes than that's awesome, but if more never comes don't ever let that determine your worth. Have faith in everything and everyone, including yourself.

MR: Though there seems to be a healthier environment these days with new or emerging artists taking control of their own careers as opposed for depending on major labels to propel them. Yet it's virtually impossible to have a huge career without those labels' support and coordination and contacts. If you were starting now, how would Beth Hart approach getting her music discovered?

BH: Oh I have no idea. I suppose I'd do what I did before, and that's write and perform anywhere and everywhere constantly.

MR: How have your creativity and career evolved within a turbulent music scene's sea changes?

BH: I honestly don't focus on that, that's what I have a manager and a label for. I have enough to jumble with taking care of myself and being creative. I also believe that God has me right where I'm supposed to be, always.

MR: So what surprises do you have waiting for the Beth Hart fans and newcomers?

BH: No surprises. I have a humble outfit, but we still give as much love and energy we possibly can each night. We play songs from all the records, so I always hope to make the audience feel very happy that they came.

MR: At this moment, are you where you want to be in your life?

BH: I really am enjoying and feeling so so grateful each day lately. This is a calm and peaceful time.
******************************
BUFFALO RODEO'S "BLUE SKY" EXCLUSIVE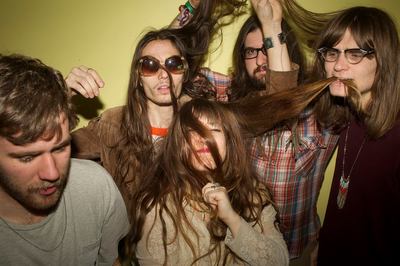 photo credit: Adam Wolffbrandt (www.http://www.adamwolffbrandt.com)
According to Buffalo Rodeo's Zach Preston...
"Blue Sky" is the first single off Buffalo Rodeo's upcoming EP, 123 Water, out March 6th. The band recorded this EP in a warehouse-turned-recording studio space in Horse Cave, KY, where we ostracized ourselves in a small town in the middle-of-nowhere. From those warehouse sessions came the songs that make up 123 Water. "Blue Sky" for me is a song about personal and spiritual realizations that I've observed growing up in a conservative religious household. Many times it felt like too much emphasis was put on what happens after I die, when most of us aren't in control or completely aware of what's happening in reality. It's ultimately about living for what's in front of you, until you can grasp the rest. Personally I think the rest is important just not as worthwhile as simple ethical lessons of respect, decency, or appreciation for what we already have.
******************************
A Conversation with The Stone Foxes' Spence Koehler & Shannon Koehler
Mike Ragogna: Spence, looks like you've got some "Locomotion" behind your Foxes First Fridays. See the lame thing I did there?
Spence Koehler: Ha! I'll take it! It's definitely been a fun new way of rolling out new songs, giving fans something fresh to look forward to at the beginning of each month. We're happy to see that they're into it too.
Shannon Koehler: More dad jokes please!
MR: [laughs] So this upcoming album, with one song being released a week over the course of a year when it will finally be released, will not only be a full album but somewhat of a travelog, also containing pictures, live recordings and more. How did the idea come about to approach your new album this way?
Shannon: It started a year and a half ago when we decided to add three old friends to the team, Brian "The Buffalo," and Vince "Trish" Dewald, and Ben "Wang" Andrews. All three are multi-instrumentalist wizards, and as they joined one by one over that time, we jumped into the studio between tours to slowly develop our new sound. We play a live show that feels like we're a high-octane GT 500 engine, but we wanted to get that feel to translate to tape. We took the straight up rock n roll that all six of us love to play, and went through phases of punk, country, folk, and pop sounds. This collection is the documentation of that process. It's nothing like the old school albums we've done before. With one song about heart problems and surgeries shortly followed by another about gentrification in SF, the songs all feel so different, but they come from the heart of the same rock 'n' roll band.
Spence: Plus, the way most people digest new music is shifting. We wanted to give everyone a fresh track each month that they could listen to for free. This method gave us an opportunity to feature each song for an entire month, which is rarely the case on a traditional record. For those who enjoy taking the time to listen to a record from front to back we are also going to release a full physical album, press vinyl etc. That release will include some studio B sides, live video from The Chapel residency we did in Nov. 2014, and photos of life in the studio and on
the road.
MR: How has your audience reacted to this approach so far? Were you ever
afraid it might demand more of their patience than they're willing to give for such an ambitious approach?
Spence: At the merch table after shows people keep asking us about the new
tracks and when the next one is coming out, they seem to be digging it as much as we are. When we were brainstorming about how to release the songs, we discovered that we all love it when we find out that there's a brand new EP or single up for download on "So and So's" site. You don't have to wait for a full album to drop later down the road, you can go listen to some of it right now.
Shannon: Our fans and friends have stuck by us through thick and thin, from our first show at a cafe/laundromat to headlining The Fillmore. We weren't afraid to give our fans something new, in fact, we wanted to give them the music for free as a thank you. We can't do it without them, and we know that.
MR: How many of the Twelve Spells have been completed?
Shannon: We're actually in our friends studio, The Complex in downtown SF,
doing overdubs on the last tracks right now! You know it's going well when going to the studio feels like going to camp. It feels like summer camp right now.
Spence: Yeah, we have all the main tracking done, but the big final task is mixing the songs together as a group. We recorded with some well-known dudes with impressive resumes and big time artist credits, but this time around we wanted to get back to the basics and do it ourselves. So far it's felt really natural and great.
MR: Is there any older material or songs written over a year ago making it into this batch?
Spence: There are some old riffs I had saved away that we used, probably some old lyrics that Shannon found on a notepad under his couch among the cookie crumbs and dust bunnies.
Shannon: They weren't under my couch, jerk face! Some of the songs are a year old, some of them were written two weeks ago about things that are in our newspapers. A lot of our lyrics come from our passion for social justice issues, and there's always something worth standing up for and singing about.
MR: What do you think of the blues-rock scene these days?
Spence: For a while, it seemed like Jack White and The Black Keys ruled the world, everything they put out was monstrous and awesome, but I feel like that bubble has burst and bands like Alabama Shakes and Tame Impala are putting out the most honest forward thinking blues these days.
Shannon: Everybody is so damn good...our Bay Area brothers Strange Vine and Two Gallants, and even bigger boys that we look up to like My Morning Jacket and Wilco... We could go on forever, but we're lucky to live in a time when there are so many great bands taking rock n' roll and doing it their own way.
MR: What's been the biggest surprise about making music together over these last few years? The biggest evolution for the band or music?
Shannon: Honestly, we're surprised to be talking to someone like you! We never thought we were gonna get farther than that cafe/laundromat. Playing festivals like Outside Lands, starring in music videos, flying to other countries...it's all gravy.
Spence: The band has evolved several times since the start. Adding Elliott on
keys was a big sonic change to the beef of our sound. Two--and sometimes three--guitars gives Ben and I the flexibility to back up and weave in and out of each other. The addition of Vince, our second lead singer and songwriter, has expanded our vocal range and lyrical depth. Probably the most visible change has been adding Brian as a second drummer, letting him focus on his beats and allowing Shannon to sing and play harmonica from the front of the stage with a full tilt band behind him.
MR: Has this First Friday program been working better than you planned or is it still a work in progress?
Spence: It's definitely been working well, though one big unexpected challenge has been coming up with the artwork for not one, but twelve covers. We're collaborating with our friend and fellow SF artist Giuliana Pinto, who has been doing incredible paint on cardboard backdrops and costume design for our covers. Each song is given a representative character and she takes it from there. We're all taking our turn donning whatever crazy outfits she's devised for the cover shoots. I let her dress me up in shimmering glitter, makeup and hairspray to pose as Ocean Man for the cover of "Like it ain't Nothin." Giuliana herself wore tights and a red cape in the BART station for the cover of "Cold Like a Killer." All of them are shot in and around different parts of SF because this place is a big part of our inspiration.
Shannon: And as we said before, not all of the songs are completely done...yipes! So we've been in my room with a kick-ass mic and towels draped all over my walls singing, disturbing my neighbors, then running in to mix, sending it out to be mastered, all to get it back in time for the first Friday.
MR: Who do you listen to casually, like what bands or solo acts?
Spence: I'm on a country kick right now--Buck Owens, Flying Burrito Brothers, Ryan Adams. Bakersfield-style stuff.
Shannon: I've been digging a lot of Nick Cave, he's got a song about how Miley Cyrus was the best girl he ever had. If I wrote that, I'd get kicked out of my band! Outside of that, I can never get enough of The Band, and if I need to get pumped up lately I turn Jay Z's "Threats" waaaay up!
MR: How do you see your recordings and music growing over the next year? How will that effect musical output and touring schedule?
Shannon: We're really gonna put our heads together when the spells are finished, but we've been loving the darker places the music and lyrics have gone. We like the hard hits, with Ennio Morricone licks, just a pinch of hip-hop when needed, and lyrics that talk about what's happening right now. A lot of people sing about girls, and we do it here and there too, but Vince and I are passionate about peace and social justice issues that our generation can't ignore. We feel that rock 'n' roll has the power to move mountains, and we're gonna keep playing till we move one.
Spence: We've had our days in most studios and home-recording environments and I think we've finally found a comfortable spot right in between at the Complex SF. It's not a slick LA studio and it's also not our musty used-mattress-lined garage. It's kind of a glorified garage though, a Wayne's World-style garage with some quality gear and a chill dude who knows how to run it. It's important to have a good set of mics and preamps to get solid tones. We track most instruments live, all together in the same room, with a bit of bleed. If someone flubs a note, but the rest of the take is right on, we keep it. Then we dub vocals either at
home or at the studio. We try to get too bogged down in the process and let the tracks speak for themselves.
MR: What advice do you have for new or emerging artists?
Spence: Write more songs than you're actually putting on your record, then choose the best. Our first two records were cut the moment we had enough material to fill an LP and I'm sure we could have done better if we were not so antsy to just get another record out. It's nice to have options to choose from when you're putting together an album.
Shannon: Play lots of shows. Play lots of shows. Eat some ice cream... And then play more shows.

MR: What advice would you have given to The Stone Foxes when they started out?
Spence: Play like it's the last show you'll ever play. We once drove all the way to Phoenix, Arizona, to play for a huge room full of empty chairs. But we played in to ourselves nonetheless and made it a hell of a good time for us and the few people who were there putting on the show. Two years later, the same promoter asked us to open for The Black Keys.
Shannon: There was a meeting after another bad show in Southern California
where our managers sat us down the next morning and told us we could never play that sh**ty again. I wish I could have told ourselves that two years earlier. Oh, and I would have also told myself, get a better van, you idiot.
MR: [laughs] What does the immediate future look like?
Shannon: We're about to book it down to the desert and play a mess of shows
including the the VIVA Phoenix fest and a bunch of SXSW showcases. We have eight shows in four days in Austin, so we're getting in shape so we can keep it high voltage! We also are continuing to collect healthy non-perishable foods at each show and take them to shelters and food banks as part of our Goodnight Moon Project. Donate food to those in need and we'll give you a 7" record, easy as pie. See what it's all about at http://www.goodnightmoonproject.org.

Spence: This Friday, we're releasing "I Want To Be You" in our next installment of #FoxesFirstFriday. Check it out!
******************************
DIDA'S "APOLOGY" EXCLUSIVE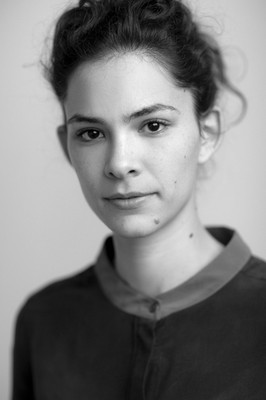 photo credit: Care Of Dida Pelled
According to Dida...
"'Apology' is the first release from my upcoming album Modern Love Songs. The core of the album is the idea that the same human feelings that have always existed, like songs of love and introspection are explored through a contemporary, personal perspective. On a musical and artistic level, I draw heavily from the great American songbook, and am constantly inspired by its great interpreters. In a way the direction of this album is a continuation of themes I find in those classic sources.

The song was written by my main collaborator, Tal Ronen. On the surface, it describes an experience familiar to New Yorkers, that of having caught a mouse. However, as the song progresses the separation between human and animal, captive and free, living and dying, begin to blur. Working with these ideas in mind, Iyar Dyoman directed this video. It features my parents, Peli and Dahlia Pelled."
******************************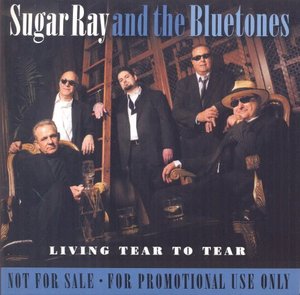 A Conversation with Sugar Ray Norcia
Mike Ragogna: Sugar Ray, your new album is titled Living Tear To Tear. Why all these tears?
Sugar Ray Norcia: Well, I don't think of it as sad! Just listen to the band cruising along taking you for a joyful ride. The lyrics on a lot of the songs deal with common human emotions some, of course, about troubles, troubles in a relationship or trouble with something or another but the music behind it is very uplifting and therapeutic to me.
MR: Do you have some idea of what your projects will be about as you begin the creative phase or do the songs tell you what it is as you dig into the writing and recording?
SRN: I don't begin with a preconceived idea for a project other than to keep in mind what it is that we as a band do best and that is to play our own unadulterated, unbasterdized version of urban,electric blues.I also keep in mind the incredible talent of the players around me as I write material. "Monster" Mike Welch on guitar is just that...a monster. His style is electrifying,inventive,subtle and passionate. These are the things that make a dynamic performer. Anthony Geraci is on piano and sometimes Hammond organ. It's a pure delight to hear the keyboards being played with such intensity and sensitivity while keeping it all in the right style that compliments our material. I'm not just saying....I know! Then there is Mudcat Ward on upright and electric bass and Neil Gouvin on drums. Man they are a dream team of a rhythm section...the bands nucleus. Playing with them is like being driven in a Lincoln Town Car or Cadillac. Mudcats smooth, steady bass lines complimented with Gouvin's world-famous shuffle on his coveted, vintage Slingerland "Radio King" drum kit is the s**t! Man, I have to stop and go get a beer and a harmonica. I make my own damn self-inspired!
MR: [laughs] How does it feel to have a 35th anniversary with the band?
SRN: It feels great! I think it would be fair to say that not too many bands have been together for 35 years. Mike Welch on guitar is the newest member of the band. He's been with us for about 15 years. The rest of us have played together for 35, yes that's right, 35 years, more or less. I figure that's a total of about 155 years of experience!
MR: From your perspective, what happened on Living Tear To Tear that never happened before on previous recordings?
SRN: Oh I don't know. To me every time we step foot into the recording studio something special happens. We are there to play our best but it's like a frozen moment in time. If we were to record the same song once a day for any number of days, each take would be a little different from the last. It depends on how you are feeling in the moment.It depends on how relaxed or tense you may be or how many drinks you may have had or what's going on in your private life or what the mix sounds like in your headphones.All sorts of variables ultimately contribute to the final product. We usually cut a song once, one take with almost no overdubs.
MR: Were there any surprising moments on the album? Any songs that gave you a tough time? Any that ended up becoming favorites?
SRN: None of the songs gave us a tough time. If you don't know your craft after all these years then something aint right with you! One of my favorite songs ended up being the slow blues I wrote called "Misery." It comes from somewhere other that just your normal three chord blues progression. It comes from deep within your heart and soul. It's hard to describe in words. We were all in another place...almost spiritual I would say. We were just lazily floating through blues heaven making chord changes in unusual places, riffing off each others creative ideas, all unrehearsed and free. Thats a great thing to happen.
MR: What do you think of the blues these days? Does it still have the chops to get out there every night and do it again?
SRN: Like anything else, the blues evolves in all its different forms and off-shoots.I myself am not a big fan of rock inspired blues or blues that's over the top. There's nothing wrong with that approach but like to keep it true to the 1950s style of amplified blues. I like old stuff....old cars, old amps, old radios, old wine, old stuff. Maybe that's why my friends have been calling me "The Old Man" since I was about 20!
MR: You as the artist, what do you feel are the best things that you contribute to the blues?
SRN: I think it's really what I just said. My band and I are keepers of the flame when it comes to preserving the integrity of authentic sounding urban blues. I think given the complexity and craziness of the world around us today that it is refreshing for a lot of blues fans on this planet to hear as they say...the real deal. Our most recent album Living Tear to Tear was honored with seven Blues Music Award nominations this year including Band of the Year and Album of the Year. For myself alone I have thirteen Blues Music Award nominations for the Bluetones last three CD's and last year I won two Blues Music Awards for my contribution on an album called Remembering Little Walter which also received a Grammy nomination. That makes me a three-time Grammy nominated blues performer. Not too shabby for a 61-year-old Italian American from Stonington, Connecticut. You know what the great Muddy Waters once told me? He said, "Sugar Ray, you Italians got soul!"
MR: Sweet. Do you think the blues will last forever?
SRN: What's that saying? The blues will never die. It's true! As long as we live in this sin sick world, the blues will be around. Since the beginning of time man has had some degree of the blues. It's just a fact of life man, a fact of life.
MR: Sugar Ray, what advice do you have for new or emerging artists?
SRN: I would have to say...be yourself. You've probably heard that before but man it's so right.When you get to a place as a young or older artist where you can incorporate all of the musical stylings that you appreciate and form them like from a ball of clay into something that is uniquely your own then you really got something. Be yourself....nobody else is!
MR: There's no way you're ever going to retire, is there.
SRN: Well, no. An artist doesn't really ever retire. One may say that he or she is retiring but it really aint so.You know I had an uncle who played real great jazz guitar for all his life and one day when he was around 60 years old or so he just three up his hands and said, "That's it, I quit!" I was devastated. I urged him to go out and play but he just refused. He said "no damn it, I'm done." No one could figure out how or why he just stopped cold until we all realized that he had developed a bad case of dementia and that was the reason he threw in the towel .So, as long as I have my health I'm in the game.
MR: Even though you perform and record the blues, are you happy?
SRN: Listen to track # 3 on our CD "Living From Tear to Tear." It's called "Things Could Be Worse." My Dad always told me, "Son, at times, you may think you have it bad but look around you...things could be worse."
I've been married to the same great woman for forty years...I'm happy.
I have a wonderful family...I'm happy.
I live in a beautiful house in the country on twelve acres...Im happy.
I have chickens, a cat and a great dog...I'm happy.
I write, sing and play the blues with one of the best blues bands on the planet...I'm happy!
******************************
ELAINE ROMANELLI'S "25" EXCLUSIVE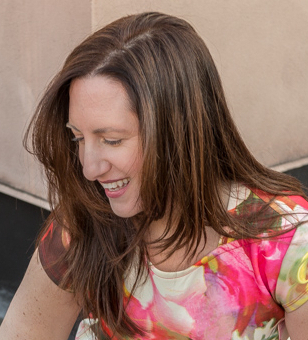 photo credit: Nejat, www.nejat.com
According to Elaine Romanelli...
"The song '25' is the first single off my new album The Hour Before, to be released worldwide April 21, with a show to celebrate in NYC on April 25 (Rockwood Music Hall Stage 3, 7pm, $10, buy tickets). '25' is for everyone reaching a birthday and wondering what's ahead--and also for everyone looking back and laughing at the twists and turns. Most of all, it's a celebration of feeling joyful, of living fully and loving your friends, right now, no matter your age."
For more information and free song download when you join email list: http://www.elaineromanelli.com
Calling all HuffPost superfans!
Sign up for membership to become a founding member and help shape HuffPost's next chapter