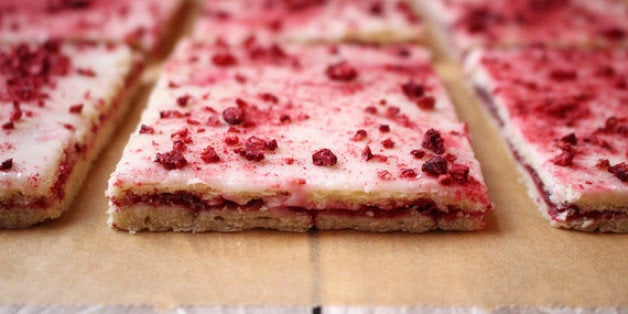 If you think this is a Pop-Tart, think again. As I peered through countless bakery cases on my recent trip to Copenhagen, I came face to face with the household toaster pastry's Danish doppelganger, the Hindbærsnitter, or raspberry bar. While the resemblance to the cardboard-like snack is striking (i.e., flat shortbreads sandwiched with jam, glazed with icing, and flecked with sprinkles), the differences in freshness and homemade quality will win you over as soon as you take a bite. Direct from the oven instead of the box, these traditional Danish bars will have you bypassing the toaster and aiming right for your mouth.
In Denmark, you'll find versions decorated with colorful sprinkles, nonpareils, or even a crust of sugar as Chef Claus Meyer sublimely uses at his Meyers Bageri in Copenhagen. I opted for freeze-dried raspberries for a more natural take with some added tartness, but you could go with whatever is in your pantry.
Dough:
3 cups all-purpose flour
1 teaspoon baking powder
1 cup confectioner's sugar
1 cup (2 sticks) of butter, chilled and cut into small cubes
1 egg, slightly beaten
1 teaspoon vanilla
Raspberry Jam Filling:
1 cup sugar
1 teaspoon pectin
4 cups raspberries
½ cup water
1 teaspoon lemon juice
Icing:
1½ cup confectioner's sugar
3 tablespoons water
Sprinkles or crushed freeze-dried raspberries (such as Nature's All Foods)
For Dough: Preheat oven to 350° F. Line two 18x13 inch baking sheets with parchment paper.
In a large bowl, whisk flour, baking powder, and confectioner's sugar, and then cut in butter with a pastry blender or two knives. Add egg and vanilla, being careful not to over mix. (If dough is dry, add a little cold water, one tablespoon at a time, until it holds together when gently pressed with your fingers.) Divide the dough in two, wrap each half tightly in plastic wrap, and chill in the refrigerator for at least an hour.
On a flour-dusted surface, roll each dough half into an 18x13 inch rectangle. Prick small holes in the dough with a fork, and then carefully transfer it to the sheet pans (I like to roll out the dough directly on the parchment paper, which I can easily pick up and put in the pans without disturbing the dough). Bake for 10 to 15 minutes, rotating pans halfway though, until golden. Allow to cool completely.
For Raspberry Jam Filling: In a small bowl, mix together sugar and pectin. Add raspberries and water to a small saucepan and bring to a boil. Continue boiling until berries start to break down. Take off stove, cool slightly, and run through a food mill (or push through a fine mesh sieve) to remove some or all of the seeds, if desired (I like to keep about half). Place the berry puree back into the sauce pan, stir in the sugar and pectin mixture, and then boil for 3 to 4 minutes. Allow to cool and set aside. Makes about 1 cup.
Tip: To test for doneness, place a spoonful of jam on a small chilled saucer and place into the freezer for a few minutes. It's ready when it ripples when pushed with your finger.
For Icing: In a small bowl, mix together confectioner's sugar and water to form a paste.
To Assemble: With an offset spatula, evenly spread the raspberry jam on top of one of the crusts, and then carefully place the other crust on top of the raspberry jam layer. Spread icing on top, and sprinkle on the freeze-dried raspberries or other decorations. Trim the edges (if desired), and then cut into rectangles.
You Might Also Like:
Popular in the Community