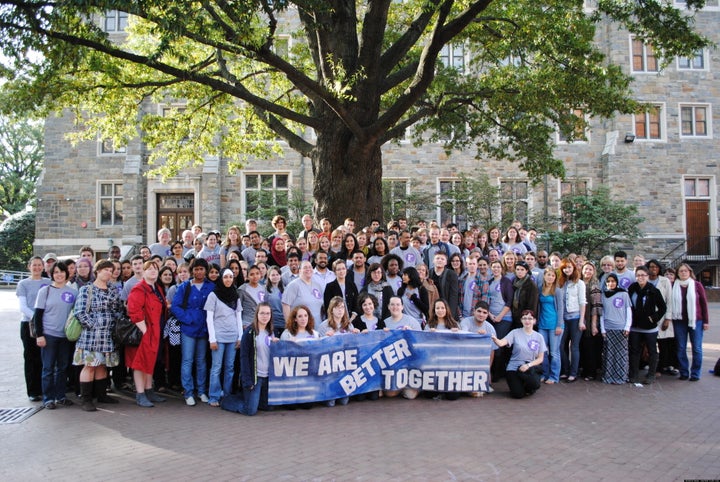 When the forces of intolerance rear their ugly heads, the forces of inclusion go into action.
Consider Freedom Summer, the Mississippi Summer Project of 1964, when more than 1,000 out-of-state volunteers -- mostly college students from the North -- spent a summer in Mississippi, the state with the lowest black voter registration, then at less than 7 percent. These volunteers risked their lives to work alongside black residents in an effort to register voters. Tragically, several students were killed during the 10-week initiative, dozens and dozens were beaten, and more than 1,000 volunteers and locals were arrested.
This is just one example of an important American tradition. College students in America have a history of making an impact on critical social issues. Fifty years ago, the forces of intolerance targeted the African-American community. Today, the forces of intolerance direct their venom toward Muslim Americans.
From the controversy around the Park51 Islamic center in lower Manhattan to the proposed Quran burning on 9/11 to random acts of violence, the demons of division have begun to rear their ugly heads with increasing frequency. National religious leaders have been at the forefront of the forces of inclusion, writing and speaking about the rising anti-Muslim bigotry. And once again, college students and recent graduates are eager to be part of the forces of inclusion.
Last spring, President Obama's faith council -- the Office of Faith-Based and Neighborhood Partnerships, on which I served with 24 other religious and civic leaders -- recommended strengthening and scaling interfaith service projects on 500 campuses nationwide. To help achieve this goal, theInterfaith Youth Core (IFYC) worked with the White House to sponsor an interfaith leadership training institute in October. We expected 200 applications from students and staff at various colleges across the country, but we received more than 500, which was a strong indication of the motivation of college students to play a role in this movement.
The students had a chance to hear speeches from administration officials and then were trained to run the Better Together campaign, an initiative of the IFYC, on their campuses. The fall component of this campaign was a series of Speak Up! events where these student leaders encourage discourse on religion as a bridge of cooperation rather than a barrier of division.
In the spring these students will organize large-scale interfaith service projects. We've already heard from students who are planning to run fast-a-thons and large Habitat for Humanity builds, using those projects as an opportunity to bring people from diverse religious backgrounds together and having conversations about how their various religions inspire them to serve others.
This year hundreds of students will run the Better Together campaign and involve more than 10,000 of their fellow students. Imagine a day where 10,000 college students are trained to be interfaith leaders and are operating on 1,500 of the nation's campuses in campaigns involving hundreds of thousands of their fellow students.
That's a country where the forces of intolerance dare not raise their heads again.
Calling all HuffPost superfans!
Sign up for membership to become a founding member and help shape HuffPost's next chapter