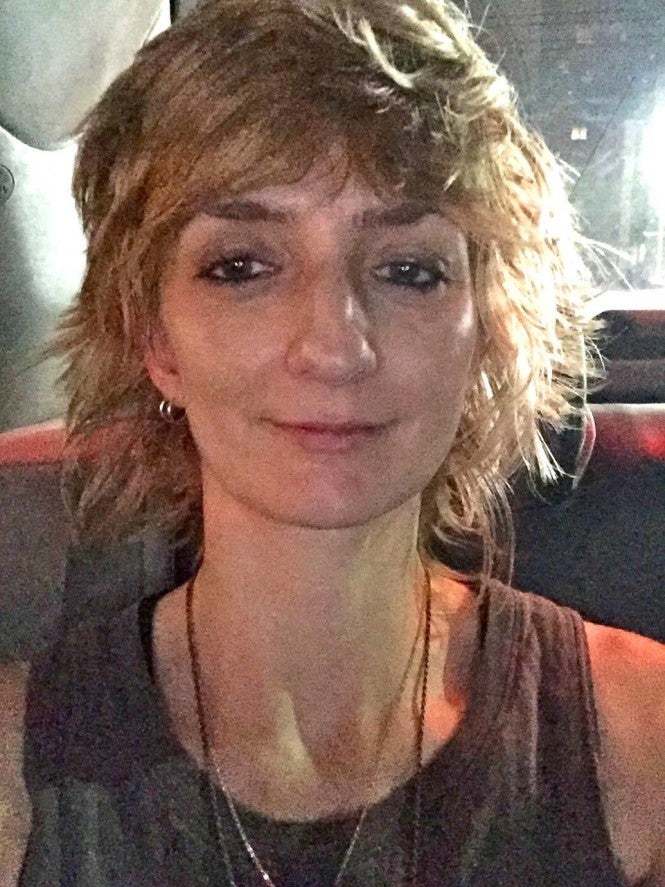 Amy King's latest book, The Missing Museum, is a winner of the 2015 Tarpaulin Sky Book Prize. King joins the ranks of Ann Patchett, Eleanor Roosevelt & Rachel Carson as the recipient of the 2015 Winner of the WNBA Award (Women's National Book Association). She serves on the executive board of VIDA: Women in Literary Arts and is currently co-editing with Heidi Lynn Staples the anthology, Big Energy Poets of the Anthropocene: When Ecopoets Think Climate Change. She is an Full Professor of Creative Writing at SUNY Nassau Community College.
Loren Kleinman (LK): Can you talk about the birth of Bettering American Poetry, and then Bettering Books? What were the challenges?
Amy King (AK): I had recently worked on a curating a few things for the Poetry Foundation like a roundtable with some poets I admire, a desire to hear from younger poets as well as wanting to know about women poets a variety of writers appreciate. Those pieces fostered conversations both public and personal. Once the Best American debacle with Michael Derrick Hudson took place, we began talking about the mechanics of how that series is curated. We speculated that much of what makes it to the guest editors' plates is likely funneled through the series editor David Lehman, and wondered to ourselves if Sherman Alexie had even been informed that Hudson had used a pseudonym before selecting "Yi-Fen Chou's" poem. Born from that speculation, we decided to re-conceive the idea of highlighting worthwhile poems published in a year as well as imagining how to democratize that process. So I invited several of those poets to co-edit this anthology (Kenzie Allen, Eunsong Kim, Jason Koo, David Tomas Martinez, Héctor Ramírez, Metta Sáma, Vanessa Angelica Villareal, Nikki Wallschlaeger, Sarah Clark & Airea D Matthews), and we opened up nominations to the public. We also included poems that had crossed our desks and were grateful for as readers of poetry. We figured that the sheer number of editors would create more diversity in selection than one series editor and a guest editor, who may be relying on a limited set of readers to funnel poems to them. The biggest challenges were simply organization and a timeline. As I initially kicked things off, I hadn't set a firm timeline and system for obtaining permissions. Most of the editors had signed on to select poems, so a couple of folks especially stepped up to do the legwork of getting things off the ground. Without Hector Ramirez and Sarah Clark, this amazing book would still be a concept. Beyond that, we would have liked to include more poems than we were able, but since this is a print endeavor, book length matters. We limited each editor to a certain number of poems and are hoping to develop a place on the website to note a number of poems that were only omitted due to lack of space in the book.
LK: What's different about this anthology then, let's say, The Best American Poetry series?
AK: For starters, Bettering American Poetry doesn't claim to be a royal tastemaker. Many of the editors debated the use of the term "bettering" but went with it because none of us signed on to perpetuate a system that hierarchically aligns people's work as "the best". We are allergic to cosigning such concepts, which remind us of people stating that "Trump is the best man for the job." You can read about the evolution of the anthology in more detail in our intro, available online here. And most likely because there are a number of editors, as noted above, as well as diversity among us, no one had to say, "Please don't select a majority of poems written by white men." It was never a directive, and as well, I think there is likely a familiarity of the work by the editors that someone like David Lehman may not be attuned to since he moves in specific circles, to put it mildly.
LK: Some of my personal favorites from the collection are "The Virgin Mary Considers Consent," "Tell Me Something Good," and "The Simple Hour" among many others. What's the one poem in the collection that still makes you cry or laugh, and why?
AK: This is too difficult to narrow! Even as one of the editors, I am still dipping in and reveling. You've got Joshua Jennifer Espinoza''s "the Moon Is Trans" bringing the moon into view, making the moon alive. Layli Long Soldier's "38" brings the history of the Dakota 38 into the present, which resonates with the illegalities the U.S. government is committing against Standing Rock right now. Morgan Parker interrogates the perception of being black and female in "All They Want Is My Money My Pussy My Blood." Khadijah Queen bears witness to and resists cultural expectations in "From I'm So Fine: A List of Famous Men & What I Had On". I could go on. It's just a rich collection you'll find yourself dipping into at red lights, between meetings and at happy hours everywhere. The complete list of 2015 poets: Hanif Willis-Abdurraqib / Aleph Altman-Mills / Manuel Arturo Abreu / Fatimah Asghar / Amber Atiya / Malaka Badr / Aziza Barnes / Samiya Bashir / Jenny Boully / Marcelo Hernandez Castillo / Wo Chan / Hayan Charara / Jos Charles / Don Mee Choi / Franny Choi / Aaron Coleman / Eduardo C. Corral / Rio Cortez / Cynthia Cruz / Kyle Dargan / Natalie Diaz / Tafisha A. Edwards / Natalie Eilbert / Joshua Jennifer Espinoza / t'ai freedom ford / Sarah Gambito / Kenyatta Jean-Paul Garcia / Ross Gay / Rachel Eliza Griffiths / Sarah Jean Grimm / B.B.P. Hosmillo / Brenda Iijima / Bhanu Kapil / Douglas Kearney / Jee Leong Koh / Rickey Laurentiis / Layli Long Soldier / Nate Marshall / Eduardo Martinez-Leyva / Sade Murphy / Lynn Melnick / Hieu Minh Nguyen / Urayoán Noel / Morgan Parker / Shelagh Patterson / Trace Peterson / Tommy Pico / Khadijah Queen / Arthur Russell / Lauren Russell / sam sax / Brittney Scott / Solmaz Sharif / Safiya Sinclair / Chris Slaughter / Christopher Soto / Carmen Giménez Smith / Melissa Studdard / Jennifer Tamayo / Terrell Jamal Terry / TC Tolbert / Joanna C. Valente / Grey Vild / Ocean Vuong / Sydnee Wagner / Michael Wasson / Phillip B. Williams / Tanaya Winder / Moss Angel Witchmonstr / Jamila Woods / Wendy Xu / Lauren Yates
LK: What story does this collection tell? Who's the audience?
AK: I just read somewhere that one in three Americans did not read a book last year. I dedicate this book to them. And to those still reading. I challenge anyone to pick this anthology up and flip to any page and see if something doesn't hit you somewhere deep. I ask, Did you think poetry was far removed from what you know? Did you think that poetry was meant for classrooms alone? Here is poetry that takes you into lives and homes and streets and places of businesses and minds and existences you thought were off limits to poetry. These poems speak history into the present. They speak being into the present. They speak the present into being. We are a society that looks at phones and watches screens while filling up at the pump. We have become a society that sees a set staple of stereotypes rotate through TV and films year after year. The story here is that people beyond screen captivity are still reading, thinking and writing words to better this country. Poets in Bettering American Poetry 2015 are from the U.S. and beyond. They cross borders and are invested in America. These are poets that take a leap of faith everyday to communicate. They believe a poem can do something a commercial or billboard or TV sitcom is limited from. They are literally giving voice. One need only listen.
LK: What's next for Bettering Books? What's next for the Bettering American Poetry series?
AK: Our call for nominations for 2016 is just up. Our co-editors this year are Kaveh Akbar, jayy dodd, Joshua Jennifer Espinoza, Muriel Leung, Camille Rankine, Michael Wasson, Sarah Clark, Amy King & Héctor Ramírez. Info and deadline for 2016 nominations here and bios on the editors here. We are also considering publishing individual books, but that's a conversation we've just kicked off.
Related
Popular in the Community