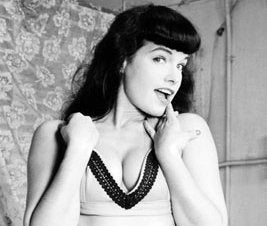 LOS ANGELES, CA -- When 10 year-old Betty Mae Page began caring for her younger siblings in an orphanage after their molesting father's incarceration and parents' divorce, she had no idea that one day she would be loved - and mourned -- by an entire planet of people who had never met her in person.
As a teenager, she and her sisters indulged in the innocent kind of hair-and-makeup play that would eventually lead to her becoming more goddess than human in the eyes of the world. In fact, although the perky brunette voted "Most Likely to Succeed" by her Hume-Fogg High School companions hoped to take her salutatorian scholarship and become a teacher, the world had less savory but far more interesting plans for her.
It didn't take long for Page's natural charm to discover the joys of self-expression within the theater and her dreams soon turned to the silver screen. Having married fresh from college, however, she instead spent a few years traveling far and wide with her military husband, until she filed for divorce and set herself upon the path that would lead her into the hearts, minds and libidos of an entire generation and beyond.
Working as a secretary, Page roamed the country looking for a home and a big break as an actress. In 1950 she met shutterbug cop Jerry Tibbs and her world changed.
It didn't take long for the wholesomely saucy Page to become the rage of the New York camera club scene, which praised art photography in order to stay barely legal but focused its shutters on sexy young women wearing scandalous garments when they wore anything at all in order to stay satisfied. Using her homegrown skills at hair styling to launch a career bigger than she could have ever imagined, the humble beauty also created many of the exotic costumes and bathing bikinis that ultimately helped make her famous.
Her playfulness, womanly form, sweet face and lack of inhibitions made her a huge hit with photographers and connoisseurs of quality fetish and erotica imagery - and when she met Irving Klaw in 1952 for the first in many mail-order photo sessions, her future became her present.
Together the two created photographs that would remain burned into the retinas, memories and fantasies of sexually transgressive men and women for decades to come. Whether spanking another women or bending for a femme-administered spanking, wielding or wearing the crop, teetering on high heels, breathless in a corset, charming in a burlesque outfit, savage in a leopard print jungle wrap cheerfully dominant in snug leather or barely submissive in a slave collar, the magic that was Bettie Page was impossible to ignore.
Alas for Page, although she delighted in having her image grace the pages of Wink, Titter, Eyefull and Beauty Parade and frolicking in naughty reels, she still yearned for something more... respectable. While acting classes at the Herbert Berghoff Studios led her to appearances on The Jackie Gleason Show and the off-Broadway production of Time is a Thief and Sunday Costs Five Pesos, conformity eluded her. It was appearances in such films as Striporama, where her voice would be heard for the only time, that melted the hearts of her admirers. Although she was nothing special in the dance department, appearing with such legends of burlesque as Lili St. Cyr and Tempest Storm in Teaserama and Varietease solidified her association with the stylishly sensual burlesque crowd.
While most pin-up models can measure their career in months, Page continued strong for years, earning a spot as Playmate of the Year in two-year-old Playboy Magazine in 1955 - and posing for one of her most iconic shots: Bettie kneeling in front of a Christmas tree while wearing a Santa hat, holding an ornament and winking at the camera.

The same year, she was declared "Miss Pinup Girl of the World" and became know by many names including "The Dark Angel" and "The Queen of Curves."
It all came to an end in 1957, although the reasons for her leaving her work as a model are debated even today. The accidental death of a young man during a bondage session ended Klaw's kink-related business and Page was required to explain her work to the United States Congress. Her already delicate emotional state was spared an actual appearance before that august body, but the negatives associated with many of her photo sessions were destroyed by court order and illegal to reprint.
Most likely at the heart of her decision to leave the glitz and glamour behind, was her conversion to Christianity after enjoying the fellowship of the ethnically diverse Key West Temple Baptist Church, which she began to attend regularly.
So motivated to spread the word was the mentally unstable siren that she would briefly remarried her college sweetheart and attempted to become a missionary. Alas, her twice divorced status was held against her and, during the late 1970s, her depression and uncontrollably violent outbursts earned her 20 months in a California mental hospital for acute schizophrenia and, in time, an arrest for assault that resulted in a not guilty by reason of insanity decision and eight years of state supervision.
While absorbed by her sadly changing fate, the tragic beauty was utterly unaware of the emergence of a cult of personality focused on her during the 1980s. Once finally made aware of her place in photographic history, the aging enchantress was able to stop living off of Social Security and cautiously re-enter the public realm. Although she granted a few interviews over the years, she always declined posing for the camera.
"I don't want to be photographed in my old age," she explained in 1998. "I feel the same way with old movie stars... It makes me sad. We want to remember them when they were young."
Even without recent photos, her cult of admirers has continued to grow and become ever more devoted, which is why so many lusty citizens of the world mourn the passing of the woman who helped unleash so many hidden desires, inspired so many fashion trends, and motivated so many men and women to explore and embrace their supposedly darker, sexually subversive selves.
In late November, the venerable Venus was hospitalized for three weeks while suffering from pneumonia.
On December 2nd, 2008, the 85 year-old woman known to the world as Bettie Page was taken to a Los Angeles hospital complaining of chest pains. According to her agent, Mark Roesler, after slipping into a coma, Page was placed on life support and never regained consciousness. She was pronounced dead at 2:41 am PT on December 11th, 2008.
While many have and will condemn the work of Bettie Page and her legion of photogenic descendents and followers, those who knew and loved both her and her legacy have kind words for her:
"She captured the imagination of a generation of men and women with her free spirit and unabashed sensuality. She is the embodiment of beauty." -- Mark Roesler, agent
"... a remarkable lady, an iconic figure in pop culture who influenced sexuality, taste in fashion; someone who had a tremendous impact on our society. She was a very dear person." -- Hugh Hefner, Playboy founder
Perhaps the most meaningful and insightful words came from the woman herself.
"I never thought it was shameful. I felt normal. It's just that it was much better than pounding a typewriter eight hours a day, which gets monotonous." - Bettie Page, Playboy magazine 1998.
"I want to be remembered as a woman who changed people's perspectives concerning nudity in its natural form." - Bettie Page, The Los Angeles Times 2006.
Wish granted, Bettie. Be finally at rest - and know that you are loved.
-- Previously published on YNOT.com
REAL LIFE. REAL NEWS. REAL VOICES.
Help us tell more of the stories that matter from voices that too often remain unheard.