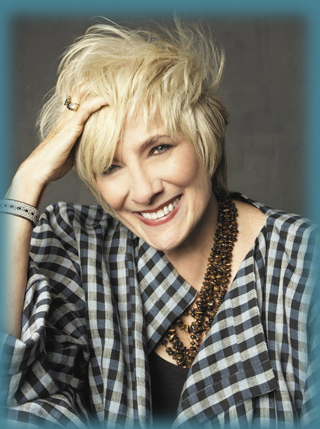 She's a Tony Award-winner, a TV star, a celebrated singer/performer with commanding vocals, and, apparently, a woman who loves horses. This is Betty Buckley--a big, bold, lover of life.
True, my first glimpse of Ms. Buckley arrived back in the '70s when she entered the creative fold of TV's Eight is Enough. (My, how I admired how lovingly her character, Abby, became the understanding stepmother of all those kids in the Dick Van Patten outing.) For those who were not privy to Buckley's charms on stage at the time, there was a sense that the woman had that "special something." Bottom line: there was a "there" there and it was refreshing to experience.
Not surprisingly, that "there" is still there.
For me, as the years went on and I grew into my own, I realized just how creative--and downright busy--Buckley actually was. (And still is to this day.) Prior to Eight is Enough, she turned heads in the Tony-winning musical "1776," a breathtaking musical that remains hauntingly if not remarkably relevant today. That was Buckley's big bold Broadway debut in 1969. She's marveled on stage ever since, too, and is fondly called the "Voice of Broadway." Who could forget her Tony-grabbing turn as Grizabella in the Broadway production of "Cats" or her other acclaimed outings--from "Sunset Boulevard" and "The Mystery of Edwin Drood" to "Song & Dance" and "Promises Promises?" Big screen (Carrie, Tender Mercies, The Happening) and other TV roles (HBO's Oz) also captured attention. More recently, there has been buzz over the off-Broadway outing she starred in, "The Old Friends."
So, it was great news to learn of Buckley's San Francisco show, "The Vixens of Broadway," which unfolds at Feinstein's at Hotel Nikko. The outing finds Buckley highlighting songs written for the "other women"--the second female lead characters of Broadway. The playlist include selections from "Chicago," "Evita," "Company," "Oklahoma" and "Into the Woods," among others, including selections from Jerry Herman's memorable "Dear World," in which Buckley debuted in London earlier this year.
I recently caught up with the ever-busy woman by phone. She took a break from horseback riding on her Texas ranch--she hails from Texas, after all--to dived into all things musical, personal and beyond.
Greg Archer: "The Vixens of Broadway." Let's discuss.

Betty Buckley: It's a wonderful arrangement of songs written for the other women, so we'll be doing songs from "Dear World," something from "Brigadoon," "Unusual Way," which is from "Nine." Those kinds of songs.
How has being a part of Broadway shaped your life?
Well, besides horses, it became my other love. When I was about 11 years old, I had these wonderful teachers that had danced with Bob Fosse and they mentored me until I got my first professional engagement. I started performing regularly when I was 11 and my first professional engagement was in "Gypsy" and then "West Side Story," my two favorite musicals. And then every summer, I'd do one of those "other women" roles, like Ado Annie. By the time I got to New York, I was ready to go. I had been signed by an agent when I was a junior in college and he kept encouraging me to come to New York. He had arranged an audition for the musical "1776"--on my birthday in New York--and I debuted the role of Martha Jefferson when was I was 21. That was my first day in town. It was pretty amazing.
You knew early on--you wanted to perform?
Yes. Since, I have performed 10 Broadway shows, but I have had a very eclectic career. I've done two TV series and several films. I do all those things.

What do you love most about performing; about singing?
Well, I love music and I love being on the stage and creating music with musicians, like my pianist and music arranger Christian Jacob. We did the collection last year at Hotel Nikko, which was "The Boys of Broadway." We've worked together for a number of years and he's a brilliant pianist and wonderful arranger. We'll be working with two San Francisco musicians for this show--a drummer and a bass player. It will be great being back in San Francisco.
Some performers I have interviewed say that sometimes, they lose themselves in the role, in the music. Is that the case for you?
I wouldn't say I lose myself. It's more like I discover who I really am in music--my feelings for music and my feelings with connecting with audiences. You know, it's an incredible gift to be able to be a concert artist and connect with people.

Do you see yourself as a conventional? Unconventional?
Oh, I think my career is very unconventional. It's very eclectic.
Thank you. And I also like to teach. I've been teaching for more than 40 years and between engagements, I teach at the Modern Art Museum at Fort Worth, Texas. I just got back from the University of Oklahoma where I did a five-day workshop and after that, did concerts in Indianapolis, and then an afternoon workshop at Ball State University. I teach. I act. I tell stories.
But teaching must be fascinating.
Everything of value that I know, and that I can share from great teachers, it's my privilege to share that and pass it on to serious students. I'm giving another four-day workshop at the Modern Art Museum in Fort Worth in January.
I do my best. [Laughs] I have to pay for all these horses out here. That keeps me working.

Yes. I understand you moved back to Texas about a decade ago ...
Ten years ago I moved back to ride these beautiful cutting horses. I should have done it years and years ago. They are just divine.
Four, including two show horses.

What is it about horses that you find most fascinating?
I have just always loved them. My grandfather was actually a real cowboy. His name was Norman C. Buckley. He drove cattle on the long cattle drive. And my grandmother, Myrtle Buckley, was a cook on the chuck wagon that drove with these long cattle drives, so I have just always loved these horses from the time I was really young. I begged and begged my father to get me a horse and he finally got me a horse when I was 10. But I was so fascinated with the sport of cutting and I wanted to learn to ride horses like that. I have always dreamed of doing that.

One of your biggest influences in life--family, friends, or?
My teacher Paul Gavert, whom I studied with for 19 and half years. He really changed my life and my current voice teacher, Joan Lader. My spiritual teacher is Gurumayi and has been very influential in my life. And my friend T Bone Burnett recorded me when I was 19 years and we just recorded a new record, which will be released in 2014.
Some fun questions. Coffee or tea?
Coffee. I am a caffeine addict.
Chocolate. Actually both.
Some of the best advice you have been given about life?
Keep on keeping on. It's never over. You keep learning. I don't think people think of that often enough as they get older. Life can really still be full and fascinating and it doesn't just stop when you "grow up."

Feinstein's at the Nikko is located within Hotel Nikko (222 Mason Street, San Francisco). Tickets are 50-$80 and are available here. Learn more about Ms. Buckley here.

Calling all HuffPost superfans!
Sign up for membership to become a founding member and help shape HuffPost's next chapter