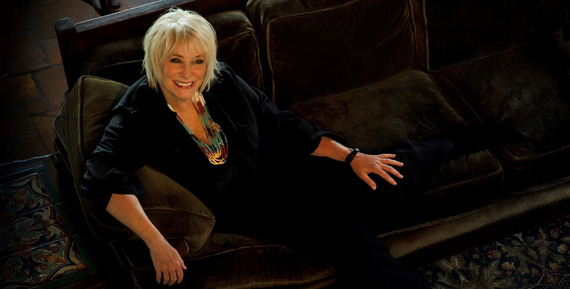 This week, I talked with Tony Winner Betty Buckley about her upcoming events presented by Adam Berry at the Peregrine Theatre Ensemble in Provincetown, Massachusetts on September 2, 3 and 4. Buckley is doing a "talk back" with the audience after the performance of Carrie the Musical on Sept. 2 and on Sept. 3 and 4, she will be performing songs from her album Ghostlight produced by T Bone Burnett, and material from her musical theater catalogue for a two-night concert event entitled "An Evening With Betty Buckley."
Betty has been called "the Voice of Broadway" and won a Tony Award for her performance as Grizabella, the Glamour Cat, in Andrew Lloyd Webber's Cats. Her career spans across theater, film, television and concert halls around the world and she was inducted into the Theater Hall of Fame in 2012. Currently, she's appearing as Big Edie in the musical Grey Gardens now through August 30th at Bay Street Theater in Sag Harbor, New York. I talked to Betty about her busy summer schedule and as a fierce gay ally she shared her insights on our LGBT issues.
When asked what her personal commitment is to LGBT civil rights Buckley stated:
Everyone in theater is completely committed to that and has great concern because all of our companions are gay. So many artists in the theater are gay men and gay women, that's been a cause of mine.

My original dance teachers from the time I was eleven in Fort Worth, Texas were a gay couple. Thank God for gay people in the arts and in theater and design. What would we do otherwise? Some of the great fashion, great theatrical minds are persons from the gay community.

My brother Norman Buckley who's a brilliant director in television, he directed Pretty Little Liars, The Fosters, Mysteries of Laura and Rizzoli & Isles amongst other TV shows is a gay man who just lost his husband last fall to suicide. His husband Davyd Whaley was a brilliant painter who had been very abused in his childhood for being gay.

It's a profound and necessary concern of our community. We've all raised money for Broadway Cares/Equity Fights AIDS through the years, which has been an honor and a privilege. I was just at a friend's house in East Hampton and their little six year old son has been persistent about saying that he is a girl and they finally in recent months have allowed him to assume the identity that is obviously most naturally his.

It's good that all this information is coming to our consciousness the way it is now. The bullying and the scare that people feel about not being part of the mainstream is such a sad thing and we have to stop because its uniqueness, its individuality that's created all good things and we should praise that and celebrate it wherever it occurs in our world.
Betty Buckley other Broadway credits include 1776, Pippin, Song and Dance, The Mystery of Edwin Drood and Carrie. Her films include her debut in Brian de Palma's screen version of Stephen King's Carrie, Bruce Beresford's Tender Mercies, Roman Polanski's Frantic, Woody Allen's Another Woman, Lawrence Kasden's Wyatt Earp and M. Night Shymalan's The Happening. On television Buckley starred for three seasons in the HBO series Oz and as Abby Bradford in the hit series Eight is Enough. She has also appeared as a guest star in numerous television series, miniseries and films for television. For information and tickets for her upcoming events in Provincetown,
Massachusetts on September 2, 3 and 4th: peregrinetheatre.com
For More Info: bettybuckley.com
Popular in the Community