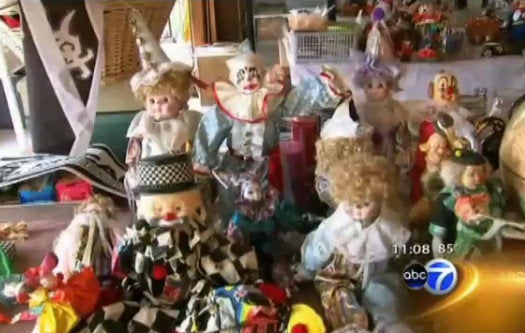 Still on the prowl for some exciting, albeit unusual, plans for your long weekend? Many bargain hunters, collectors and the generally curious alike traveled to suburban Forest View Friday as Former Cicero Town President Betty Loren-Maltese kicked off a garage sale that will last through Sunday.
Though Loren-Maltese, convicted in 2002 of corruption challenges, told ABC 7 she needs the money to help pay the bills, she will likely need to surrender 20 percent of what she takes in as part of the restitution she still owes the feds -- a figure estimated in July to be $8.3 million. Earlier this summer, her modest, 1,200-square-foot home went on the auction block and was sold for $87,000, money that will go toward her outstanding balance.
"The government took everything," Loren-Maltese told the Tribune Friday. "They left me homeless. I need to sell some of these items to survive."
In news that will disappoint anyone who had their eye on owning a piece of Loren-Maltese's extensive clown collection (partially pictured above), ABC 7 reports that nearly the whole lot was sold to one man early on Friday for $100.
Calling all HuffPost superfans!
Sign up for membership to become a founding member and help shape HuffPost's next chapter