WASHINGTON — Georgia state Rep. Betty Price (R) — the wife of Tom Price, who resigned last month as President Donald Trump's health secretary amid investigations into his frequent use of private planes — wonders if isolating people with HIV would help stop the disease's spread.
Price, a former anesthesiologist, made the suggestion during a committee meeting earlier this week on access to healthcare, as Project Q Atlanta first reported.
"My thinking sometimes goes in strange directions," she said before asking the director of the Georgia Department of Public Health's HIV epidemiology section if she "wouldn't mind commenting on the surveillance of partners, tracking of contacts, that sort of thing."
"What are we legally able to do?" Price inquired. "I don't want to say the quarantine word — but I guess I just said it. Is there an ability, since I would guess that public dollars are expended heavily in prophylaxis and treatment of this condition, so we have a public interest in curtailing the spread? What would you advise? Are there any methods, legally, that we could do that would curtail the spread?"
After a thoughtful response from Dr. Pascale Wortley about the steps Georgia has taken to identify people with HIV and get them proper care, Price voiced fear about the spread of HIV in the state, which in 2015 ranked 5th among all 50 states for new diagnoses. 
"It seems to me it's almost frightening the number of people who are living that are potentially carriers — well they are carriers — with the potential to spread, whereas in the past they died more readily and then at that point they are not posing a risk," she said. "So we've got a huge population posing a risk if they are not in treatment."
(The exchange can be seen in the video below, starting at about the 1:02 mark).
Price's comments drew fire from LGBTQ rights groups.
In an interview with STAT News, Jeff Graham, executive director of Georgia Equality, called Price's comments "incredibly disturbing."
"It shows the amount of work that still needs to happen to educate elected officials on the reality of the lives of people living with HIV," he told the publication. "I'm hoping Rep. Price would be open to sitting down, meeting with folks, hearing how those comments sound, and recognizing that's not the direction we need to go in."
"This bigotry and ignorance from an elected official is beyond outrageous," he wrote in a post to Twitter.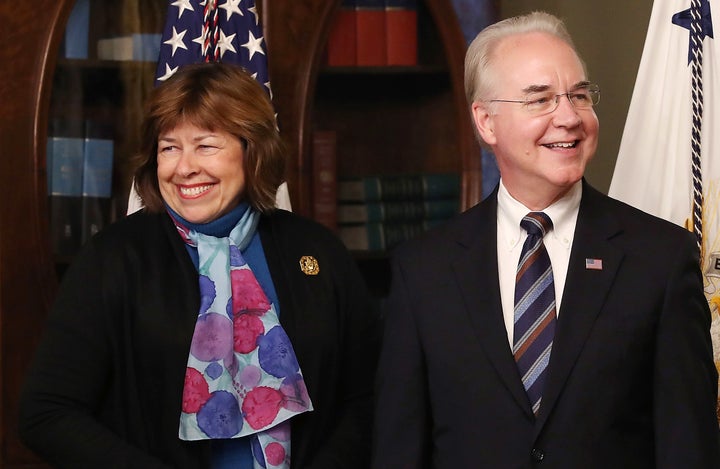 Calling all HuffPost superfans!
Sign up for membership to become a founding member and help shape HuffPost's next chapter