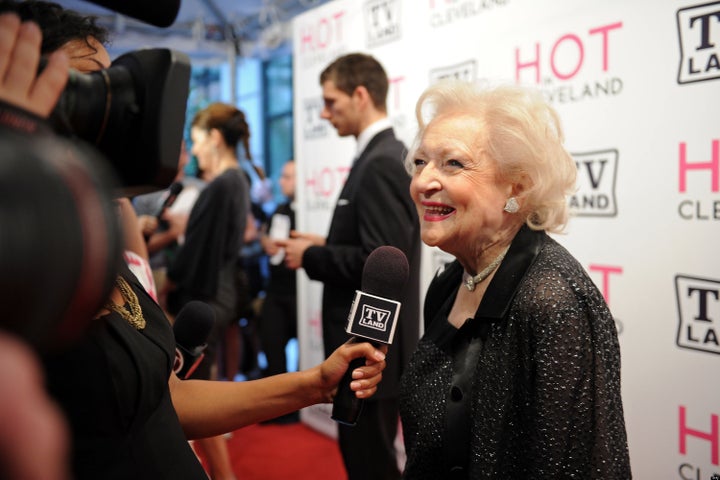 It is not unusual to find me in bookstores where I still enjoy browsing through aisles and shelves more than I do exploring the virtual space of Amazon.com or other online booksellers. Just yesterday, after indulging myself in one of my other favorite past-times, spending time in an Apple Store, I found myself in a neighboring Borders bookstore doing my usual scouting for what's new in the world of books. Right past a prominent display of the Kobo Wireless eReader (not to be confused with the Barnes & Noble Nook, Amazon Kindle, and especially Apple's iPad), I found something that really caught my eye -- a stand of Betty White calendars!
Alright, I confess. I have a sort of a "crush" on Betty White, but for reasons that are very honorable. Besides the noteworthy fact that I can claim her as being of Greek ancestry, her mother's maiden name was Cachikis, it is Betty's perspective on life and living that makes her the true "Golden Girl." Turning 89 years young this month, Betty White brings new meaning to the idea of being an inspirational role model for others to emulate. As an award-winning American actress, comedian, author, and former game show and radio show host, she is perhaps more recognized and popular today than she ever was in the past. And this is saying a lot in light of her well-known television roles on "The Mary Tyler Moore Show" and "The Golden Girls." Seen most recently as a host on "Saturday Night Live" (the oldest person ever to guest-host this show) and starring in the new sitcom, "Hot in Cleveland," Betty is about as "with it" as anyone can be in a world where reality TV is an oxymoron. The author of several books over the span of her career, Betty will soon be adding two more under her belt, one of which is scheduled for release this year.
So far over the course of her fascinating career White has received 20 Emmy nominations and has won seven. She even holds the distinction of being the first woman to receive an Emmy for game show hosting. Inducted into the Television Hall of Fame in 1995, she also has a star on the Hollywood Walk of Fame right next to her late husband, Allen Ludden, the popular game show host. And the honors keep on coming -- in 2010 the Associated Press chose her as Entertainer of the Year.
"Off-stage" Betty White also has demonstrated that she is authentically committed to meaningful values and goals; that is, she is realizing her will to meaning. Most notably she is recognized as a pet enthusiast and animal rights advocate. Her interest in this area began in the early 1970s and has only increased over time. In this regard, she has been a member of the board of directors of the Los Angeles Zoo Association for many years, even serving as Zoo Commissioner. The American Veterinary Medical Association recognized White for her charitable work with animals with its Humane Award in 1987. Most recently, on Nov. 9, 2010, the USDA Forest Service along with its mascot, Smokey Bear, who by the way hails from my home State of New Mexico, made Betty an honorary forest ranger. Because she had wanted to be a forest ranger as a little girl but women were not allowed to do that then, at the age of 88 years she was able to fulfill her lifelong dream!
Now I heard that White has decided to distance herself from public view in 2011 because she feels that she has become "overexposed." I don't know if I agree with her assessment although I do know other people in the media who are overexposed and would benefit (as would we) by following Betty's advice. With her 89th birthday just around the corner (January 17th), I do think that we all could agree that she has not "retired" by any stretch of the imagination. In this regard, she not only has not retired in a traditional sense, that is, "withdrawl from one's position or occupation or from active working life," but also has not retired from living her life with passion and meaning.
In my book, "Prisoners of Our Thoughts," I refer to a Canadian campaign called "Freedom 55" some years back that promised financial independence beginning at age 55 as well as the freedom to do whatever you would want for the rest of your life. Obviously, things have changed rather dramatically since that campaign was launched and, in particular, economic conditions have forced most people to re-evaluate their retirement plans. Putting the lure of financial independence aside for a moment, with the average life-span increasing for both men and women, we still have to wonder what this kind of promised "freedom" would ultimately mean for such young retirees. What would they do with -- and for -- the rest of their lives in so-called retirement?
Even if they do not follow the path of a Betty White, the onslaught of America's 79 million baby boomers is necessarily going to change the meaning and consequences of the word "retirement." Indeed, surveys by the American Association of Retired Persons (AARP) demonstrate that most older workers want to continue working well beyond the "official" retirement age. Importantly, beyond economic necessity, they know what they want from work at this time in their lives. And they put a high value on meaningful work that keeps them actively engaged in life. According to one AARP report, "Boomers are going to redefine what we think of as aging. We'll reject the term 'aging' or 'elderly'... They're looking for more meaningful work, to hone their skills, to still contribute -- but to have flexible work options... When you go beyond the financial aspects, you see the issues of wanting to feel connected to the workplace and that there's still a lot more to be offered in skill, knowledge, and expertise..."
This is still another validation that our search for meaning is not about only finding a higher purpose or a true calling as I share in my book. It's about finding meaning in every moment, every day. It's our personal responsibility to discover that meaning and it is clear that many "boomers" are taking this on as a personal mission.
I find this to be an exciting prospect at this time of turmoil in the world! Why? Because in my own experience, I've found that people who take the time to find meaning are happier -- they're more joyful, more passionate and more fulfilled. They are more resilient to the stresses of life. And, in effect, they become the "light," much like Betty White, for others. And they help to demonstrate and remind us that until we take our very last breath, it's never too late to pursue our dreams and discover meaning in our lives. Not too long ago I came across a gentleman who at 104 years of age published his first book; a manifestation of one of his lifelong dreams. I proudly display this book in my personal library for what it says about life with meaning and for its truly inspirational title, "My First 100 Years!" So, let's all wish Betty White a very Happy Birthday! (Shhh...and Betty, Chronia Polla!)
P.S. Besides sharing any comments about the subject of this post, please leave your birthday wishes for Betty White here too. I'll make a commitment to make sure that she sees them. In large part, it was a Facebook campaign that was the catalyst for Betty's guest-host appearance on Saturday Night Live. In a related but different way, let's use HuffPost as a platform for acknowledging her inspirational presence and for wishing her the best and most meaningful birthday ever!
You can find out more about Dr. Alex Pattakos, author of the internationally bestselling book "Prisoners of Our Thoughts," in his HuffPost bio. You can learn about his new initiative, The OPA Way!® of "living a happy, healthy, meaningful life," as well as join the new OPA! Village (it's free!) at www.theopaway.com.
Popular in the Community