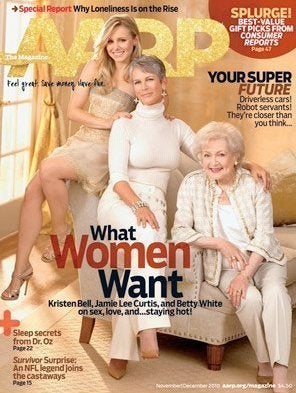 Betty White's last husband, Allen Ludden, died in 1981, but Betty tells AARP Magazine that if he were still alive, they would be having lots of sex. In the interview, Betty chats with Jamie Lee Curtis and Kristen Bell about aging in Hollywood, sex and love.
Here are a few excerpts, read the whole thing here.
On sex and aging:
"I don't have a fella, but if Allen--or Robert Redford--were around, we'd have a very active sex life. Does desire melt away with age? I'm waiting for that day to come. Sexual desire is like aging--a lot of it is up here [points to her head]."
On the secret to a happy marriage:
"The secret to our marriage was enthusiasm. His intelligence and sense of humor got to me. It sounds like a cliche, but my advice to Kristen [engaged to actor Dax Shepard] is never take each other for granted. When I knew Allen was coming home, I would freshen my makeup, put on a new blouse. He would call from where he was and ask me out on a date. Sometimes that meant pick up a chicken, and we'd put some records on and dance. That was our date--silly, but it kept the freshness in the relationship."
On what she would do over:
"I would not have married my first or second husbands. I married my first because we wanted to sleep together. It lasted six months, and we were in bed for six months. The second time I was deeply in love, but he wanted me to get out of show business--a deal breaker. Both marriages helped me to appreciate the real thing when it came along."
Popular in the Community