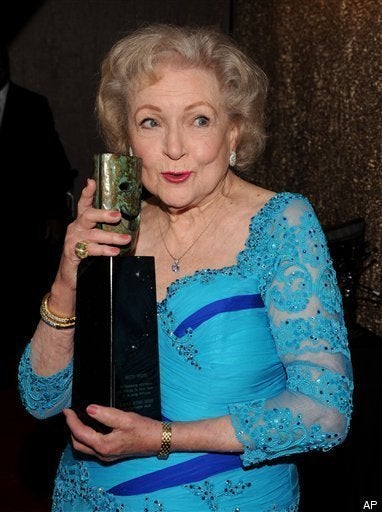 (SCROLL TO WATCH, AP TEXT)
LOS ANGELES - Betty White accepted a lifetime achievement award at Saturday's Screen Actors Guild Awards with the wit and grace that have punctuated her six-decade career.
White was the guest-of-honor at a gathering of Hollywood's top actors and actresses. She walked the red carpet and was treated to lavish praise by her peers. She reflected on her career, which included roles on "The Mary Tyler Moore Show," "The Golden Girls" and several film appearances.
"Seventy-one years ago when I sang on an experiment thing and it was called television, who would have dreamed it would culminate in an evening like this," White said after accepting her award.
She joked backstage that all the attention was going to go to her head. "I'm not going to be fit to live with the next few years."
White, 88, accepted the award from Sandra Bullock after a lengthy montage of White's work. The pair then exchanged quips.
Bullock joked that she finds White annoying, to which White shot back, "Isn't it heartening to see how far a girl as plain as she is can go?"
White had only praise for Bullock backstage. "She's the epitome of what a movie star should be," White said. "She's not only gorgeous and talented, but she's also the most down-to-earth human being."
Bullock and White recently costarred in "The Proposal," the latest but not last act in a storied film and television career. White spoke on the red carpet before the awards show of her upcoming film, "You Again," which is slated for release later this year.
"I was only 88 last Sunday, so I have lots more stuff to do," she said Saturday.
White's career started in local Los Angeles television during the medium's earliest days, and her first 20 years in the business included a 1951 Emmy for the comedy "Life With Elizabeth," and various talk-show and game-show appearances. But it wasn't until 1973 that she became part of a TV classic, as sex-crazed "Happy Homemaker" host Sue Ann Nivens on "The Mary Tyler Moore Show."
She conceded to still getting star-struck Saturday, but added she's never met one of her idols, Robert Redford. She was the target of a saucy joke from George Clooney, who appeared in one episode of "The Golden Girls."
For all the praise and attention, White appeared genuinely touched and appreciative.
"It would never even have occurred to me to imagine this," White said. "This is the highest point of my entire professional life."
WATCH:
Support HuffPost
The Stakes Have Never Been Higher
Popular in the Community