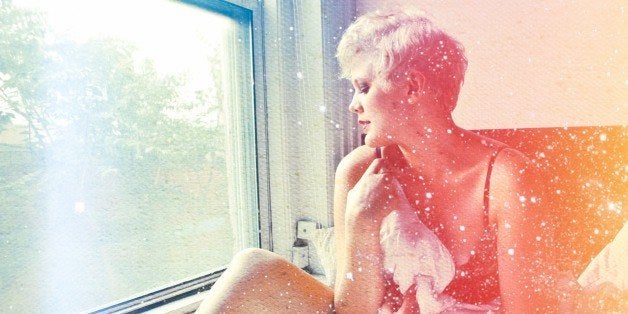 Raised in Australia, Betty now makes New York her home base as she prepares to conquer the world with her own special brand of fun breezy bubblegum pop. The Huffington Post recently spoke with Betty about being signed to a major label, her love for Britney Spears and her thoughts on the gay marriage proposal that took the internet by storm and used her song as the soundtrack.
The Huffington Post: You were recently signed to RCA [a division of Sony] and I read that when you walk the halls of Sony Music, you're surrounded by photos of some of your favorite artists on the walls. Who does that include?
Betty Who: Oh, Britney [Spears], Christina [Aguilera], Justin Timberlake, Pink, Kelly Clarkson. A little known fact about me [is that] I'm a connoisseur of tour DVDs. I was always obsessed with other performers doing their thing and Britney "Live in Las Vegas" from 2001 is my absolute favorite tour DVD of all time. Yesterday I was going into a meeting and I walked into the head of sales' office and he had this huge HBO Britney "Live in Las Vegas" poster and he was like, "Yeah, I was at that performance, I was at the taping." I swear to God I thought I was going to throw up.
Whose upcoming album are you most excited for -- Katy Perry, Lady Gaga, or Miley Cyrus?
It might be a tie between Katy Perry and [Justin Timberlake's] "20/20 Experience Part 2." I am really excited about "Bangerz." Everyone is like, "She's [Miley] so controversial" but I love it. I think she's out of her mind and I'm obsessed with her. She's totally rock 'n roll -- she's doing whatever she wants and totally living her life. I'm a huge Katy fan. "Teenage Dream" is one of my favorite albums of all time, so it might have to be Katy Perry.
Your sound and aesthetic has a very '80s-esque feeling to it. Are you influenced by artists from the '80s and early '90s?
Oh, for sure. I was born in 1991 so I missed the '80s [laughs] but I think that the reason I'm so influenced by the '80s and so rooted in that sound -- for me when I think about really fun music that isn't dark or punk or angry, like when I think about "Girls Just Wanna Have Fun," there isn't this underlying message or anything -- it's just a fun song. I think it's the same with Madonna's music. She was really sexual and she did what she wanted. It was about women and empowerment and fun and dancing, and so my lyrics, when I write songs, there will always be a tinge of sadness, that's just the way I write songs. Oh I'm still single so here we are, but when it comes down to it, I'm really happy -- I'm a very happy person -- all of my friends and I really do go out and have fun and dance. So much of that is who I am and I wanted that to be reflected in my sound but I also didn't want to sound like I was ripping off the '80s. It's current and it's my sound but it's rooted in a time that was fun and felt happy.
Is there a dark side to Betty Who?
I think the thing about my darkness, there's no real part of me that's like filming the "Everytime" video by Britney -- I'm not drowning in a bathtub somewhere -- but even when it gets really dark for me, it comes from a place of I have to believe I'm not going to die alone. So that's the darkness in that. There's no real part of me that is Evanenscence-esque, so on the next EP there is a song that sounds really happy but when you take a second to listen to the lyrics they're devastating.
You were raised in Australia but you've been living in the states for a while now…
I'm very much half-American -- my mom is American. I grew up in Australia until I was 16 then I finished high school over here because I got into this performing arts high school.
I wanted to talk a bit about Australian politics. When Katy Perry was on the Australian radio show 2Day FM this summer, she debated gay marriage with politician Tony Abbott (who has since been elected Prime Minister of Australia). Do you think pop stars should be vocal about political issues like that? What are your thoughts on him being so opposed to gay marriage in your home country?
I think it's so important as an artist to stand up for what you believe in and I think that if equal rights is something that you really believe in and you have a voice that people listen to and you need to share that -- I think that's really important. I understand not wanting to step on too many toes or alienating people -- what if someone is really conservative and they're a really huge fan and you come out as a supporter of gay marriage, then they're like "I'll never listen to them again." But for me, [I believe] you should be able to love exactly who you want to love and it doesn't matter, you should love who you want. If someone made the conscious choice not to listen to my music because I supported what I believed in, I wouldn't want them to listen to my music anyway. So I think its hard to be in the public eye and everyone has an opinion about what you say and what you do but I think it's incredible what people like Katy Perry and Lady Gaga do for equality. If I got to a place where people were listening to what I had to say then I would absolutely stand up on a huge platform in the middle of Times Square and yell, "You should be able to marry who you want to marry!"
Well, you've gotten a lot of press lately because of the viral video featuring a surprise gay marriage proposal that uses your song "Somebody Loves You" as the soundtrack. What are your thoughts on the video?
Isn't that insane? I mean who knew? I think the thing that's really funny is that my mother is like, "What's your message going to be? Do you support gays? Do you support women?" The more time I spend writing music and the more time I spend going out and meeting people and figuring out what my demographic is, I realize my message is more just about love and about having that be what it's all about because that's really simple, isn't it? I think it's really amazing that a platform that uses my music got spread to so many people. It was used in a video that basically embodied that because I watched that video and I was like Oh my God, this is about love. It's not about who it's between, it's about bringing people together to celebrate loving someone so much that you want to spend the rest of your life with them. That's what I want, that's what I believe in, that's what I look forward to and that's what I hope for. So when I saw my music as literally the soundtrack to the rest of somebody's life I was like, Yeah, that's perfect.
I read that you cried when you watched it…
Oh my god, weeping. I was so overwhelmed and moved -- and I was in a public place. I was like, Oh my gosh, what do I do?
What's next? Is there an album on the horizon?
We just finished the second EP.
Does it have a similar sound to the first one?
People ask, "Oh, is it in a different direction?" and I'm like "I literally have four songs out." I finished the new EP in August out in LA with my producer. I'm hoping to put out an album next summer but you know with this viral video anything could happen.
To keep up to date with Betty Who and her upcoming tour dates, check out her official website here.
Calling all HuffPost superfans!
Sign up for membership to become a founding member and help shape HuffPost's next chapter