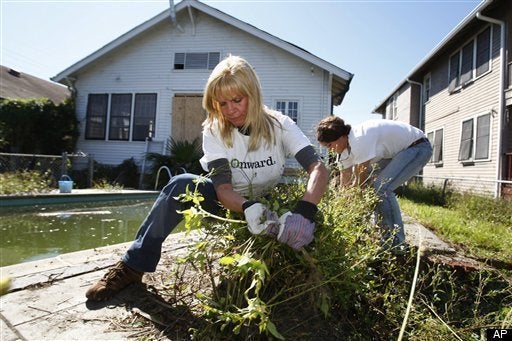 "No more turf wars. All of us need to move forward together, because there is much more work to be done," President Barack Obama 8/29 Katrina Anniversary Radio Address
I'm not worried about the music slipping away, I'm worried about the whole city slipping away. Look, if they don't fix the wetlands, we won't have a whole southern Louisiana in a few years. Even people from New Orleans don't know how bad it is down south with the Army Corps of Engineers cutting canals everywhere . . . if they could just let the river roll the way it originally ran. But I know the city would hate that because it would cause shipping problems, so I'm trying to get the state government involved. Not that I trust them to do it right either. We're trying to stomp over the tradition of Louisiana politics here, and that tradition is basically corruption.
These are the two tales of New Orleans recovery four years after Hurricane Katrina hit Mississippi and New Orleans levees imploded. What has been done and what is still undone. Past the stories of return and recovery, thousands of New Orleanians are still trying to cut through the red tape and jurisdictional turf wars the president describes. Individuals have been sharing their Katrina stories through Twitter hashtag #whereIwas4yearsago. There's something healing about that.
Back in New Orleans for the Katrina Anniversary, we reflected at a Lakeside Cemetery memorial with over a thousand flags bearing the name of every fatality from the flood. Along Canal Street, the new Charity Hospital Cemetery Memorial, with its walkway in the shape of a hurricane, is a tribute to the bodies that remained unclaimed. And across from the cemetery is The Herb, a shop that flies its Brad Pitt for Mayor banner by L. Steve Williams, Jr. -- in part a tribute to Pitt's theoretical mayoral platform of legalized marijuana, no religion and gay marriage. Sacred and profane, sad and joyful -- New Orleans has always married conflicting emotions artfully.
Across the canal in the 9th Ward, Pitt's Make it Right homes for returning residents spring up. Not far from those are the home slabs that have become steps to nowhere. Someone changed the lettering on an abandoned church sign to "Who's Your Daddy?" A nearby stop sign now reads Stop Trippin.
All photos by Jeff Beninato. All taken on 8/29.