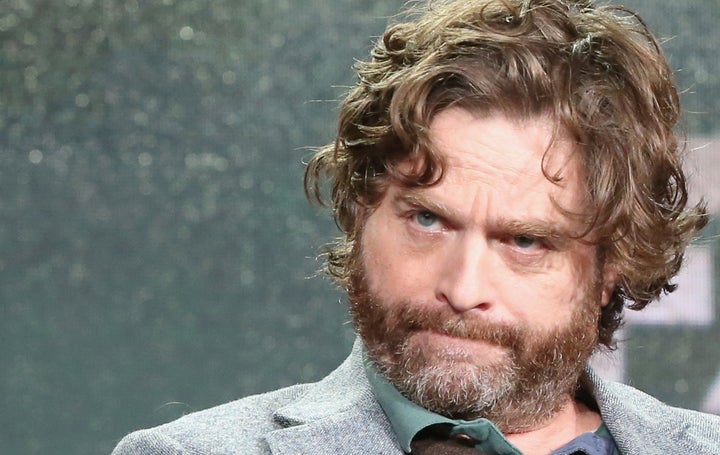 Now that the Clinton "Ferns" segment has been out for several weeks, Aukerman tells The Huffington Post that Galfianakis and he would never invite the Republican presidential candidate to be on their show.
"We would never do one with Trump, just on principle," said Aukerman, in a conversation promoting the final season of his IFC show, "Comedy Bang! Bang!" "We have absolutely no interest in hanging out with him or furthering anything he's talking about."
Aukerman explained that he was initially coy about whether "Between Two Ferns" would record a segment with Trump because he didn't want to make the Clinton video more political than it already was.
"I didn't want to turn off all of the Trump followers and make it a thing where they were coming out against the video, even though we found, with the Obama one, that actually made it way more popular," said Aukerman. "But I just didn't want to politicize the video that early on, because I really want people to see it and make up their own minds about how they felt about it."
In late September, Zach Galifianakis told the Los Angeles Times that he wasn't interested in creating a "Between Two Ferns" with Trump, but it was unclear how definitive the show's stance was on working with the politician.
"He's the kind of guy who likes attention — bad attention or good attention," Galifianakis told the LA Times. "So you're dealing with a psychosis there that's a little weird. I wouldn't have somebody on that's so mentally challenged. I feel like I'd be taking advantage of him. And you can print that."
Aukerman also gave HuffPost some background into the Clinton shoot, telling us there was a time that Clinton improvised a line and made Galifianakis break into laughter, ruining a shot. 
"The very last joke in the piece was [said by Galifianakis], 'What's the best way to get a hold of you, by email?' and she laughed and said, 'Sure, everybody knows that,'" and sort of made a joke defusing it," recalled Aukerman with laughter. "We all laughed and said, 'Oh, OK, we're going to have to take it again.'"
The opposite was true as well, with Galifianakis often making Clinton break.
"The joke about the Trump steaks being from the asshole," Aukerman recalled specifically about a joke that caught the Democratic nominee. "Everyone in the room laughed really hard, including Mrs. Clinton. And so it was kind of unusable."
Calling all HuffPost superfans!
Sign up for membership to become a founding member and help shape HuffPost's next chapter
BEFORE YOU GO
PHOTO GALLERY
Republicans Who Have Withdrawn Their Support For Donald Trump