Six weeks ago a book appeared multiple times on my Instagram feed. The last thing I needed was another book on my TBR (to be read) list, but due to the comments written by the serious readers of #bookstagram, I found the book online, read the first paragraph and bought the eBook immediately. Half way into the story I ordered the paperback. Here's the first paragraph that instantly reeled me in.
She dreamed in grey, the colour of misery.
The pall bearers lowered her coffin into the ground. She banged on the lid, bloody fingers clawing at the wood. But she wasn't trying to get out. She was trying to get in.
The Making of Gabriel Davenport, is the debut novel by British author Beverley Lee, and lucky for us, the book is the first in a dark fantasy trilogy. This story is deliciously dark and haunting, and Lee's writing is succinct while drenched with vivid descriptions and real-to-life characters. In fact, because of the way Lee portrayed her darkest and most vile figure, a somewhat lost soul with a destructive agenda, I found myself, more than a few times, somewhat surprisingly rooting for evil.

The story begins with the haunting backstory: Gabriel's parents, Beth and Stu, move to the English countryside to give their young son an idyllic childhood. But in the midst of one of the worst storms in decades that forces traffic to a standstill, an ancient darkness surfaces and their lives are changed forever. Skip to present day and teenage Gabriel searching for answers about his mysterious past. He questions the actions of those around him and discovers the house he lives in holds secrets. Over one long, suspense-filled terrifying night Gabriel's life unravels as his friends and esteemed teacher are sucked into a wicked stew of depravity and vengeance.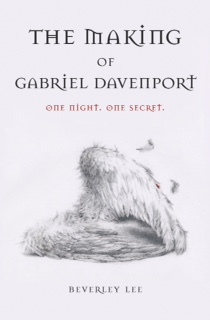 Ms. Lee was born and raised in the county of Yorkshire but moved with family to the north east of Scotland in her twenties. She currently resides in the Royal County of Berkshire, England. Her Instagram feed is dotted with photographs of ancient buildings, rusty iron gates and snippets of shadowed prose such as, 'you are my angel with wings dipped in sin.' Drawn to her haunting narrative, I was eager to know what inspired Ms. Lee to write The Making of Gabriel Davenport.
I wanted to write something that would make people 'feel' for what the characters were going through. And I wanted to show the real human condition of finding hope in seemingly hopeless situations. It was inevitable that this would have a very dark side, because that's my happy space when writing, but I also needed to show what happens in the light, and, most importantly, that small sliver between where things are neither one thing or the other. Darkness and light, both opposites and joined by a fragile thread. The choices we make when balanced on this thin line can either save us or condemn us, and there are multiple such choices in my book. In the end it is all down to what choices we make and how we deal with the aftermath.
How long has Gabriel's story been brewing?
I have had the setting of The Manor in my head for decades. The idea of a place that could actually be a character in its own right appealed greatly to me. I knew that I wanted to team it with some kind of paranormal organisation, but the actual story was birthed over the course of a year. The first 3,000 words were penned as the start of a short story competition that I never entered in the summer of 2014. I picked it back up again in January 2015 but something wasn't quite right. Originally Gabriel was a girl, named Erin, but once I changed this, the story grew wings and became its own force. Gabriel, as a character, is everything that I love exploring about that space in our lives where we've almost outgrown our childhood skin but don't yet fit into our adult shoes. He struggles with his past and his search to find answers is not only the result of a curious mind, but of his need to find his true identity.

Is there a particular character in your story that forced you to grow, to learn more about yourself?
I'm not sure there is a single character that has helped me grow, more than the others, although if I had to choose, Noah is the most like me. He tries to please everyone, which sometimes backfires on what he needs. He has a solid moral sense, some of which he has to peel the scab from to accept what actually goes on at The Manor. I can empathise with having to dissect something you've held close for years. As writers I think a little piece of us goes into most of our characters, even the distasteful ones. Beth carries my fierce family loyalty and Gabriel the need to understand and pick apart things that maybe should be left well alone. Olivia is the only character that has parts of someone I know, and she is the least like me. But I love the way that she takes no prisoners and acts on what she feels is right and sticks by it.
Serious writers are serious readers. Can you share with us a few authors who have influenced you, and why?
I grew up on a diet of C. S. Lewis so it is inevitable that a small slice of that finds its way into my writing sometimes. I still remember the wonder of discovering Narnia (and will freely admit to actually hiding away in any old wardrobe I could find, just in case...). Later I graduated to the likes of Conan- Doyle The Hound of the Baskervilles is a masterly tale of suspense which I suspect has influenced my writing a great deal), Steinbeck, Dickens and Dumas. All of these greats taught me something about writing, whether it was the skill of weaving multiple plots into a whole or the art of characterisation and just why making a reader 'feel' something for a character is key.

I'm a huge Stephen King fan. He can write the most believable characters in just a few sentences. They have motives and flaws, and that, in essence, is what makes them so appealing, because we can relate to them. Neil Gaiman, who can take magical realism and make you believe in spider gods and cities under the streets of London. I could go on and on but will add just a few more - Hilary Mantel, Oscar Wilde, and more recently, Leigh Bardugo and Maggie Stiefvater, who again create worlds that seem as real as the one we live in now. My favourite poet is Pablo Neruda. His language is like the juice spilling from a fresh peach in the sunlight.
Where is your place of escape, that place you venture to when your imagination needs fueling?
I love to walk, and the more remote the place the better. Nothing inspires and unwinds me more than the sight and the sound of nature. It's the polar opposite of being cooped up in my study writing. I find that any plot glitches can be wonderfully resolved through a healthy dose of fresh air and I frequently visualise scenes in my head as I'm walking, or I'll pick over why a certain character is or isn't working. I also go to a weekly Pilates class - the combination of exercise and focus works very nicely after days spent in front of a screen. And I read, voraciously, anything that I can get my hands on. If a story makes me 'feel', I fall into it quickly.

Do you have a favorite place on the planet, one that has inspired your creativity?
I've been lucky to travel to a host of different places in the past - both in Europe and in the U.S. Venice captured my heart as soon as I sailed into the Grand Canal on a river barge close to midnight. The buildings in their quiet decaying eloquence and the winding dark water canals, this is a place that breathes life to a muse. It has everything, art and history and a timeless beauty that only comes with the wisdom of age. I would return in a heartbeat.

Another place I adore is Sedona, Arizona. This is a place of extreme beauty with its red rocks rising to an impossibly blue sky, but there is a grounding energy here with multiple ley lines converging to form power vortexes. If ever a place thrummed with unseen energies it is here. Storytelling is an ancient art; I think that's why I find my peace in places that have their own hidden tales.
How do you feel about marketing, in particular social media? Do you have a favorite platform?
I have a love-hate relationship with social media! On one hand I love the interaction with other writers and people who share my passion for books, but on the other hand it is a classic black hole. I can literally lose *hours* on some days, and those hours could have been spent actually writing or revising. My favourite platform is Instagram, which I joined about a year ago. I discovered the #bookstagram community there and was quickly swept up into the arms of other like-minded people and artistically crafted photography. I've met some wonderful people here (some in real life) who understand both the highs and lows of writing a book - there's always someone around to lift up the spirits if you've had a particularly punishing day in front of a screen. I love the ease of use and the sense of real community. Instagram doesn't feel cold or clinical it feels like home.
Had you written other stories prior to writing The Making of Gabriel Davenport?
The Making of Gabriel Davenport, is my first novel and is the first book in a trilogy of dark fantasy. That's my happy place, the unrestricted world of fantasy where I can marry my love of the dark side with a host of characters, both human and otherwise. Before this I concentrated a lot on short stories. I've always been drawn to poetry too, and for a while, wrote nothing but. It was a bad time in my life and I think words will always come to save you, if you let them. I also have a short story coming out this year in an anthology about doomed love, Crows on Heartstrings, where each story is teamed with a different artist.
Can you share a little about the writing life of Beverley Lee: your favorite time of day to write, a favorite place?
I write in my study, a room at the front of the house, where I can see a little bit of the world outside and the edge of my garden. It's important to know that there is an outside world, as we spend most of our time cloistered indoors scribbling down the conversations of other people! I tend to write mid afternoon but I can write at any time the muse strikes. I find that certain scenes are very visual in my mind and these are the ones I concentrate on, but I write sequentially. I draft in Scrivener for that all-important first draft. I love the way I can make notes in the sidebar as I'm unloading all of those tentative thoughts. This really helps when it comes to the second draft, as I can then act on all of the 'check when this flower blooms' or 'research history of xx'. I have a daily goal, usually a thousand words, and I try to get this down everyday until I've finished that draft. At this point I need to train my focus as the story is still a newborn, and like the human equivalent, demands constant feeding and attention. I'm an organic writer. I don't plot a lot, although I'm a copious note maker. I have an idea of how I want the story to go and then I hand it over to my characters to see if they agree with me or not!
The Making of Gabriel Davenport is available on amazon. Publishing date for book two is spring of 2017.
Related
Popular in the Community