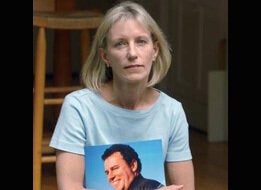 SCROLL DOWN TO SEE A SLIDESHOW OF ECKERT
***UPDATE: 10:40am EST***
President Obama spoke about Eckert before his remarks on the economy this morning. Check out the video... and read the article from the AP below.
Speaking at an event at the White House, Obama said Friday that his prayers are with families and friends who lost loved ones. A Continental commuter plane crashed into a house in suburban Buffalo on Thursday night, killing all 49 people aboard and a person in the home.

One of the victims was Beverly Eckert, a Sept. 11 widow. She was just at the White House last week with Obama as part of a meeting he had with relatives of those killed in the 2001 attacks and the bombing of the USS Cole.

Obama said Eckert was an inspiration to him and he hopes her family finds comfort in the days ahead.

Fifty people lost their lives Thursday night when a Continental commuter flight from Newark, New Jersey crashed before landing in Buffalo, New York. Details remain scarce on whose lives were claimed. One victim confirmed dead is Beverly Eckert, a 9/11 widow who lobbied Congress to reform U.S. intelligence practices. Eckert had met with President Obama last week to discuss how his administration would be handling terror suspects. Read more about Eckert below:
The usually joyful meet-and-greet area of the Buffalo Niagara International Airport was a corridor of tears and sorrow early this morning as family and friends of those aboard Continental Express Flight 3407 filed in to get official word of their loved ones' fates.

For Sue Bourque, the wait for confirmation regarding her sister, Beverly Eckert, was all too familiar. Eckert is the widow of Sean Rooney, a Buffalo native who lost his life in the Sept. 11 terrorist attack on the World Trade Center.
Just last week, Eckert was at the White House with Barack Obama, part of a meeting the president had with relatives of those killed in the 2001 attacks and the bombing of the USS Cole to discuss how the new administration would handle terror suspects.

"She was such an important part of all of our work," said Mary Fetchet, another 9/11 family activist. She learned Eckert was aboard the plane from another close Eckert family friend now headed to Buffalo. Officials investigating the crash have not yet confirmed she was on board the plane.
Eckert, center, talks with House Speaker Pelosi in 2007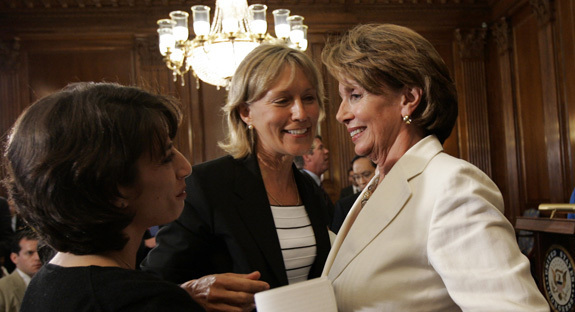 Beverly Eckert holds up a sign during a rally regarding the search for human remains at the World Trade Center site Thursday, Nov. 2, 2006 in New York.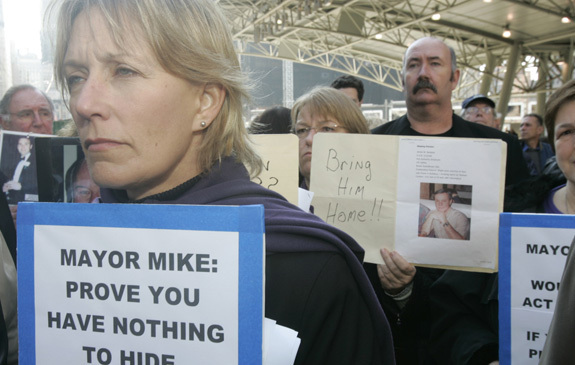 Popular in the Community