Lorene Potter ran from her daughter's blood-spattered bedroom in Leland, N.C. on Feb. 23, 1987, her grandson held tightly in her arms.
"Mean man hurt Mommy, Mommy cry," he had said when she scooped him up and fled through the rear door, Potter later told her family. He was just a day shy of his second birthday.
"It was a very violent, brutal, and chaotic scene," Tony Cummings, a retired investigator with the State Bureau of Investigation, told The Huffington Post on Wednesday.
READ: More Unsolved Mysteries (Story Continues Below)
Mintz's cousin, Renee Braswell, told HuffPost last Monday that the murder was devastating for Potter. Not only did she lose her daughter, but she also witnessed the brutal aftermath left by her killer.
"I can't explain how bad it was the day I found her…. It broke my heart," Potter told WECT news before her death in 2007.
Braswell described Potter's experience that day she found her daughter.
"She had stopped by Jaye's house around 12 p.m. on her way back from town," Braswell said. "She noticed that the door was unlocked, which is unusual. She knocked on the door and, when nobody answered, she went inside."
According to Braswell, the first thing Potter heard when she went inside the home was her grandson whimpering in a back bedroom.
"She walked into the bedroom and that's where she found her," Braswell said. "Jaye had a pillowcase over her head and her mom's first thought was to help her. She pulled the pillowcase off and everything after that was a blur to her."
"Her hands had been tied behind her back and a pillowcase covered her face," Godwin said. "When her mom removed the pillowcase, she saw her daughter's throat had been cut so deep that her head was nearly severed from her body. She had also been stabbed multiple times." Mintz had also been raped, Godwin said.
Investigators were puzzled from the start of the investigation.
Leland, a suburb of the bustling town of Wilmington, is nestled along the west bank of the Brunswick River. A mid-sized town with small-town charm, residents were terrified following Mintz's 1987 slaying. Gun sales, according to then Sheriff John Carr Davis, increased by 300 percent.
"It completely baffled us," Davis told HuffPost Tuesday. "We didn't have much crime scene evidence. The child was so young that he wasn't able to offer many details about who it was."
Braswell said Potter questioned the child about her daughter's killer.
"One thing he remembered was a knock at the door," she said. "He told her Jaye looked out the peep hole and she didn't see anybody. She opened the door and the man immediately came in. He said it was a white male -- someone he didn't know."
Mintz's other child, a 4-year-old boy, was visiting his other grandmother at the time of the slaying, Braswell said.
In the weeks following the homicide, investigators ruled out several people known to Mintz. Her estranged husband, a man she married in 1983 and separated from in 1986, had a solid alibi -- he was enlisted in the Army and stationed in Germany. The owner of a local restaurant whom she had recently started dating also had an alibi -- he was with at his house with a plumber. Others were also checked off the list, one by one. No one who knew her, it seemed, had means or motive.
"She didn't have an enemy in the world," Braswell said. "She had a heart of gold. She was always nice to everyone and never said an unkind word. Talk to anyone who knew her and they all say the same things: She was a sweet, wonderful person. We don't understand how anybody could ever hurt someone like her."
One clue investigators focused on was a classified ad Mintz had recently placed in weekly newspaper to sell a water bed. At the time, the paper was giving away one free ad, per customer, per week. When the bed did not sell the first week, Mintz ran the ad again, using her mother's number so she could again take advantage of the free ad offer.
"On the day of the murder, her mom called her at about 9:30 a.m. and told her a man had called about the bed and would be stopping by to look it," Braswell said. "Jaye told her mom at that point that it had already been sold to a friend's mom. They did not have caller ID or anything back then, so her mom told her when the person arrived to just tell him that it had been sold. Jaye said okay and that was the last time her mom spoke to her."
CASE PHOTOS: (Story Continues Below)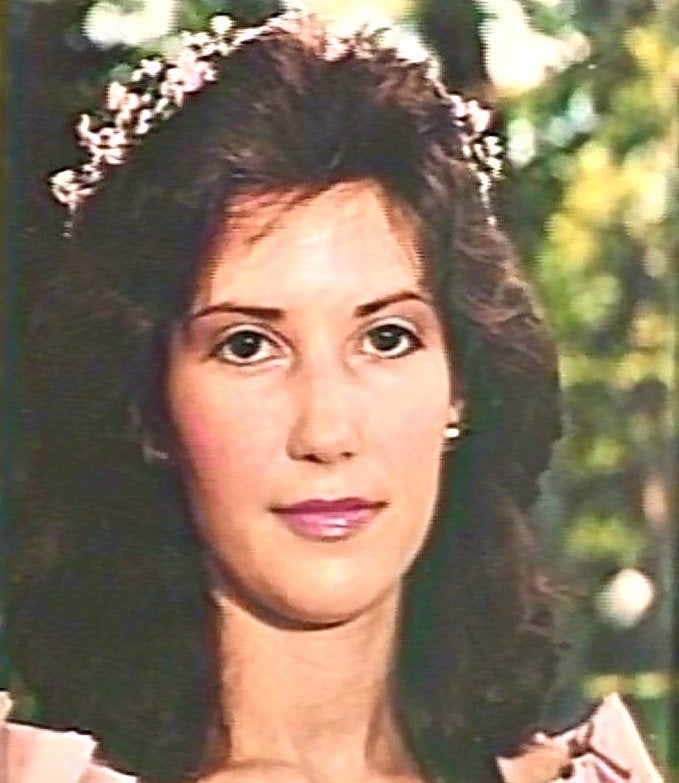 Beverly Jaye Potter Mintz
At the crime scene, authorities found a clipping of the classified ad circled in red. Investigators presumed the killer left it at the scene.
"It was obvious that the person who committed the crime had taken some steps to find information out about the victim that morning," said Cummings, the veteran detective. "We feel like the person that inquired about the waterbed is the suspect."
Cummings said the killer brought the nylon rope used to bind the victim and the knife used to kill her. Despite those actions, he does not believe the killer was methodical or that the slaying was well-planned.
"There were some things that occurred that indicated, at some point in time during the commission of the crime, the suspect may have been in control of himself, but then at another point, he was not," he continued.
Godwin, the criminal investigative psychologist, disagrees.
"I believe the individual had been stalking her," he said. "The person was comfortable watching the house and going in. He knew there was not an adult male in the home, so he had to be watching."
Godwin added, "The newspaper ad could be a ruse left at the crime scene to taunt [investigators]."
For Braswell, Godwin's theory makes the most sense.
"She had started receiving strange calls every so often before she was killed," Braswell said. "The calls always came after she got home and the person would hang up, so that's another reason we are thinking somebody was watching her."
While the two men disagree on the killer's modus operandi, they do both believe the killer is an experienced criminal, who left the Mintz's son alive because he was confident the child would not be able to identify him.
The killer, both men said, also slid in and out of the home during a short window of opportunity, without anyone taking notice.
"It is one of the things that stands out the most," Godwin said.
As Cummings explained, "[The slaying] happened during the day. Her house was on a well-traveled road -- there was a restaurant less than one-tenth of a mile east and a flower shop next door -- and there was a roofing crew working on a house across the street. How did he get in, commit such a brutal crime, and be unseen and unknown?"
For 27 years, that question has plagued investigators.
"The murder … shook not only the small town of Leland, but our entire community," said Sheriff John Ingram, who took office in 2008. "Since that day, the investigation has gone through seasons of ebb and flow …. We've had several leads that have been followed up on that unfortunately did not yield the results that we hoped."
Despite retiring from law enforcement, Cummings said he remains in contact with investigators assigned to the case. While many years have passed since the slaying, it is possible, he said, for the case to be solved.
"You always hope for someone to come forward or for advancements in [forensic science] to detect something in the evidence that we couldn't detect in 1987," he said.
"This is not a sexual advance, turned rejection, turned anger, turned murder," Godwin said. "It is a complex case, but that doesn't necessarily mean it's impossible to solve."
While Mintz's family tries to remain hopeful that the crime will eventually be solved, the wait becomes increasingly difficult with each passing year, Braswell said.
"The only thing that kept Jaye's mom going as long as she did was her grandchildren," she said. "She adopted them and could talk to and look at them and always see her daughter in their faces. They were a blessing to her. But now, she is gone. It is up to us now to make sure the case stays in the spotlight, and every year we think this is the year it will be solved, but nothing happens. It's devastating and we want it to come to an end."
Anyone with information regarding this case is asked to contact the Brunswick County Sheriff's Office at (910) 253-2777 or 1-800-672-6379.