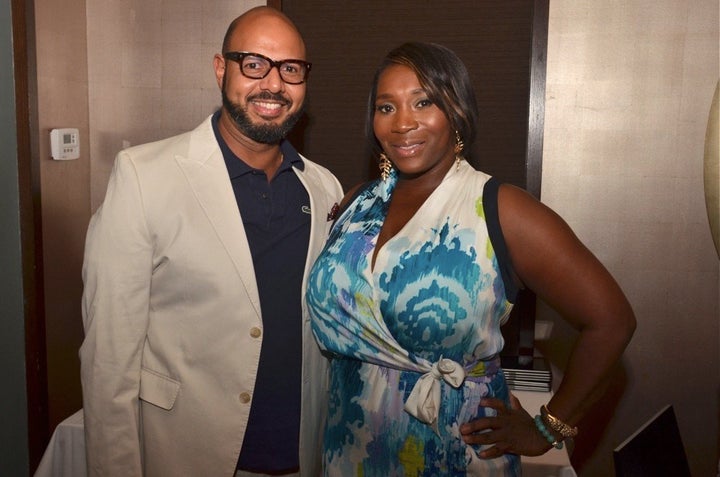 Bevy Smith is a media maven with a larger-than-life personality, and she's as endearing as they come.
Smith, most widely known for her "Dinner With Bevy" events, connects stars and moguls to sought-after tastemakers in fashion, entertainment and media. Kerry Washington, Pharrell Williams, Solange Knowles and Idris Elba are just a few of the bold-name guests who have broken bread with Smith. Not too shabby.
Smith's exclusive events also carry a tough-love disclaimer: "If you have to ask to be invited, you're most likely not on the guest list." (We're pretty sure our invitation got lost in the mail -- or just isn't coming at all.)
But with a little over 41,000 Twitter followers, it's clear that Smith has a reach that extends well beyond her tight celebrity circles. There are plenty of fans and go-getters that have deemed her their "Twitter godmother," "Twitter auntie" and "Twitter mentor," vying for a chance to get in the room with her.
With that said, the Harlem-based entrepreneur has decided to pull out a chair for the next generation of movers and shakers with her latest venture: "Dining With Bevy: Life With Vision."
Smith's new dinners, which officially launched this past Saturday in New York City at Charlie Palmer's Aureole restaurant, aim to help individuals fulfill their passions through motivational speaking and visualization exercises. But before you think this is just another self-help seminar about landing a plum job and climbing the corporate ladder, think again.
Smith says the experience is more about "fellowshipping" than networking. By opening up about her personal career path and inviting marquee speakers to do the same, Smith hopes to help attendees discover their "authentic" selves.
"I want people to walk away saying -- 'I connected with people, I learned, I shared, I fellowshipped -- and now I have some tools to move forward,'" she told The Huffington Post.
Smith is not simply rattling off self-help mantras and life-coach fodder, she shares her personal vision boards and recounts the tough, yet calculated, choices she had to make in a career that took her from being a fashion advertising executive making six figures to barely making ends meet and to finally creating a thriving, self-sustained brand.

The theme of transitioning from one career to the next was strong on Saturday in the chic private dining room brimming with Smith's hand-picked group of focused, educated and highly-motivated individuals.
Tweet-stalking won't get you an invite to the new "dining" experience -- participants have to apply for the opportunity. Hopefuls (21 years old and up) must complete a questionnaire, submit a resume and pen a letter stating their "life's passion" and why they should be selected. Only 50 people will be chosen per event. If accepted, attendees must then pay a $100 entry fee to offset the cost of the event, which is also aided by fabulous sponsors like Diesel USA, Swarvoski and Verizon--all of which helped with the launch event.
Busayo Olupona, a 32-year-old New Yorker, who was one of the lucky chosen participants, spent six years as an attorney before leaving her job to pursue her dream of becoming a fashion designer.
"Bevy puts her own spin on a lot of the things that I have been struggling with in terms of transitioning out of my job," Olupona said. "It was a really powerful reaffirmation of what I'm doing."
Smith, who has reinvented her own career several times, said, "I'm not anti-job, I'm anti-doing something that brings you no joy."
That sentiment was echoed and discussed throughout the afternoon over the lunch of artisanal ravioli, grilled fish, beef tenderloin and molten chocolate cake. Conversations flowed smoothly and intently thanks to a thoughtful seating chart that curated tables based on attendees' interests and expertise, which ranged from multimedia philanthropy to fashion journalism.
A key point Smith took great care to highlight was the importance of "well-wishers," or "people in your life that wish you well and will do anything in their power to help you reach your goal," she explained.
Smith tapped one of her own biggest "well-wishers" and closest friends, Emil Wilbekin, to serve as the event's first honoree and keynote speaker. Wilbekin, Essence magazine's editor-at-large, has also lived through highs, lows and in-betweens in his storied career, which he graciously detailed during a lively Q&A session.
From the laughter, chatter and even tears of joy, it was clear the event was a success. The first class of "Dining With Bevy: Life With Vision" has graduated into a community that will grow over time, especially as members become one another's "well-wishers."
And something tells us the names of these "Dining With Bevy" attendees could be on a coveted "Dinner With Bevy" invitation in the near future.
Check out photos in the slideshow below for a glimpse of the chic event. And for more information on how to apply to "Dining With Bevy: Life With Vision" click HERE.
Calling all HuffPost superfans!
Sign up for membership to become a founding member and help shape HuffPost's next chapter
BEFORE YOU GO
PHOTO GALLERY
"Dining With Bevy: Life With Vision"