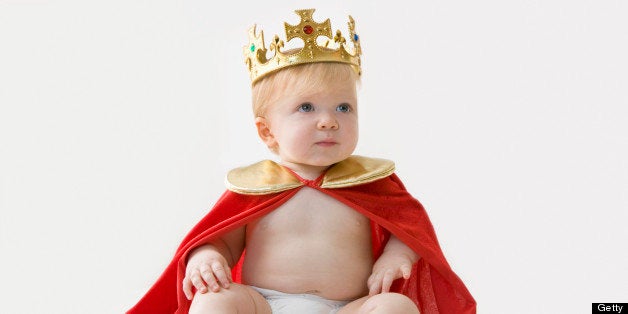 What kind of person takes advantage of a royal occasion to bilk people out of money? Scammers, of course! Be careful where you click when you see a tantalizing website luring you into seeing new pictures of the latest addition to the British Monarchy, which many of you, admit it, can't resist! The Better Business Bureau is out with a warning that it expects cons will start to cash in on the newborn prince's popularity. It has seen this type of thing before.
According to the BBB, here's how it works:
You are on a social media site and you see that your friend likes an "exclusive" video of the new royal baby. The link promises candid footage that no media outlet has, so of course, you click on the link.
That link then takes you to an unfamiliar, 3rd party website.
A pop up appears prompting you to "update your video player" before you are able to view the clip.
You click "OK." However, when you download the file, you aren't updating your software. You are really downloading a virus that scans your machine for banking and other personal information. This opens you up to the risk of identity theft.
Scammers can glean your friends' names and emails from their social media accounts and send messages posing as them.
How to protect yourself?
The BBB says: Don't automatically trust something on a friend's page or an invitation supposedly from friends. It might not even be them "liking" or sharing scam links to photos. Their account may have been hacked. It may also be clickjacking, a technique that scammers use to trick you into clicking something that you wouldn't otherwise (especially the Facebook "Like" button).

More information
Don't take the bait. Just stay away from promotions of "exclusive," "shocking" or "sensational" footage. If it sounds too outlandish to be true, the BBB says it is probably a scam.
Hover over a link to see its true destination.
Before you click, mouse over the link to see where it will take you.
Don't click on links leading to unfamiliar websites.
On Facebook, report scam profiles, posts and other suspicious activity.
On Twitter, if another user is sending you links to malware or other spam, report them to Twitter.
Mary Schwager, AKA Galtime's "WatchDog Mary" is a journalist with more than 17 years experience. She's won more than two-dozen local, regional, national and international journalism awards for investigative, consumer, feature reporting and writing including 11 Emmy Awards and 7 Edward R. Murrow Awards and numerous Associated Press honors. Do you have something you want Mary to check out? Do you have a story idea? Please email her at maryschwager@galtime.com You can also follow her on Twitter @WatchDogMary and "like" her on Facebook.
Popular in the Community