Last week, I fell for a scam on Airbnb. This is the type of thing you never think will happen to you -- until it does.
Online con artists can create websites that look almost identical to the popular home-renting website Airbnb.com and succeed in siphoning thousands of dollars from unsuspecting users. It happens fairly often.
I fell for a classic "phishing" scheme, which gets you to click on a bogus link, then tricks you into sending over money or personal information. If you're observant, you might notice something's off as soon as the scammers start corresponding with you. But the bogus site looks like the real deal, so it's possible that you might cast your doubts aside. I did.
Here's how it happened to me.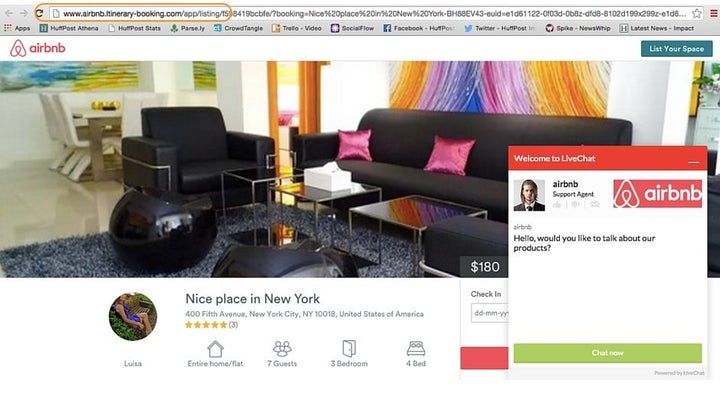 My fiancé and I were looking for hotels for our family to stay in during our wedding in the fall. A lot of them are coming from abroad and can't afford the average $200-a-night hotel room in New York City. Our solution? Airbnb.
After hours of digging through well-priced, terribly located apartments in deep Brooklyn, we finally found an affordable, stylish apartment in the heart of the city. Bingo.
We noticed that the listing featured an email address and a note suggesting that people send questions there. So we left the Airbnb platform and sent an email from my fiancé's personal Gmail account. (Airbnb does not recommend this, for the record. Rookie mistake.)
We promptly got an email reply from the host: "This apartment isn't available for the period mentioned, but we have another one." They sent us links to a couple of great three-bedroom apartments, also listed on Airbnb (or so we thought).
Here's where they really got us. The site was a fake. But it was a remarkably good fake.
We were a bit skeptical about the cheap price of the apartments, so we asked some questions to the site's "LiveChat Support Agent." What a helpful feature! (The real Airbnb does not have this feature.)
The Support Agent responded immediately, reassuring us that the listings were maintained by a great host with strong reviews.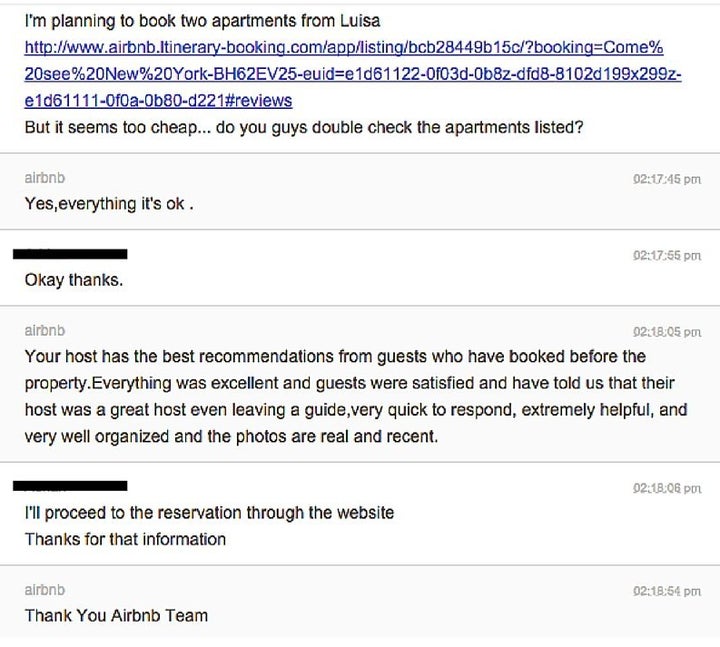 Per the instructions emailed to us by the host, we wired a total of $3,800 to reserve the two apartments.
Let me pause here to say that wiring money is ALWAYS a bad idea. On Airbnb, you should make all transactions through the secure website. But at this point, we were already emailing with the host outside of Airbnb, and we thought wiring money was less sketchy than sending credit card info via email. **Facepalm.**
Once we sent the money, they told us to look out for an email from Airbnb confirming our reservation, which we soon received.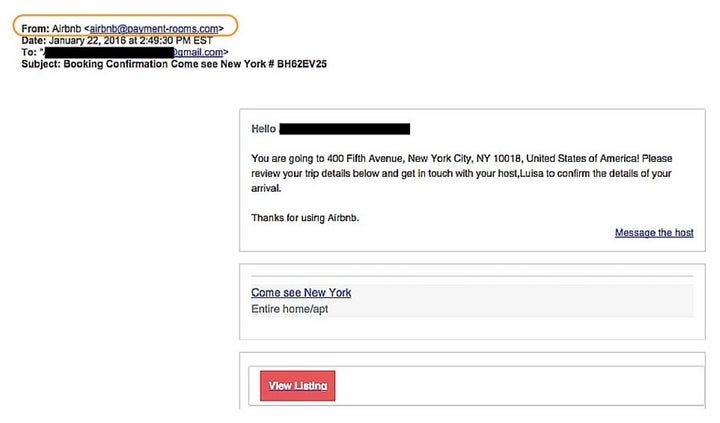 We felt great. Later that night over dinner, we bragged to my mom about our find. We went to the Airbnb site to check out our reservation. Nothing was there.
Our reservations tab was empty, it listed no recent activity. And that's when we knew: We got scammed.
I have to tip my hat to these scammers -- they were good.
Their site has the Airbnb logo, and the design matches Airbnb's to a T. The URLs almost looked legit -- they said "airbnb.intinerary-booking.com," and the difference went right over our heads. Who looks that closely at URLs? Clearly, we don't.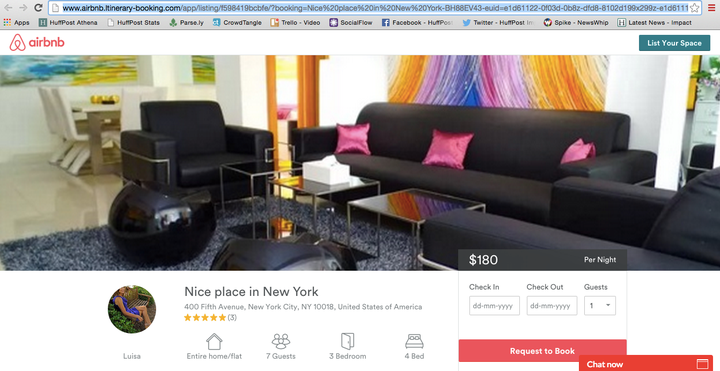 The listings also had glowing reviews that look just like the ones on Airbnb.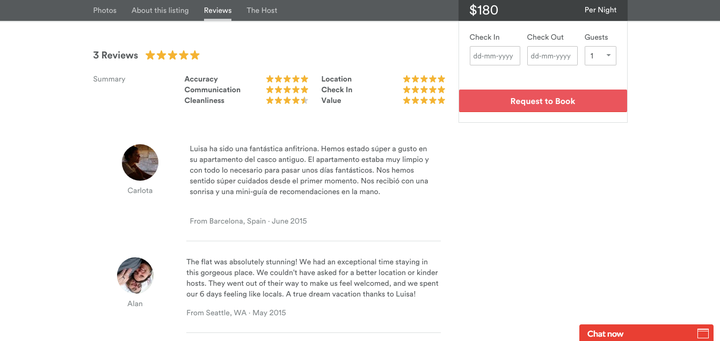 It told us the host has been a member for two years and has a great responsiveness rate. The page included a "Verified ID" symbol, indicating the host is a trustworthy member.

The killer move? The fake site's "About" information, which appears at the bottom of each page, links back to the real Airbnb's "About Us" page. Genius.
In fairness, Airbnb tried to warn us. We just didn't see the warning in time.
The company sent this cautionary email pretty soon after we first contacted the scammers: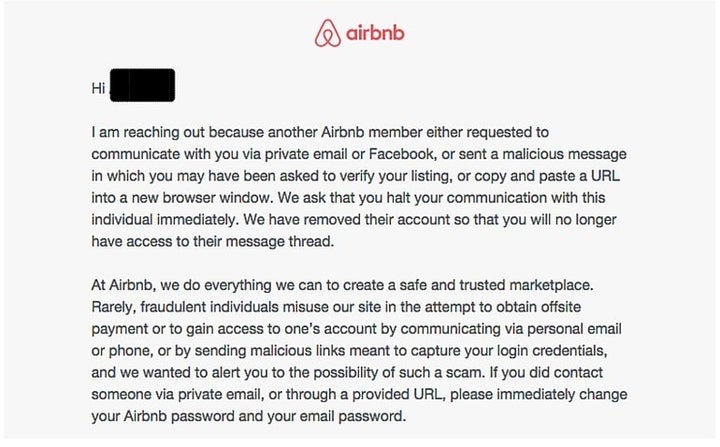 Unfortunately, this email got buried in a series of other Airbnb messages -- we had been pretty active on the site that day -- and we didn't notice it in our inbox until later, after we had wired thousands of dollars to the fraudsters and discovered the scam on our own. Not much help then.
But we should have known better than to leave the Airbnb platform and start a private email correspondence with a potential host. And we certainly never should have wired any money outside the Airbnb platform.
"Airbnb protects guests by handling all payment and communication through our secure platform," an Airbnb spokesman told me via email Tuesday. "When you keep your payment and communication strictly on the Airbnb platform, payments are accurate and your account is secure."
A member of Airbnb's customer service team emailed us separately to say that the company is not liable for losses but is reviewing our case for possible reimbursement. Given the multitude of people in similar situations who never got their money back, we're not holding our breath.
With 70 million guests in over 190 countries using Airbnb, we probably won't be the last ones to get duped, either.
Related
Popular in the Community