If you're anything like us, you've probably watched Beyoncé's new video for "7/11" about a million times. Which also means you've been trying to learn every new dance move and coveting all the fly wares she was rocking.
From that "Kale" sweatshirt to those adorable boy-inspired underwear, we've added a ton of stuff to our holiday wish lists. But we were particularly blown away by the futuristic crown Bey was wearing toward the end of the video when she was so sweetly singing "I'm fresher than you." Yes, that is 100 percent true, Queen Bey -- you are fresher than us.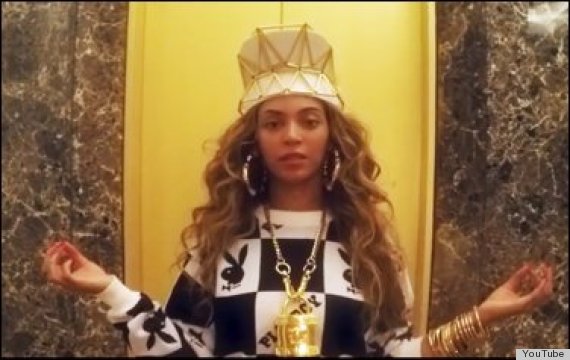 We caught up with the crown's creator to get the scoop on bestowing her designs upon Beyoncé, how she comes up with her cool creations and more. Check it out...
HuffPost Style: Did you have any idea that Beyoncé would be rocking one of your pieces in her new video or was it a complete surprise?
Laura Wass: I knew we had a big pull for Beyonce - but details were murky because Beyonce's team keeps things on the downlow. Because there are so many factors that go into if a piece makes it into the final feature, my hopes were not too high. After hearing that the pieces were shot, I started to get excited - and told everyone in the studio that we would be having an all-Beyonce karaoke sesh if they made the cut of the final video. When the video came out, seeing Beyonce herself wearing the pieces so prominently was truly exciting - I think I'm still in shock! We are going to be singing a lot of Beyonce at karaoke! One of our mantras at the studio is the question: "what would Beyonce do?" Now it's cool to know that Beyonce would, and does, wear WXYZ Jewelry.
HPS: How long does it take to create a headpiece like that?
LW: For the baseball cap and visor, once the idea was born, product development for the metal form took over 150 hours of prototyping. Now that we have optimized the assembly sequence and made them in repetition, the metal weaving takes about 1.5 hours and 45 minutes respectively. But of course, there is a lot that goes into making the pieces pre-assembly as well. It's a true labor of love.
HPS: When, where and what were you doing when you found out Beyoncé was wearing your designs?
LW: I was actually chilling at home with a cold when the video came out on Friday night. The video definitely made me feel a lot better. :)
HPS: We know it's only been a few days since the video was released but have you seen an increase in business?
LW: We see an increase in traffic and sales and our Instagram following has tripled. I think that brand awareness will continue to grow as a result of the video, as people continue to find out that it's WXYZ who makes those pieces.
HPS: Are there any other celebs you'd like to see in your designs?
LW: Beyonce is truly a dream celebrity to deck out -- and I'm happy for the designs to be part of such a fun video. I would love to continue to design for musicians and performances. It would be super fun to make some custom performance pieces for Queen Bey. For every musician I have a different vision - for Bjork I see building molecular structures, for Rihanna I see our bucket hat and bustier, for Katy Perry rainbow animal headpieces. I would love to accessorize Lana del Rey as a contemporary Virgin Mary, and Ellie Goulding as an intergallactic warrior princess. Don't get me started on Yolandi from Die Antwoord...!
HPS: While your collections are anchored in your love for architecture, geometry, science and nature, you've created some really whimsical pieces like bunny ears and bows. How come?
LW: While the inspiration is serious and the design process is rigorous, it's important to me that there be a playful and lighthearted element to the brand for comic relief. Kind of like the "7/11" video for Beyoncé. She has created some of the most visually rich and epic music videos out there, and had the confidence to show her funny side with an ease that is irresistibly cute and sexy. I hope those pieces are like that for the collection as well.
HPS: What's the best thing about your job?
LW: My main goal as a designer is to create pieces that empower the wearer to express themselves in an interesting way, and be cause for interaction. When you walk into a room wearing a piece like the Gio Baseball Cap or Visor that Beyonce wore in the video, all of the most interesting people are drawn to you like magnets, and you hold a certain power over the space. The best thing about my job is hearing from people who own WXYZ designs how much they love the jewelry, and that they are constantly approached by people wanting to touch the jewelry -- with inquiries about what they are wearing. It's amazing to hear how many conversations and connections have been sparked because of the jewelry.
HPS: Any advice for aspiring jewelry designers?
LW: Articulate your vision, and then it becomes achievable.
This interview has been edited and condensed for clarity.