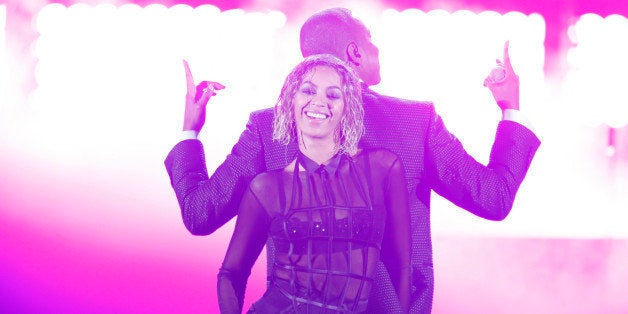 Let me first start this off by promising you, the reader, that this isn't another feminist attack on Mrs. Beyoncé Knowles-Carter.
At this point, we can all agree that some of the arguments made about her and how she expresses her interpretation of feminism are implicitly racist and sexist. As a man writing this, I am aware of my male privilege. But as a black feminist, I am also aware of my social responsibility. My intention is not to question one's expression of sexuality, but offer the caveat to the conversation that has not been addressed.
"Bey-hive," please remove your stingers and turn down the volume of your buzzing for this.
And when I expressed how disappointed I was about her lack of potential talent in the performance on social media, this is what I got:
"So women can't express their sexuality like a man can?"
"Beyoncé is grown and sexy and can do whatever she likes."
"Her ass was everything."
"She was so hot on stage... how could you not like it?"
"Beyoncé is the most gorgeous woman on earth... stop hating on her."
The comments went on and on and then some, but notice what was talked about the most and what was missing. While many complimented her arguably flawless appearance and apparel, no one said anything about the actual talent that has given her those 17 Grammys over the years; her energetic vocals and out of the box performances was left astray this time around.
For a woman who has mastered the art of being "grown and sexy," never has Beyoncé in the past relied so heavily on her physicality to let that overshadow the divine talent that many praise her for religiously. Instead, everyone, including the media, has worshiped her thick thighs and hot body and that was just about it. And while Jay Z walked out in a full tuxedo and some on social media considered him "the luckiest man alive" for acquiring "the baddest chick in the game," we forget that she is a mother, businesswoman, and one of the hardest working entertainers in music history.
Whether you like her music or not, you cannot deny her tenacity. But unfortunately, not even Beyoncé herself is letting us see that side of her as much anymore. Instead, we are left seeing only one side of black feminism that everyone keeps talking about: body politics. And that problem in many ways is how powerful black women become modern-day Hottentot Venuses rather than heavy movers and shakers in our society.
There is nothing wrong with complimenting the beauty of women of power. But when the clothes she is wearing and how she looks in it overrides the focus of her talent and existence, you are oversimplifying the quintessential essence of her purpose. And that might be just as sexist as slut-shaming her for wearing it too tight or too revealing.
If true feminism is the advocacy and support of social, political and economic rights for women equal to those of men... then we should also be able to expect more from women just as much as we do men. Our standards should not be reduced based on the level of attractiveness that some women might possess. The media should do a better job of avoiding this overindulgence of stereotypical beauty in women just as we do men. Instead of telling me what Beyoncé is wearing all of the time, how about tell me more about what power-moves she is making.
Just as much as no one knows or cares about whether or not Jay Z is wearing underwear under his tuxedo, how about we give Beyoncé and every other woman on this planet the same respect. If we are to be a model society that is teaching young girls to love their bodies and young men to respect them, we cannot continue to create a biased system of honoring physical appearance on the same level as individual merit.
Based on our skewed social norms, if Adele was to perform just like Beyoncé did at this past Grammy Awards, would you have felt the same way? Would you have criticized her for coming out to reveal her curvier figure? Would you have complained that she was out of character and needs to resort to her more reserved manner? Would you have wanted her to put more clothes on?
If you said yes to any of this, then you also must admit that you are contributing to the oversimplification of women in the world. And you must also consider registering for a gender and society course.
Frankly, I am not some prude commentator begging for the conformity of Beyoncé or any other woman for that matter. But I know that just like my mother, First Lady Michelle Obama, and any other hard working, educated, professional, and striving woman out there: they are more than just physically attractive in their own way, but full of merit like any of their male counterparts.
All I would like to see more of in the media are these brilliant women's accomplishments spotlighted and discussed, rather than questions of "Who wore it better?" and "Does (insert any young famous woman) look fat in this?"
That is what real feminism encourages and that is what any true "flawless" individual will do.
REAL LIFE. REAL NEWS. REAL VOICES.
Help us tell more of the stories that matter from voices that too often remain unheard.