As Beyoncé continues along her path to world domination, it might feel like everyone loves Mrs. Carter. But it might be time to rethink the diva's universal appeal: Beyoncé has started a "modesty war" on the Lower East Side.
Hyperlocal New York City blog Bowery Boogie discovered that Beyoncé's sexy H&M bikini ad has been censored at a bus stop on the Lower East Side, likely by a member of the neighborhood's devout, conservative Jewish population. Yet they're not the only cultural interest group in the LES, and residents who actually want to see Beyoncé's bootylicious curves have been removing the ad's makeshift covering. According to a tip sent to Bowery Boogie:
There is a billboard of Beyonce at the bus stop at grand and Columbia. – one of the H and M one of her in a bikini. Every day someone tapes a cover over it, now it is opaque sheeting and every day people rip it down. You can see what is left of yesterday as the white covering at the bottom of the ad.
Take a look at the neighborhood's cover-up job in the photo below. Do you find Beyoncé's H&M outfits to be too provocative?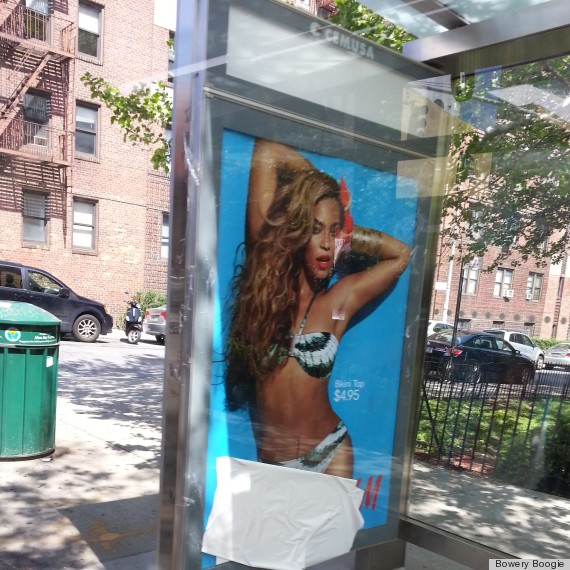 Other ads that sparked controversy: