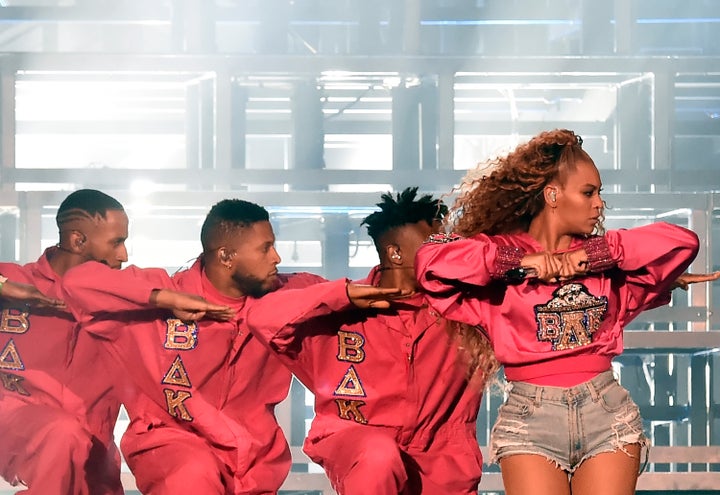 Beyoncé's pair of Coachella performances prompted many of us to wonder how we earned the privilege to exist in the same era as Queen Bey. For her dancers, the experience was even more surreal. 
Brian Glanville, who performs under the stage name Kebahb, was one of those dancers. Glanville, 20, began dancing when he was 3 years old. He moved to Los Angeles to pursue his career when he was just 16 with the goal of becoming skilled enough to perform with the artists he admired. 
Mission accomplished. This year, Glanville appeared in the music video for Sza and Kendrick Lamar's "All the Stars" and on the hourlong special "Lip Sync Battle Live: A Michael Jackson Celebration." Late last year, he suspected he might get a chance to dance alongside Beyoncé when he was invited to a private audition in Los Angeles for a "big artist."
Neither he nor his fellow dancers knew who the artist was, but "we all kind of guessed" as auditions progressed, he said. After numerous callbacks, Glanville got the gig. When rehearsals began in March, he learned he'd be part of a historic performance with the first black woman to headline the Coachella Valley Arts and Music Festival. 
When Glanville first knew for certain he'd be performing with Beyoncé, he said he was "speechless."
"I was going crazy," he said. "It was beyond anything I could have imagined. I was just super grateful."
Glanville and more than 100 other dancers learned of Beyoncé's vision for the performance in those March rehearsals. "I loved it. I thought it was super innovative," he said. "It was just game-changing. Her team always come with something new and fresh. So it was really cool to see."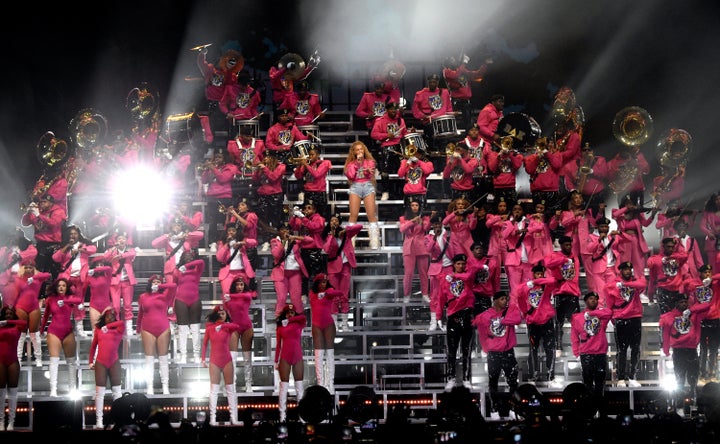 Beyoncé's Coachella performances conjured up a pep rally at a historically black college or university and featured dozens of other references and homages to black culture. Although the show was unlike anything Glanville had ever seen before, the dancer said he was more concerned with executing it perfectly than with how it might be received.
"Of course whenever you're presenting something to people, you're not really sure if it's going to be accepted or how people are going to receive it," he said. "But I was confident in her vision enough to know that whatever happened, at the end of the day it was the vision she saw."
Glanville said the response, especially from the Coachella crowd, was overwhelming. 
"Walking out and seeing all the people and all the support and all the love that she gets and how she got well-received love from the community and how it was received ― from the black national anthem to the different things that she incorporated in her performance to really send a message about HBCUs and colleges and stuff ― it was really cool," he said. 
Glanville appeared in multiple numbers throughout the two-hour performance. Most notably, he danced right behind Bey during "Mine," a track from her 2013 self-titled album. 
"That was a really big deal, just to be able to dance next to her and feel her energy," he said. Watch Glanville in the clip below (he's the guy on the right).
Among other costumes, Beyoncé and her performers wore hoodies with the Greek letters Beta Delta Kappa, which some speculated could signal she is "BAK" (given how the Greek letters appear in English). The first and last initials could also stand for Beyoncé Knowles. When asked whether he's rocked the hoodie since Beychella, Glanville said the dancers sadly weren't allowed to hold onto the garments. 
"I wish I could, but they don't let us keep it," he told HuffPost. 
Merch aside, Glanville said the most rewarding thing about the experience ― other than dancing next to the queen herself ― was the friendships he made with other performers. 
"We grew to love each other, all of us. It was really cool," he said.
"I've never really worked with a group of people like that where we were able to all just meet each other and welcome each other and grow with each other so quickly. It really did feel like family," he went on. 
Glanville also said he was moved by how the entire production team worked together to create something so meaningful.
"We all come from different walks of life ― the dancers, the crew, the cast. It was just surprising to see that everybody came together to really come together and make the vision happen," he said.  
The best kind of BFF is a Beyoncé Friend Forever. 
CORRECTION: Beyoncé's hoodies had the Greek letters Beta Delta Kappa (not Beta Delta Alpha, as the story originally said).
REAL LIFE. REAL NEWS. REAL VOICES.
Help us tell more of the stories that matter from voices that too often remain unheard.
BEFORE YOU GO