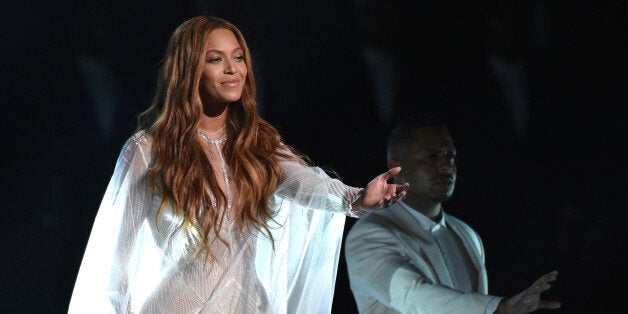 Rutgers Professor Kevin Allred had been teaching his Beyoncé college class since long before her self-titled surprise album dropped. Back in December of 2013, Allred scrapped his original syllabus and incorporated many of Beyoncé's new songs and videos. Inspired by a piece by Daphne Brooks looking at Beyoncé as a protest singer in "B'Day," Allred curated a list of theoretical readings to overlay with Beyoncé's songs and videos for a course he started back in 2010.
There are two obstacles which Allred faced in building "Politicizing Beyoncé: Black Feminism, US Politics & Queen Bey." For one, he doesn't run a TMZ office or pretend to have insight into Beyoncé's personal life. His goal is to apply critical lens to her artistry and public persona. The other issue is that of privilege. As a white man, Allred understands that he does not have all the necessary access points for analyzing Beyoncé's work. To combat that he crafted a syllabus pulling from only black, female writers.
We may never truly know Beyoncé, but this course gets us a few steps closer to analyzing her work. At its core, "Politicizing Beyoncé" is about reading the ways she shifts conversations about gender, sexuality and race. Here are some of the observations Allred and his students have made.
Beyoncé is constantly performing as a character.
This is one of the clearest things Allred took from Brooks' reading of "B'Day." Of course, Beyoncé's earliest character is Sasha Fierce, but there's also Mrs. Carter and more nuanced versions of public persona that pop up across her work. Allred has compared her to Nicki Minaj, who also adopts personas, though she works more with differing dispositions and delivery than the kind of thing we see with Beyoncé. "She is fragmenting herself into these many different pieces," Allred said. "There are elements of concept art in her characters." And it's crucial to read her work through that lens.
Mrs. Carter focuses on the reality of intersectionality.
Mrs. Carter is especially interesting because (especially in light of her explicit feminist messages) she draws up the reality of intersectionality and what feminism means for women of color. There has been a lot of (nonsense) discussion about whether Beyoncé counts as a feminist, but by taking her husband's name in the title of her tour, she makes the bond of marriage a position of strength. "She calls herself a feminist, so we have analyze that as a lens for looking at her work," Allred said. The Ms. Carter character has been linked to the differing notions of marriage held by black and white feminists.
Sasha Fierce subverts the gender binary.
"Sasha Fierce is her first big alter ego," Allred said. "It's all about boundaries of gender and sexuality, this over the top drag type performance." In addition to stressing partnerships over traditional relationships, Beyoncé has used Sasha Fierce to challenge basic notions of femininity. Allred points to the reaction the video received. "You have to take into account all of the stuff that happened its release," he said. "There was a lot of speculation about whether that one dancer was a woman or a man, and that seems deliberate. It looks simple, but she appears to deliberately play with light and shadow for that illusion."
There is a reading of "Single Ladies" which contradicts racial notions of class status.
At the end of the video, Beyoncé flips her wedding ring around. "She's calling the notion of single into question," Allred said. "So, isn't it possible she's also calling ladies into question?" What he's referring to here is not just gender but the upper class white woman iteration of the word "lady." "You can see it as her taking ownership of the label," he said.
She often focuses on playing out the unfair expectations of black female stars.
The best example here is "Partition," which Allred sees as closely connected to "Jealous." There's this very active performance of female sexuality at play in the video, and it seems to involve Beyoncé approaching the decision to use her body erotically. "She is playing out the stereotype of the black woman," Allred said. "She is showing us the decision of deciding to engage with the fantasy society wants to see."
"Grown Woman" can be seen as a signal that she is taking charge of her career in defiance of such expectations.
Allred reads the bonus track off "Beyoncé" as an analogy to Melissa Harris Perry's crooked room. "The black woman experiences the room as crooked because it is built by the white man," Allred said. Her skewed environment and childish pageantry dress are symbols for her taking charge of her career in light of these perspectival obstacles. "As she's grown up, she's encountered these stereotypes," he said. "But then she walks out and builds a room of her own."
There is power in her hyper-sexuality.
When "Beyond The Lights" director Gina Prince-Bythewood was asked whether she thinks any pop stars authentically employ sex positivity, she immediately responded: "Beyoncé." Look at her VMAs performance. There were plenty of risque moments on that stage, but during every moment she felt in control. That comes from both her ownership of her career but also notable staging choices. "When there are men present they are not touching her," said Allred. "There is distance. She is not shaking her body in someone's face, she's doing it for her."
She actively rails against the "Angry Black Woman" stereotype.
Allred notes that he sees this on two levels. He points to the scene in her documentary where she tries to give lighting instructions. No one is listening to her, and a man has to come in to have the team get it right. This idea, that we often ignore women or characterize them as shrill when trying to make a point is echoed by the way she lets other rally in her favor. Note her nod to the Beyhive at the Grammys. Or just Kanye. "You know she could just tell Kanye to stop if she wanted," Allred said. "But she lets him go off for her and just sits back and nods."
Before You Go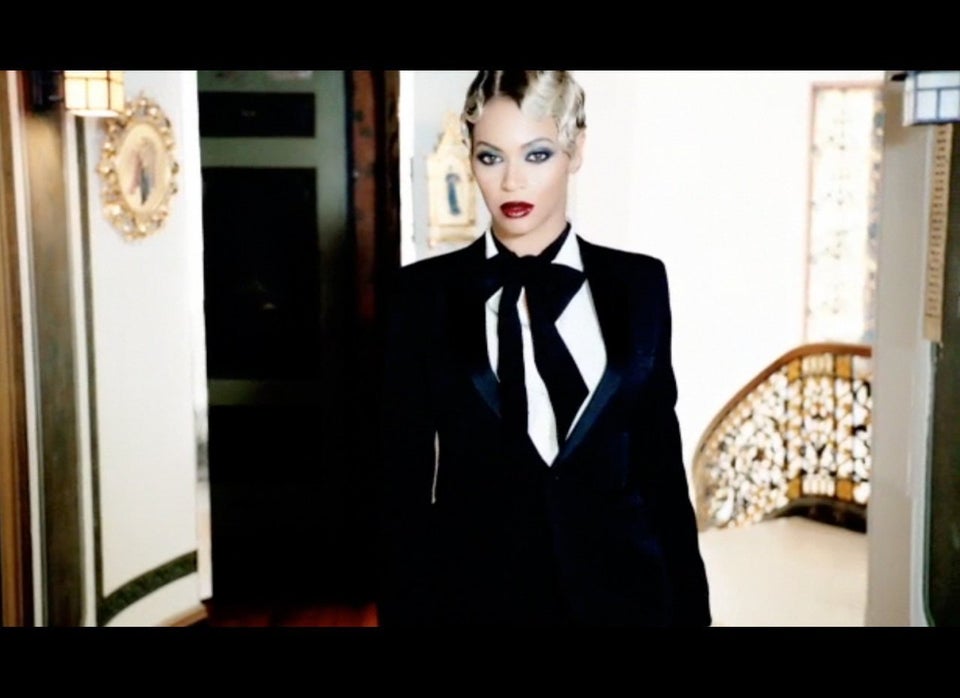 Beyonce's Best Looks From Her New Album
Popular in the Community