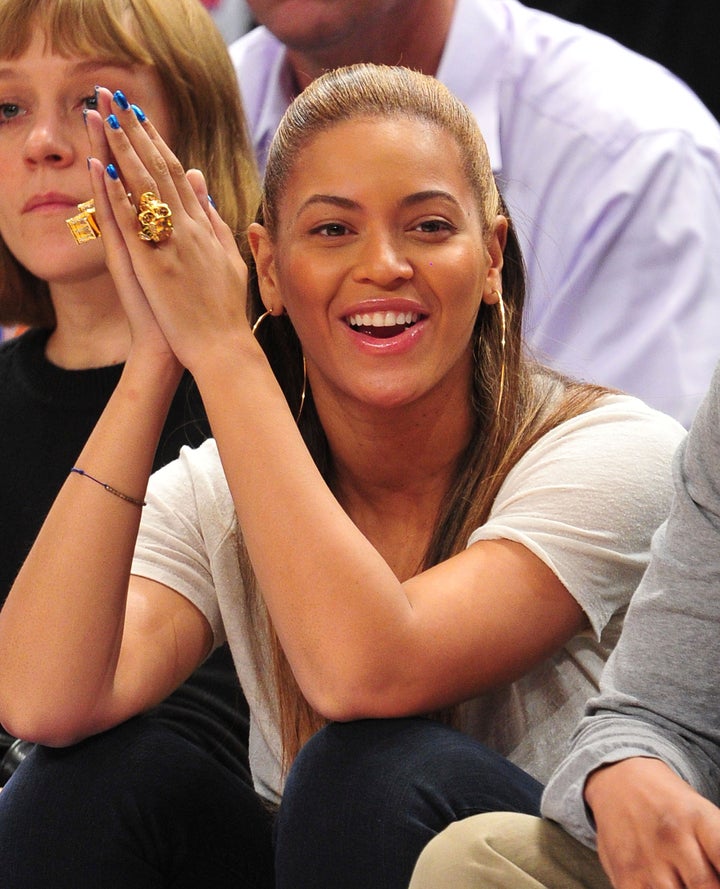 The photo shows a pair of hands donning what looks like acrylic nails painted in blue and gold, embellished with rhinestones and topped off with pictures of both Beyonce and Jay-Z. Eek!
The letter's "J," "Z," "B" and "N" are also formed on a few of the nails--although we're not sure what the "N" stands for. It's also unclear from the picture whether the dramatically decorated digits belong to Beyonce.
While Bey has definitely been spotted in bright blue nail polish(a cute nod to her baby girl Blue Ivy), we haven't seen the superstar get this carried away with her nails. And although the design on Tumblr shows a tremendous amount of, um, creativity--it's much too tacky to be on the hands of the "World's Most Beautiful Woman," right?
The New York City based DJ confirmed the identity of her nails on her website, writing: "Well they obviously caught the eyes of Queen Bee herself because she recently blogged them on her site." It definitely beats tattooing your favorite artist's name across your forehead (yes, this happened).
And Beyonce was clearly tickled enough by the tribute to share it with her BeyHive devotees.
Here's a look at the over-the-top nail design--and check out the slideshow below for some eye-popping manicures spotting on the Olympic athletes.