Singer, producer and global entertainer Beyoncé Knowles Carter was destined to be a star. Born on September 4, 1981, in Houston, Texas, she began singing, dancing and performing in talent shows when she was just 7 years old. In 1992, she and her girl group -- Girl's Tyme -- performed (and lost) on Star Search. Five years later, in 1997, the group evolved into Destiny's Child and signed its first record deal.
Writing about the group's 1999 album, The Writing's on the Wall, Rolling Stone magazine proclaimed: "[Beyoncé's] skittering, rhythmic and hip hop-derived approach to melody would help shift the entire landscape of R&B singing."
Beyoncé stunned in this feathered mermaid gown from Givenchy at the 2012 Met Gala. It appears in the new exhibit "Beyoncé's Personal Collection" at the Rock & Roll Hall of Fame Museum.
Beyoncé launched her solo career with Dangerously In Love (2003). Her rise to superstardom came alongside its blockbuster single "Crazy in Love," while the album's worldwide success translated to multi-platinum sales in Australia, the United Kingdom and the United States, where the album debuted at number one on the Billboard 200 chart.
Subsequent studio albums and live releases -- B'Day, I Am ... Sasha Fierce, 4; Live at Wembley, The Beyoncé Experience Live, I Am ... World Tour -- have achieved similar successes.
Last year, Beyoncé dropped her self-titled album, and in a mere 12 hours after its surprise and carefully planned release, the album generated 1.2 million tweets on Twitter, reaching a high of 5,300 tweets per minute. Within three days the album sold 828,773 digital copies, making it the fastest-selling iTunes album ever.
As an entertainment industry powerhouse routinely in the limelight, Beyoncé has emerged as a style icon, following in the footsteps of expressive female performers like Rock and Roll Hall of Fame Inductee Madonna. Working with her stylist Ty Hunter, Beyoncé has cultivated looks that make bold statements and fitting complements to her explosive performances and headline-grabbing moves on international red carpets.
"Beyoncé wanted to let the fashion build," says Hunter of the white cotton tank-top with stones, J Brand Denim shorts and red Stuart Weitzman patent leather sling-back pumps from the "Crazy In Love" video, on exhibit at the Rock and Roll Hall of Fame and Museum in Cleveland, Ohio. "She wanted simplicity."
The new fashion showcase at the Rock Hall -- the first time that an artist that has not yet been inducted into the Rock and Roll Hall of Fame is being featured in the Legends of Rock exhibit -- covers Beyoncé style from the "Crazy in Love" video all the way to the Rubin Singer leather and lace body suit, skirt and jacket from her 2013 Super Bowl Performance. "A lot of different designers came to Beyoncé with sketches, but in the end Russian designer Rubin Singer created something magical," remembers Hunter. "Beyoncé wanted funky, edgy, and feminine all in one and that's what Rubin created."
This blog post is part of a series produced by Huffington Post and the Rock and Roll Hall of Fame and Museum in conjunction with the latter's current Beyoncé exhibit. The exhibit, at the Cleveland-based museum, presents spectacular and iconic fashion highlights spanning a decade of Beyoncé's career. To learn more, visit here.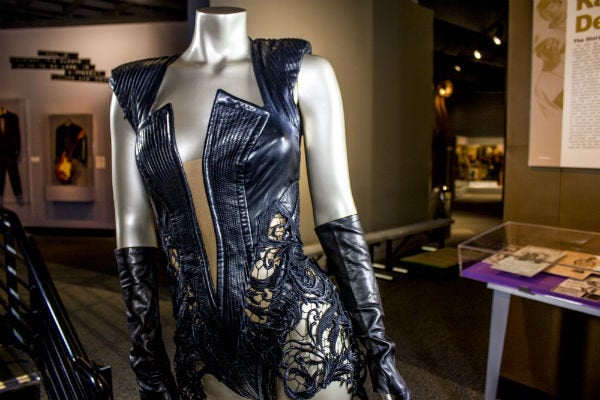 Beyoncé's Personal Collection Exhibit at the Rock Hall of Fame Museum
Popular in the Community