 Can we share a story with you, treasured reader? We need to get personal with you here for a second, so bear with us.
As we have made painfully clear over the years, we are major fans of Beyonce. Other people at HuffPost are also fans of Beyonce. One of these people is HuffPost's associate Gay Voices editor, Curtis Wong, who sent this tweet to us on Thursday:
Mr. Wong was sharing a link to a story written for the Nieman Journalism Lab by New York Times reporter Jenna Wortham. In the piece, Wortham theorizes that Beyonce's widely-admired method of releasing her latest album straight onto social media without the filters of a mind-numbing marketing campaign is something media outlets should think about in their attempts to reach an audience.
Honestly, this is not usually the kind of thing HuffPost Media splashes—we mostly tend to go for a broader, more mass-appeal sort of story. But we realized that Wortham had provided us with the perfect opening to be able to put a giant picture of Beyonce on our front page. Besides, it got us thinking about Beyonce as editor of the New York Times, or Beyonce remixing "Flawless" to make it about NSA spying with a sample from Glenn Greenwald thrown in.
So, we are doing it. We are splashing Beyonce basically for the hell of it, and we present this post to you as a symbol of how much we love Beyonce, and how much we wish she would start a newspaper so we could write about her all the time.
And, of course, you should read Wortham's piece, because, besides being full of good advice for the media, it's also about Beyonce, so duh, read it!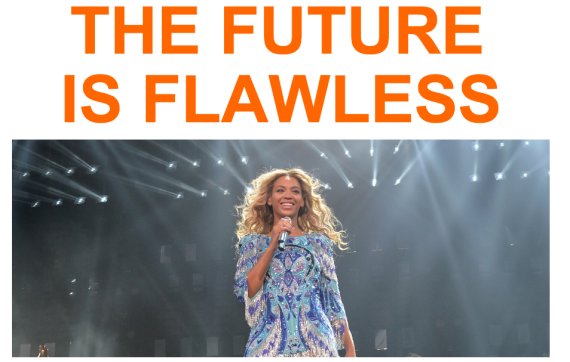 REAL LIFE. REAL NEWS. REAL VOICES.
Help us tell more of the stories that matter from voices that too often remain unheard.