The walking goddess known to mortals as Beyoncé took a cue from her more celestial siblings during a performance at Sunday night's /www.huffingtonpost.com/topic/grammys"}}">59th annual Grammy Awards.
The artist, who took home awards for Best Music Video and Best Urban Contemporary Album, performed just two songs during the ceremony ― "Love Drought" and "Sandcastles," from the album "Lemonade." Throughout her time onstage, she used imagery that appeared to draw from myths about divine motherhood found in several religious traditions. 
Beyonce has channeled Oshun before, in the song "Hold Up" from "Lemonade."
Others suggested that Beyoncé was evoking the Virgin Mary during her Grammy performance. In the Christian tradition, Mary is the mother of Jesus Christ ― the holy woman who brought God into the world. 
In religious art, Mary is often depicted with a halo surrounding her head, symbolizing the fact that she is no ordinary woman. 
Another ode to Christian art was reflected in the way the stage was set. For part of the performance, Beyoncé walked on a long table surrounded by chairs ― evoking Leonardo da Vinci's "The Last Supper." But this time, it was Queen Bey at the head of the table.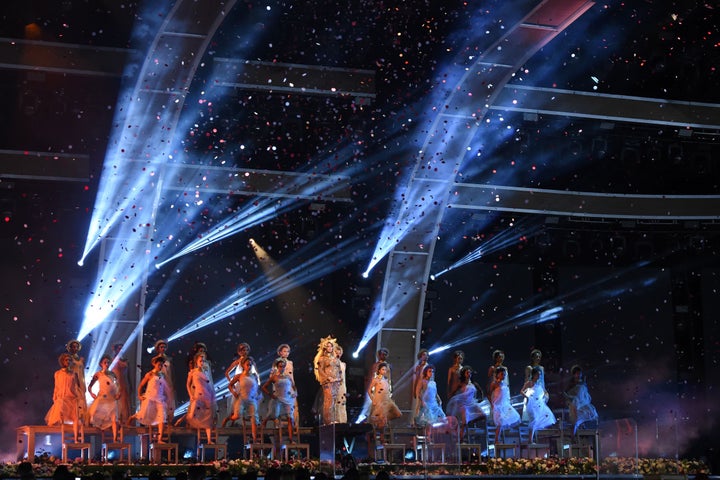 Several other fiercely feminine religious myths made an appearance in the performance. At one point, a special effect made it seem as if Beyoncé had multiple arms. It could have been a reference to Hindu deities like the mother goddess Durga, or Kali, who is associated with death, sexuality, and motherly love.
Later on during the show, Beyoncé lay on a bed of flowers, a possible reference to the Roman goddess of love, Venus.
The performance came days after Beyoncé announced to the world that she was pregnant with twins. Her epic tribute to divine motherhood ended with a quote from the poet Warsan Shire, whose work featured heavily in "Lemonade."
"If we're gonna heal, let it be glorious," she said.
Calling all HuffPost superfans!
Sign up for membership to become a founding member and help shape HuffPost's next chapter
BEFORE YOU GO
PHOTO GALLERY
The 2017 Grammy Awards Ceremony