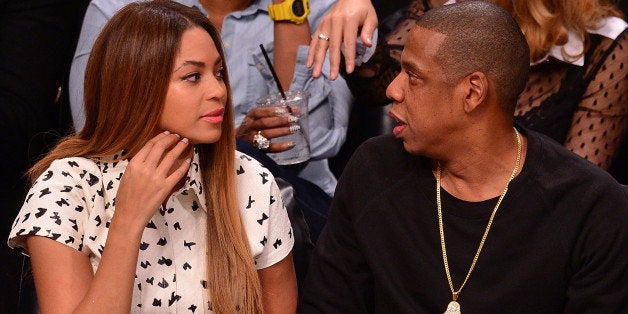 Yoncé has been all on our mouths like a nice, cold glass of Hennessy this past year. At this point, it is undebatable that Beyoncé ushered feminism into the mainstream. From a bold testament on her surprise self-titled EP to another forward declaration at the 2014 VMAs, Queen Bey the Feminist Icon arrived to shove her audacious, sexy and personal take on feminism down the world's patriarchal throat.
But, as with most women who are brave enough to take an unpopular stance, critics have done nothing but tear her down since she's -- for lack of better phrasing -- come out as a feminist. Likely 2016 GOP presidential candidate Mike Huckabee is one of those critics.
After describing the singer's 2014 Grammy performance of "Drunk in Love" with her husband Jay Z in his new memoir -- due for release January 20 -- Huckabee provided a very racially loaded and sexist critique of the power couple:
"Why? Beyoncé is incredibly talented -- gifted, in fact," Huckabee pens. "She has an exceptional set of pipes and can actually sing. She is a terrific dancer - without the explicit moves best left for the privacy of her bedroom. Jay Z is a very shrewd businessman, but I wonder: Does it occur to him that he is arguably crossing the line from husband to pimp by exploiting his wife as a sex object?"
Huckabee didn't explicitly say Beyonce isn't a feminist -- though he's commented before on Beyonce's lack of "control" over her image -- but his commentary played into colorblind feminist rhetoric.
It's no secret that the GOP is often behind the times in their attitudes toward race and gender equality -- and that has affected their voter favorability. Huckabee's comments, which didn't improve assumptions of the GOP, lacked consideration of the cultural and historical contexts that make performance art different for black women. The Knowles-Carters -- like most black people -- have been criticized without acknowledgment of the intersectionality of gender and race.
Referring to Beyoncé as "talented" and "gifted" aligns with a sentiment that negates all the hard work and effort black people put into our crafts by deeming us as naturally good at something. Huckabee, with this language, downplayed the time, energy and effort Beyoncé has poured into perfecting her career.
There is also an evident misunderstanding of the significance of marriage within the Black community. Black people have not always been allowed to marry someone on our own terms, if we were permitted to marry at all. Additionally, Black women have never been economically submissive to our Black husbands since we have always worked outside the home. Beyoncé being able to flaunt her marriage in work that she does, not because she has no other choice, but because she enjoys it is quite revolutionary. It exemplifies choice.
Beyoncé's choice to embrace herself as a sexual being who loves twerking in fly bodysuits, and pleasuring and being pleasured by her man does not make her a prostitute (the terminology Huckabee hinted around). Denouncing women for being sexual is highly patriarchal and fits perfectly into the pro-male rhetoric of our society. More specifically, criticizing and damning Black women for their sexuality is something white patriarchy -- an ideology heavily associated with the GOP agenda -- has been doing for centuries.
Historically, Black women have been portrayed as innately erotic, promiscuous Jezebels due to more voluptuous figures. White women are often upheld as pillars of modesty, self-respect and self-control. Thus, it makes sense why Madonna, Lady Gaga and Miley Cyrus are considered revolutionary feminist icons owning what their mother's gave them while Beyoncé, Rihanna and Nicki Minaj are seen as objectifying themselves.
The assumption that an openly sexual woman is objectifying herself or being controlled and consumerized by the man in her life is preposterous, at best. Beyoncé's lyrics and performances are simply her owning and embracing her sexuality in a society that has a tendency to unwillingly fashion Black women into hypersexualized animals. She is merely exercising agency via her self-portrayal.
Any manner in which a black woman reclaims her sexuality is viewed as vulgar. Black women have always been Otherized as innately hypersexual entities who should be attempting to eliminate sexuality in an attempt to become more pure. But has been Beyoncé ever been impure? She has never grinded into a man's genitals onstage. She never fetishizes herself, or anyone else, in her performances. She is always clearly in control of the performance scenario and her place within it. She is cognizant of the male consumer gaze but she hardly incorporates it into her predominantly all-female acts. And when she does, it is because she wants it.
The only male gaze she explicitly attends to is her husband's -- a man who only looks at, and never touches, her while they perform. Granted, Jay did pat the top of Beyoncé's bottom during the Grammy performance but they're married. That happens in relationships. It also happens in sports. She usually stands right next to him and grazes him with her derriere, but he never touches it. Then she smirks and struts off. Jay Z usually doesn't touch her because she hasn't given him permission to do so -- if that isn't owning your body, I don't know what is.
It's ludicrous to assume women cannot entertain and, at times, want the male gaze. It's outrageous to immediately associate any sexual act or sex-positivity with exploitation. Women of color have had different experiences socially, politically, economically and historically when it comes to being sexual. We haven't been able to shamelessly worship our own bodies.
Mike Huckabee doesn't know what he's talking about. So just have a seat, play your guitar and let Beyoncé be great.
Popular in the Community