 UPDATE: A source who knows both Kim Kardashian and Beyonce tells The Huffington Post, "Anyone who knows Kim can tell you that she doesn't even talk like that. She never saw Ron Howard that day and no such conversation ever took place -- between Kim and Ron Howard or Kim and Beyonce. Beyonce and Kim have gotten along perfectly since the very first day that they met. They have no reason to not get along. The person who came up with this story has a very wild imagination."
Sources at the Made in America Festival in Philadelphia told the New York Daily News that Kim and Beyonce hardly spoke to each other the entire time. "They were on opposite sides of the stage. Beyonce didn't even acknowledge [Kardashian] was there until the concert was almost over," the source explained.
Do great friends totally ignore each other? We think not, and RadarOnline reports that Beyonce gave Kim the cold shoulder at last weekend's concert because she thought Kim was trying steal the limelight from Jay-Z.
According to the website, the 16-time Grammy winner got upset when Kim tired to get some screen-time on a Ron Howard documentary about Jay-Z that was being filmed at the event.
We understand that Kim might get confused as to why cameras could possibly be following someone other than her and Beyonce reportedly took the time to "politely remind" the 31-year-old reality star that the documentary wasn't about her.
"Kim was desperate for attention in the VIP area and was getting in the way of cameras that were supposed to be filming Jay-Z," a source at the festival revealed, adding that Kim kept saying she was a huge fan of Howard and would love to be cast in one of his films.
Beyonce apparently wasn't impressed with Kim's poorly-timed networking opportunity and according to a source took Kim to the side and told her "the day wasn't about her, it was about Jay-Z, his work in organizing the event and there were other celebrities and musicians there that needed coverage too."
Before a fight could erupt, Jay-Z allegedly stepped in and asked Beyonce to "play nice" with Kim because of his friendship with Kanye.
It hasn't been the greatest week for Kardashian, who was taken down a notch by "The View" host Joy Behar, when she appeared on the talk show on Wednesday. Kardashian told the show's hosts that she's learned to care more about the simple things in life, but that comment didn't sit well with Behar, who brought up the $750,000 Lamborghini she bought as a birthday gift for Kanye, proving Kardashian's statement was slightly ridiculous.
The star also got some flack last night for the Democratic National Convention afterparty she was hosting in Charlotte, North Carolina. As speeches began Kim tweeted a photo of herself and pals en route on a private plane. Earlier that night, E! News caught up with Kim at Fashion's Night Out in New York and found out why she was hosting the official DNC afterparty.
"I always think it's like really important to help others get informed. Voting is such a personal decision. No matter what [party] you are," Kardashian explained. "I have my own personal beliefs. Everyone does. I think it's just important to be informed to vote. So, I wanted to head out to the convention after this."
We hope she didn't start any feuds this time for trying to steal the spotlight from President Obama.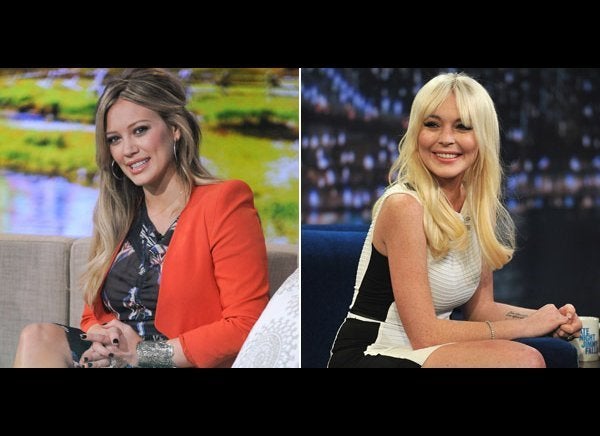 Celebrity Feuds
Popular in the Community