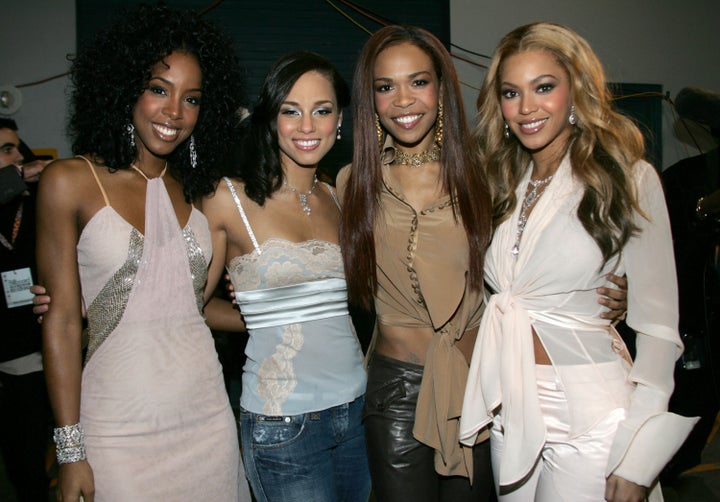 Now, both Alicia Keys and Destiny's Child bandmate Michelle Williams are coming to Bey's defense.
"What I do know is that Beyoncé is a great performer and she's an incredible artist with a really, really powerful voice," Keys told the UK's Capital FM. "The one thing that you cannot doubt is that she can sing. She absolutely can sing. All the rest of the 'whys' or 'whatever,' we know that she can deliver and she did deliver that song really beautifully."
"I will say this, it's not the first or the last time that someone has had to lip-sync," Williams said to ET. "My greatest singer of all time, Whitney Houston, it came to light that her anthem was in fact lip-synced... With big crowds and echoes, you know when it's a big historical moment, you don't want any room for any mistakes so I can understand why it was done."
Soon after the Marine Corps Band followed up with a new statement reading, "The Presidential Inaugural Committee requested that the Marine Band accompany Beyonce Knowles-Carter in the performance of the Star-Spangled Banner at the 2013 Inaugural Ceremony. However, there was no opportunity for Ms. Knowles-Carter to rehearse with the Marine Band before the Inauguration so it was determined that a live performance by the band was ill-advised for such a high-profile event. Each piece of music scheduled for performance in the Inauguration is pre-recorded for use in case of freezing temperatures, equipment failure, or extenuating circumstances. Regarding Ms. Knowles-Carter's vocal performance, no one in the Marine Band is in a position to assess whether it was live or pre-recorded."
There has been little word from the White House or Beyoncé on the lip-syncing controversy. At a recent briefing, press secretary Jay Carney said, "What I know about this I know this I know, mostly know from what I've read and shockingly it has not all been consistent. I actually have no idea what's true and what's not about what happened here and I don't think it's particularly important to address form the podium here."
PHOTO GALLERY
Inauguration 2013
REAL LIFE. REAL NEWS. REAL VOICES.
Help us tell more of the stories that matter from voices that too often remain unheard.
BEFORE YOU GO