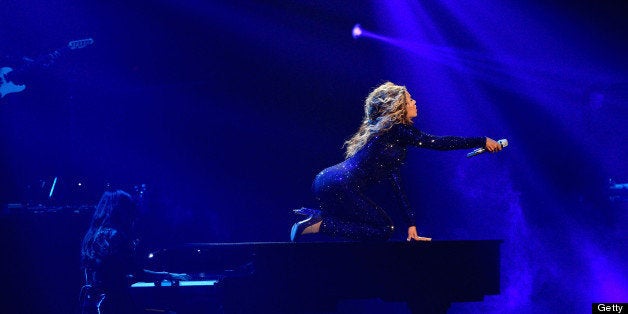 Beyonce said she was "nervous" to perform Saturday at Brooklyn's Barclays Center, the house that husband Jay Z helped build and famously christened. Naturally, she had nothing to fear.
In a rollicking set spanning much of her discography, Beyonce lived up to her royal nickname, playing Queen B to an eager audience that was more than happy to indulge her in celebrating herself.
The show was chopped up by pre-filmed scenes and mini-movies, convenient yet intricate mood and tempo shifts that also allowed for the singer to cycle through her many outfits. The always regal clips most often saw the singer in the powder-faced look that accompanied the tour's announcement (a get up that's heavily influenced by Estonian singer Kerli), though the MIA-esque visuals for as of the still unreleased "Grown Woman" were a very welcome reprieve from the palace porn.
Among the few surprises were a rework of "If I Were a Boy" that featured the instantly recognizable strings of The Verve's "Bittersweet Symphony," Beyonce winking and jiggling her underarms when she mentioned her "flaws" and glimpses of dance-trap courtesy of Diplo's "Express Yourself" and Baauer's "Harlem Shake." At one point, she sang over the instrumental to "Clique," a Kanye West, Jay Z and Big Sean song that Jay himself performed eight times during his arena-opening residency.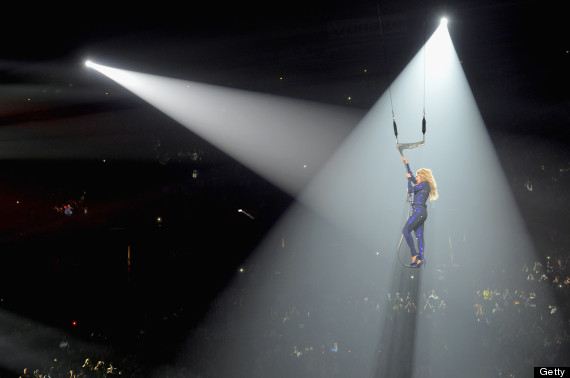 Before launching into 2004's "Naughty Girl," a sultry Beyonce voiceover accompanied footage of Beyonce dancing in a chair. The topic was sensuality: "This gift can give you power," Beyonce teased. "What will you do with this power? Would you let go? Would you surrender? I can make you surrender."
Indeed. The singer claimed her "seduction" was "exclusive" and that she "chose" the audience as her intended targets on Saturday, a promise that she made good on not so much by offering any over-sexualized, dancing come-ons, but by relentlessly returning to her own "power," as a woman, a vocalist and a standing-in-the-ever-present-wind performer.
Many singers, like Adam Levine and Rihanna, enthrall their fans by making the folks in the crowd believe, if only for a second, that they're the ones being sung about, seduced and desired. Beyonce, on the other hand, impresses by making it abundantly clear -- even while she's writhing around in apparent ecstasy while screaming, "Make love to me!" -- that she is definitely and absolutely not thinking about you.
The power comes, in other words, from the emotional honesty of the moment -- she doesn't need to sing for you, because watching her sing for herself, her husband or her daughter is overwhelming enough. At certain points during Saturday's show ("Run the World," "1+1," "Irreplaceable," "Survivor"), Beyonce convincingly lost herself in the moment, re-energizing a crowd that, while certainly excited at the prospect of seeing Destiny's one true child, still needed to be amped up.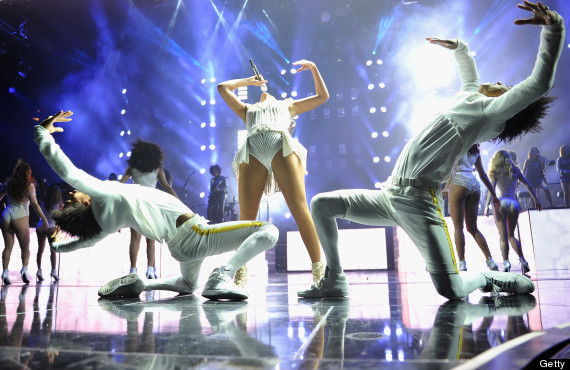 Her playful banter with Les Twins, her willingness to take flight from one side of the arena to another and her habit of sticking her microphone in the faces of people least capable of singing transformed what could have been a very impersonal if well-produced Instagram opportunity into a full-fledged experience.
Late in the program, another mini-movie offered a greatest hits version of the singer's life, featuring clips of her kissing both daughter Blue Ivy and Barack Obama, performing at the Super Bowl, laughing with Destiny's Child bandmates Kelly Rowland and Michelle Williams and more. It's a bit odd for a performer to so often remind her fans of all her accomplishments, because these are people who paid a pretty penny to come see her -- they're down with the movement.
But that's also sort of the whole point: A Beyonce concert is a powerful place where everyone believes a singer is a queen because the singer herself believes it more than anyone else. It's a beautiful thing.
REAL LIFE. REAL NEWS. REAL VOICES.
Help us tell more of the stories that matter from voices that too often remain unheard.
BEFORE YOU GO
PHOTO GALLERY
Beyonce's Mrs. Carter World Tour