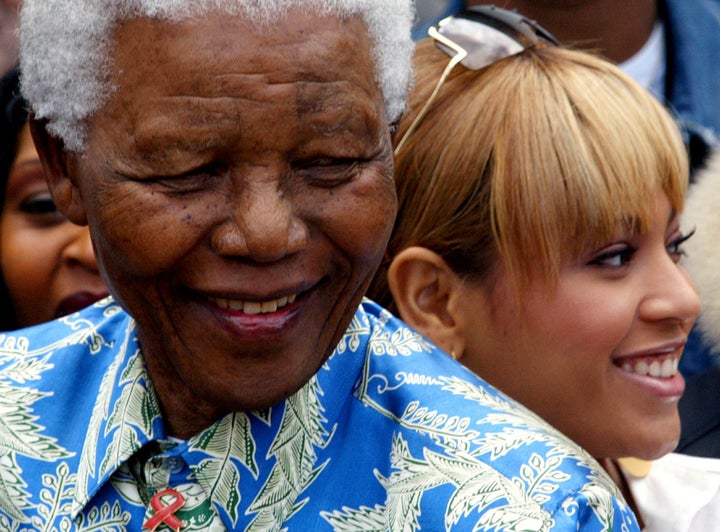 Beyoncé is honoring the late Nelson Mandela with a powerful open letter ahead of her performance at a festival celebrating the former South African president next month. 
The "Everything Is Love" singer and her husband, Jay-Z, are set to appear at the Global Citizen Festival: Mandela 100 in Johannesburg, South Africa, on Dec. 2 to mark Mandela's legacy and the 100th anniversary of the anti-apartheid leader's birth. 
In a letter titled "Dear Madiba," also published in the South African newspaper Sowetan, Beyoncé explains how the lessons she took away from a 2004 meeting with Mandela have become guiding forces in her own life. 
"Your kindness and gratitude for every experience, and your ability to forgive are lessons I have learned and will pass on to my three children," she wrote. "My entire family holds you in high regard."
The singer first met Mandela, who died in 2013 at age 95, at an AIDS Benefit Concert in Cape Town and joined him on a visit to Robben Island, where he was imprisoned for 18 years before the fall of apartheid. 
"I recall your measured but focused steps in as you recounted the stories of the struggles, the sacrifices and your resilience," she wrote about her initial impression of Mandela. "In that moment I truly understood your heart and humility."
"You made it possible for so many people like me to reject impossibilities and understand our capabilities in making lasting change in the world," she continued. "The smallest efforts could change the trajectory for so many living in extreme poverty, facing injustices, the indecency of racism and fighting for their rights as humans."
Singers Usher, Ed Sheeran, Kacey Musgraves, Pharell, and African artists including Wizkid, Cassper Nyovest and Femi Kuti will join Beyoncé, with Oprah Winfrey delivering the festival's keynote address.
Beyoncé went onto praise Mandela's vision "for dignity, for human rights, for peace" that not only changed the course of South Africa's history but also had vast implications globally. 
"I promise you that we have made your dreams our own," she wrote. 
"Your work and your sacrifices were not in vain. I will cherish every moment shared in your presence and use the lessons learned from you as fuel to stir positive ideas and solutions."
The festival is hosted by the Motsepe Foundation, which aims to bring an end to poverty through education and job creation.
 To read Beyoncé's full letter, head over to her website. 
REAL LIFE. REAL NEWS. REAL VOICES.
Help us tell more of the stories that matter from voices that too often remain unheard.