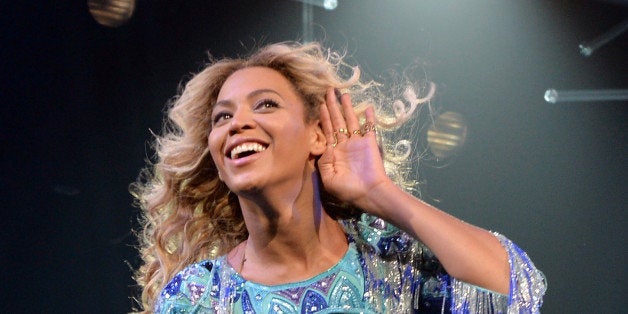 Every song on the album also comes with its own music video, a mammoth investment for a singer at Bey's level. The project comes amid whispers that Beyonce -- who let the Presidential Inauguration and Super Bowl pass without a new single -- wouldn't let 2013 go without a new album. Whispers turned into a reality that played out on Twitter, where fans excitedly shared the news, mostly in all-caps messages that included the letters "OMG."
That the album didn't leak in advance of it being released is nearly unprecedented in today's music market. Unconfirmed reports pointed to a possible one-week iTunes exclusive, with physical copies being printed as the album was released to the digital retailer. Often, leaks emerge once physical copies are printed and sent to brick and mortar stores.
"I see music," Beyoncé said in a press release provided shortly after the album hit iTunes. "It's more than just what I hear. When I'm connected to something, I immediately see a visual or a series of images that are tied to a feeling or an emotion, a memory from my childhood, thoughts about life, my dreams or my fantasies. And they're all connected to the music."
"I didn't want to release my music the way I've done it," she continued. "I am bored with that. I feel like I am able to speak directly to my fans. There's so much that gets between the music, the artist and the fans. I felt like I didn't want anybody to give the message when my record is coming out. I just want this to come out when it's ready and from me to my fans."
According to the press release, recording took place over a year and a half but began at a Hamptons retreat in the summer of 2012. A provided list of collaborators includes JAY Z, Timbaland, Justin Timberlake, Pharrell Williams, Drake, The Dream, Sia, Ryan Tedder, Miguel, Frank Ocean, Hit-Boy, Ammo, Boots, Detail, Jake Nava, Hype Williams, Terry Richardson, Melina Matsoukas, Jonas Åkerlund, Ricky Saiz, Pierre Debusschere, @lilinternet, Noah "40" Shebib, Francesco Carrozzini, Caroline Polachek, Ed Burke, Bill Kirstein and Todd Tourso.
"I just want to give my album to the people I love and respect and hope that they feel the same thing I felt when I made the music," the singer said.
Below, a full track-list and video-list with director credits. Previously teased tracks "Standing in the Sun" and "Grown Woman" did not make the album, though a video for the latter is included as a bonus.
1. Pretty Hurts
2. Haunted
3. Drunk in Love (Featuring JAY Z)
4. Blow/Cherry
5. Angel
6. Yoncé/Partition
7. Jealous
8. Rocket
9. Mine (Featuring Drake)
10. XO
11. Flawless (Featuring Chimamanda Ngozi Adichie)
12. Superpower (Featuring Frank Ocean)
13. Heaven
14. Blue (Featuring Blue Ivy)
1. Pretty Hurts - directed by Melina Matsoukas
2. Ghost - directed by Pierre Debusschere
3. Haunted - directed by Jonas Åkerlund
4. Drunk in Love - directed by Hype Williams
5. Blow - directed by Hype Williams
6. Angel - directed by @lilinternet
7. Yoncé - directed by Ricky Saiz
8. Partition - directed by Jake Nava
9. Jealous - directed by Beyoncé, Francesco Carrozzini & Todd Tourso
10. Rocket - directed by Beyoncé, Ed Burke & Bill Kirstein
11 .Mine - directed by Pierre Debusschere
12. XO - directed by Terry Richardson
13. ***Flawless - directed by Jake Nava
14. Superpower - directed by Jonas Åkerlund
15. Heaven -directed by Beyoncé & Todd Tourso
16. Blue - directed by Beyoncé, Ed Burke & Bill Kirstein
17. **BONUS VIDEO – Grown Woman - directed by Jake Nava
Calling all HuffPost superfans!
Sign up for membership to become a founding member and help shape HuffPost's next chapter
BEFORE YOU GO
PHOTO GALLERY
Celebrity News & Photos