For the cover and other photos, Beyoncé chose 23-year-old artist Tyler Mitchell, who is now the first black photographer to shoot a Vogue cover. In the story, presented in an "as told to" format, she has a refreshing take on her postpartum body, including embracing her "little mommy pouch" and combating the pressure to quickly "lose all the baby weight." She also discusses how, alongside her husband, Jay-Z, she wants to raise their kids, 6-year-old Blue Ivy and twins Rumi and Sir, who turned 1 in June.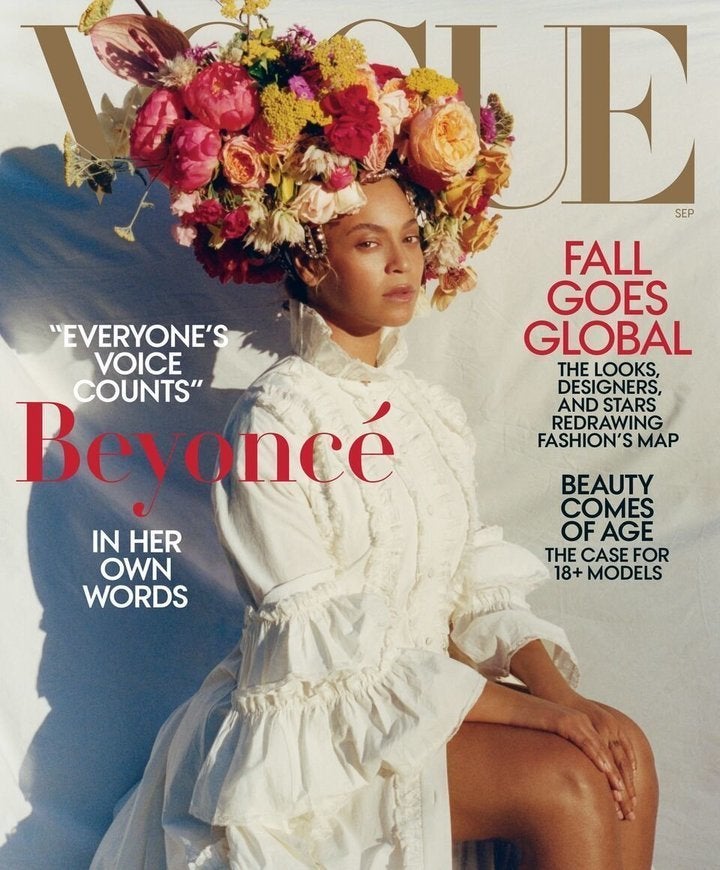 She delves into her promise to teach her girls to defy the many limits society may place on them.
"My mother taught me the importance not just of being seen but of seeing myself," she says. "As the mother of two girls, it's important to me that they see themselves too ― in books, films, and on runways. It's important to me that they see themselves as CEOs, as bosses, and that they know they can write the script for their own lives ― that they can speak their minds and they have no ceiling."
Beyoncé says that as long as her girls are "authentic, respectful, compassionate, and empathetic," they can explore the religions they choose to and "love who they want to love."
The singer also wishes for more representation for her son, Sir, specifically when it comes to gender stereotypes and the notion that being masculine can't be synonymous with expressing emotions or being nurturing.
"I want him to know that he can be strong and brave but that he can also be sensitive and kind," she says. "I want my son to have a high emotional IQ where he is free to be caring, truthful, and honest. It's everything a woman wants in a man, and yet we don't teach it to our boys."
She continues by sharing her hope to teach her son to not "fall victim to what the internet says he should be or how he should love."
"I want to create better representations for him so he is allowed to reach his full potential as a man, and to teach him that the real magic he possesses in the world is the power to affirm his own existence," she says.
In April 2016, before she welcomed her twins, Beyoncé shared similar thoughts about raising boys and girls in an interview with Elle, which included her take on what feminism means to her.
"If a man can do it, a woman should be able to. It's that simple. If your son can do it, your daughter should be able to," she said. "Some of the things that we teach our daughters — allowing them to express their emotions, their pain and vulnerability — we need to allow and support our men and boys to do as well."