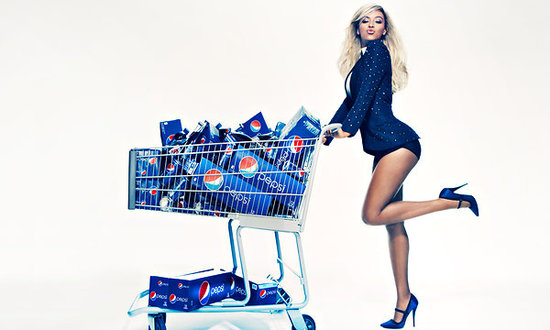 There was good news this week with several cities reporting declining rates of childhood obesity. While modest, any decline in this alarming trend is promising: New York City reports a five and a half percent decrease; Philadelphia, five percent; and Los Angeles, a three percent decline in the number of obese schoolchildren from 2007 to 2011.
But this came on the heels of some other rather disturbing news -- mega pop star Beyoncé signed a $50 million deal with Pepsi. While advertising deals for celebrities endorsing junk foods are nothing new, this one marks a shift in its insidious nature. In a recent New York Times article the president of PepsiCo's global beverage group said, "Consumers are seeking a much greater authenticity in marketing from the brands they love. It's caused a shift in the way we think about deals with artists, from a transactional deal to a mutually beneficial collaboration."
Not only will Beyoncé be featured in ads that will premiere after her performance at the Super Bowl half-time show (sponsored by Pepsi, naturally), but her face will be featured on limited edition Pepsi cans, and she will be given money for her own "creative projects." The Times reports: "The less conventional aspects of the deal are meant as collaborative projects that indulge Beyoncé's creative whims, and might well have no explicit connection to Pepsi products."
This is a marked change for advertisers who seek to completely merge their product's image with that of a big name celebrity -- and it doesn't get much bigger than Beyoncé, who pulled in $40 million last year alone and has vast international fame.

The multi-year contract with Pepsi -- with substantial funds for Beyoncé to work on her own creative projects with "no explicit connection to Pepsi" -- shows Pepsi is confident that branding its products with her image will continue to invoke a desired response in consumers. In a method reminiscent of Pavlov's dog, Pepsi expects to see this outcome without the Pepsi logo even being present.

Pepsi will so thoroughly attach itself to her and blur the lines between product and spokesperson that everything she does, including her "creative whims" will be linked to Pepsi. Even if these creative whims have nothing to do with Pepsi, she will conjure the brand. This brings to mind the patronage of wealthy families for artists in the middle ages -- a kind of artist-indentured servitude.
Beyoncé doesn't see it that way, at least according to her statement in The Times: "Pepsi embraces creativity and understands that artists evolve. As a businesswoman, this allows me to work with a lifestyle brand with no compromise and without sacrificing my creativity."
This sounds shockingly naive; especially from a woman who has mastered the art of her brand and become one of the biggest pop stars in the world. And let's not forget, that one year ago, a video of Beyoncé dancing in a high school cafeteria on behalf of the First Lady's 'Let's Move!' campaign went viral, indicating what seemed to be her commitment to fighting childhood obesity. Now that she is a new mother, Beyoncé signs on with the one of the biggest soda vendors in the world?
But then again, there are other aspects of this new ad campaign to make one question her logic. The ad that has been revealed features her dressed in tights, high-heels, a suit jacket, and what appears to be matching underwear, while making a pout with her lips -- all the while pushing a large grocery cart overflowing with cases of Pepsi. These images will be made into life size cut outs for grocery stores.
This means millions of shoppers across the country will see a hyper-sexualized woman of color, literally pushing a product that is known to contribute to obesity and its related health problems like diabetes and heart disease.
It is especially significant that the populations most affected by these health issues are people of color, and particularly women of color. According to the Centers for Disease Control, one in two African-Americans born in the year 2000 is expected to develop type II diabetes; four out of every ten African-American men and women have high blood pressure; and blacks are 30 percent more likely to die young from heart disease than whites.
Part of Beyoncé's deal includes the limited edition Pepsi can, which has a picture of her face, open-mouthed and seductive. There's no doubt that these Pepsi ad executives know what they're doing, they've taken one of the biggest pop stars and sex symbols in the world, and conflated her talent and success with their product -- it is marketing genius. But who suffers as a result?
Unfortunately, we know the answer to that question: It's the people that always suffer from predatory ad campaigns. Youth and minority groups are routinely targeted with more ads and for less healthy products, according to the Yale Rudd Center. Researchers found that African American youth saw at least 50 percent more fast food ads on TV in 2009 than their white peers. And according to the Centers for Disease Control and Prevention, the rate of obesity for African Americans is 51 percent higher than for white Americans, and the prevalence of obesity amongst the nation's Hispanic American population is 21 percent higher than their white peers.
While there are certainly many factors that contribute to these shocking statistics, there's no doubt that carefully targeted marketing on the part of Big Food corporations play a large role. Beyoncé should think twice before playing right into the hands of Pepsi's insidious branding -- but even more importantly, Americans should start demanding that our government regulate Big Food. In many European countries celebrities are forbidden from advertising for junk foods; not coincidentally, these countries have lower rates of obesity and diabetes, especially among children. If we hope to see more good news in the form of declining childhood obesity rates in this country, we need to work to make sure this Pepsi and Beyoncé "mutually beneficial collaboration" doesn't portend a new trend.
Related