Christmas came early this year: Last night, without a word of warning, Beyoncé dropped a brand new album called "Beyoncé" featuring a video for every single song of the album, an unheard-of feat. It basically goes without saying that everyone is eternally grateful to Bey for improving what was sure to be another humdrum Friday.
Woke up to this .., Beyoncé wearing one on my swimsuits! #robynlawleyswimwear #beyonce #noangelvideo
And sure enough, there is Beyoncé, strutting around in the video for "No Angel" in a retro white swimsuit, layered with jewels and a plush white fur coat (natch).
The white suit is a perfect fit for Queen Bey's hourglass figure, which incidentally isn't that different than Lawley's. No one ever calls Beyoncé plus-size, of course; but seeing how great she looks in the kind of suit showcased by a model the industry does call "plus-size" underscores how arbitrary that label is. Robyn looks gorgeous in it, Beyoncé looks gorgeous in it and the rest of us probably would, too -- no labels necessary.
Editor's Note: Previous references confirming that Beyonce is wearing an exact suit from Lawley's line have been temporarily removed, pending confirmation from Beyonce's representatives.
Robyn looks stunning in swimwear: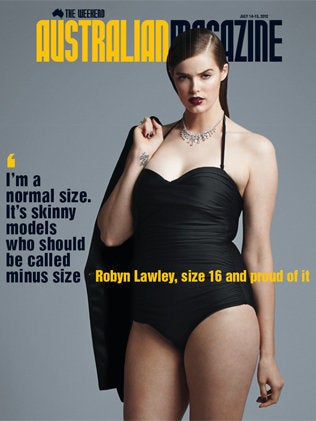 All Things Robyn Lawley
Related