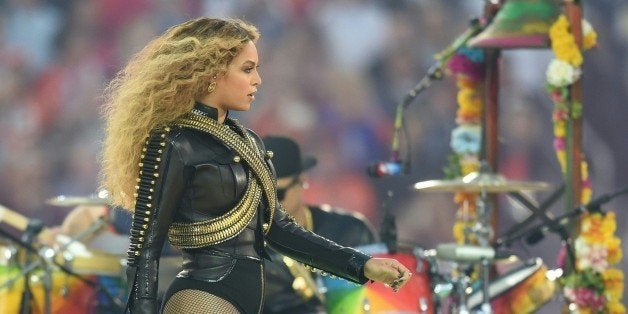 Just a few days ago, Beyonce aka Queen Bey dropped her new video and song, Formation. She also sang it, danced it, and slayed it at the Super Bowl Halftime show. Coincidence? Obviously not.
Beyonce utilized the ultimate American patriarchal and capitalist space in an effort to be a bold, black, political woman. And as a woman of color, I found this to be the ultimate clap back to the white American men who own the NFL.
You may wonder how, or if, dancing in a leotard that referenced the Black Panthers Party might dismantle an entire system based on corruption, colonialism, and racism. Well, let me tell you- it was not just her performance that slayed for the sake of entertainment and revenue; it was her fierce yet digestible message to every woman of color that echoed an anthem founded in endarkened feminism. That in itself, is priceless.
Formation is a rallying cry to take action and not accept the status quo...a blaring alarm to the women of color who inhabit the body of what I consider to be a sleeping giant.
Of course, she is not the first woman of color to boldly inspire us, but she is the first one that sang about it at the Super Bowl Halftime Show.
Beyonce utilized her hips, breasts, booty, hair extensions, social capital, and voice in order to say:
I go hard, I go hard
Get what's mine, take what's mine
I'm a star, I'm a star
'Cause I slay, slay
I slay, hey, I slay, OK...
And that is powerful. It is powerful because Beyonce has now encouraged millions of young women to do the same. She's made endarkened feminism cool. She has turned activism into swag. And as much as people want to protest that her activism has "de-volved" from our forefathers' (MLK, Gil Scott-Heron, Malcom X), it is still activism. Beyonce's approach to speaking out occupies a different form than those of the 1960's and 1970's. The aesthetic has changed. The delivery has been transformed to accommodate us.
Beyonce used a national venue funded by corporate networks in order to make a political statement in order to propel the Black Lives Matter movement.
And that in itself says to me, that the revolution may now be televised.
REAL LIFE. REAL NEWS. REAL VOICES.
Help us tell more of the stories that matter from voices that too often remain unheard.