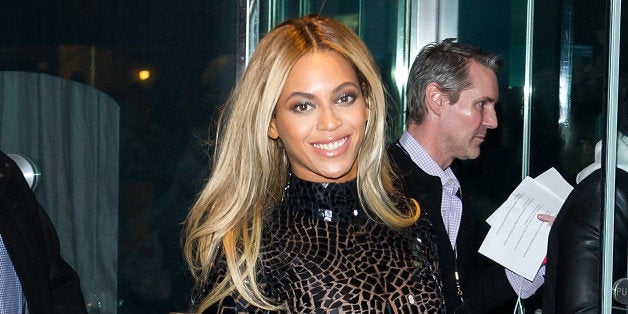 By now, fans of Beyoncé have spent hours with the singer's recently released fifth studio album. The self-titled "visual album" sold over 1 million copies in the first five full days after its release. On Saturday afternoon, Beyoncé screened the corresponding videos at New York's School of Visual Arts and appeared in person to answer some previously submitted fan questions about the project.
Among the topics addressed as fans ate popcorn from "Beyoncé" bags and drank sodas and huckleberry juice: motherhood, why Beyoncé shared more personal details of her life on this record than ever before and how she kept the entire effort under wraps until it hit iTunes. She also explained the birth of "Yoncé," a nickname that's a motif throughout the album (a Justin Timberlake and The-Dream-penned track on the LP is entitled "Yoncé," and the singer wears a necklace with the word on it in multiple videos):
"We were in the studio, and Justin Timberlake started beating on buckets. So, when you hear the beat, it's literally a bucket. It was really organic, and it reminded me of being in middle school during the lunch breaks, when you just start freestyling. So we kept the buckets, and we went back and forth. I was very adamant about keeping it organic, because that whole element is what is so beautiful about it. And Dream just started, 'Yoncé on his mouth like liquor,' and I'm like, 'What does that mean?' But I love it, I think Beyoncé is Beyoncé, Mrs. Carter is Beyoncé, Sasha Fierce is Beyoncé. And I'm finally at a place where I don't have to separate the two. It's all pieces of me, and just different elements of a personality of a woman, because we are complicated."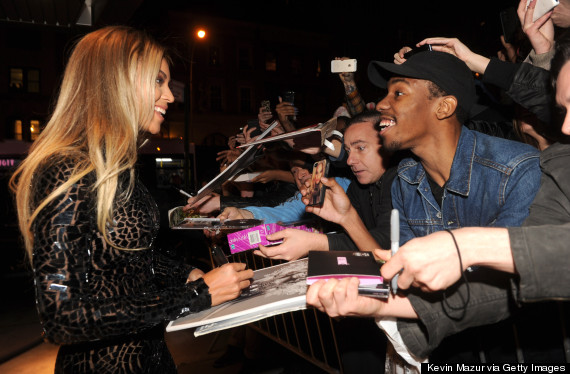 Beyoncé also took fans into what it was like to finally let the project hit iTunes (the album landed in the digital retailer at midnight on Dec. 13). "I just got off the stage, I had a glass of wine and my cousin Angie was like, 'Are you alright?' because I was talking to myself and I was terrified," Beyoncé shared. "I was so scared. I had already gone through all the horrible ways it could go in my mind... I saw it live on iTunes and I waited for the first comment. Then I woke up the next morning and... [breaks into dance]."
"We went through everything to keep it sacred and a surprise," the singer said. "Because there's joy in that and it's missing, and that's something I was able to experience as a kid."
Beyoncé also spoke freely about being a mother, telling the crowd that "it's amazing how motherhood changes you." Framing the project as an exercise in opening up, the singer revealed that she "took all the things about myself that I wanted to change and put it in my music."
"More than the music, I'm proud of myself as a woman," she added. "It's about loving your imperfections and the things that make you interesting, because I refuse to let anyone put me in a box."
When discussing why "Beyoncé" is more personal than previous albums (Beyoncé's husband Jay Z and daughter Blue Ivy appear in videos), the singer appeared to choke back tears. "I have always been very generous, I have been generous on stage and take my pain and joy into my performance," she said. "But I'm private... I think it just took me not being anyone's child. Once I had a child, I broke down that fourth wall. I feel liberated, and I feel like I can give my heart to people."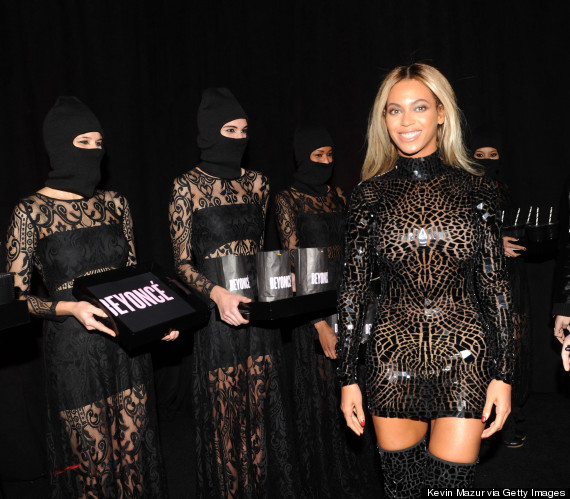 "My father taught me so, so much," she said of Matthew Knowles, who managed Beyoncé until 2011. "When I decided to manage myself, it was important to me not to sign to some big company. I wanted to follow in Madonna's footsteps and be a powerhouse. When you get to this level, you don't have to share your money or your success... And we did it. And it's my company."
"This is my first album that -- of course I wanted people to love it and critics to love it and for it to be successful -- but my goal was not picking a No. 1 single," Beyoncé continued. "My goal was putting together a body of work, and I just wanted to know that people cared about music. Honestly, I was at a point where everything feels the same. What I said in 'Ghost,' 'All the shit I do is boring,' is true. And if I could not challenge that, then maybe it was time for me to do something else or develop more artists, which is something that I could do, but just growth. I just hope that I continue to move forward and challenge myself. I think that now that I've become a mother, I just want my legacy to inspire people. That's the biggest goal, just having happiness and knowing that when people come to my shows, they can leave all the madness and leave there knowing that there is hope."