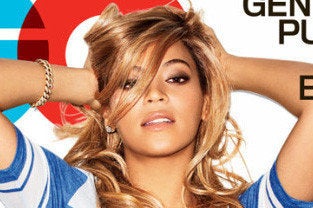 GQ's annual Sexiest of the Sexy issue, in which editors rank the most stunningly perfect of female specimens, hit newsstands this January. This year's edition featured the "100 Sexiest Women of the Millennium," thus sparing us the anticipation of discovering the future "hotties," "babes" and (likely) "robolicious" women of the next 88 years. Look no further. They are all already filed neatly betwixt GQ's pages like tidy binders full of women. The issue has already drawn some controversy and raised eyebrows for what editors proclaim in a collective frat boy shrug to be some tongue-in-cheek comic liberties with their cataloging to include designations such as "Hottest Pregnant Sri Lankan" (What? How is that even a thing?), "Hottest Indian Chick" and "Hottest Italian Chick."
Mega-superstar and giver-of-life to the anointed Blue Ivy, Beyoncé, graced the cover, thereby winning GQ's title of Miss Millennium. Decked out in a tiny, sporty half-shirt strategically raised to reveal the tantalizing (though likely trademarked) concave of her breasts and her boy-cut panties, Beyoncé, the editors argue by way of making her cover girl, personifies sexy. But, there is a less obvious problem than female objectification and exploitation that haunts GQ's and other men's magazine "list" editions. These depictions reinforce one kind of unilateral (and usually heterosexual) male idea of sexy. There is a reason why people flock to all-you-can eat Vegas buffets (and it isn't just to sober up): variety.
The "listing/ranking" gimmick is not unique to GQ or even to men's magazines exclusively, though they are among the publications that has perfected that unapologetic, meat market quality. FHM was one of the first men's magazines to release a "100 Sexiest Women in the World." Supermodel Claudia Schiffer took that top, coveted honor in 1995, followed by other women such as Teri Hatcher and Gillian Anderson. Esquire's contribution to the trend involved first singling out popular women as part of their "Women We Love" feature released in the November edition. To stoke hype, the magazine would print images of the women's body parts in the issues leading up to the big November reveal. And, of course, Maxim's leave-nothing-to-the-imagination's "Hot 100" has been helpfully cataloguing "luscious" ladies since the turn of the twenty-first century.
True, most of these magazines are not the preeminent purveyors of class and taste. They knowingly and obligingly lean into the stereotypes that populate their pages. True, again, the cultural appetite for the fantasy of physical perfection fuels revenue across the board. I do not expect those factors to change much. But would it be egregious to ask for a little... inventiveness? Would it be overreaching to widen the spectrum a bit in order to illustrate that there is more to sexiness than Botox plumped lips or a cupcake bra? The various physical features that wind up driving these lists (long legs, curvy hips and the always charming "junk in the trunk") are often the smallest contributors to a person's actual sexiness. Magazines have conflated a nuanced and extremely diverse quality with our often digitally or surgically enhanced physical components.
Here's a hot list magazine spread I'd like to see. Why not photograph Beyoncé doing her taxes? She's smart, accomplished and taking control over that list of write-offs -- that's sexy. How about Katy Perry working her own mixing board? Let's see Jessica Alba training a Bengal tiger or taking her European History final. Yeah, that's what I'm talking about. Women kicking ass and taking names, that's sexy. While we're at it, let's get Hillary Rodham Clinton on one of these lists. What's sexier than a woman in a pants suit brokering world peace, slurping soup and discussing sanctions with the Prime Minter of Yalangistan? Trick question. There is nothing sexier.
And women should demand the same from their sexiest men rankings. Any old hunk du jour, proffered for you shirtless, tight denimed and cowboy-booted deserves the highest of the qualifying suffixes of "-iest?" I think not. Hear me, Jane and Joe Average: Those that make this ridiculous, superficial list are the pixilated gossamers of fantasy of the highest and most outrageous order. What would you do with cover girl Beyoncé should you somehow miraculously get her alone in your parents' basement? Right. That's what I thought. But the Beyoncé who wants to help you put your Ikea bookshelf together? Now that's a woman with some sexy sexiness.
REAL LIFE. REAL NEWS. REAL VOICES.
Help us tell more of the stories that matter from voices that too often remain unheard.