In contemporary branding, customer experience, satisfaction, and loyalty are a winning trifecta. By this measure, Beyoncé Giselle Knowles-Carter is way out in front.
The "Formation" Tour is ample evidence of her ability to master these variables. As an advanced Father's Day gift, my 17-year-old daughter, Nina, treated me to her recent show at Citi Field in Queens, New York. While the sold-out crowd of 40,000 adoring fans basked in the emotional musical experience, I spent two hours studying the experience through the lens of design.
What I witnessed was a brand in total command. The stealth launch of her new visual album Lemonade, a redefinition of the art of the music video, sets the stage.
At the concert the co-star of the show was design. Fashion, theater, architecture, film, sound, technology, stage, light and color. Each of these disciplines demonstrated that "Queen Bey" has an expert's eye in branding and design.
Central to this was a stadium-high interactive LED cube that pulsed continuously with powerful imagery. It was a living backdrop, rotating and morphing in ways that both delighted and surprised. THX digital sound offered the sonic clarity that the performer deserves. Beyoncé also seemed in command of the elements, her performance animated with wind, water and fire throughout.
Not every consumer brand has the cultural reach and appeal of a pop diva, but Beyoncé's "Formation" Tour offers three lessons:
Great brands are not only about the money.
A big budget is no guarantee of success. Hollywood experiences this with every failed blockbuster. The "Formation" Tour show could have been a bloated, bombastic experience but in turn precision and craft are what I remember. Beyoncé's sensibility includes a lean band, a few bold design gestures, and a lot of surprises. It was an extremely well-optimized budget that is one takeaway every brand can learn.
Great brands are totally sensory.
Great brand expression goes beyond the basic five senses. They fire up our sense of pride, anticipation, ownership, excitement, and solidarity. Sight, sound, touch, smell, and taste are now simply table stakes. The 21st century brand experience must go much further. The total artistry of the "Formation" Tour is that your senses are never given a rest, leaving awestruck fans beautifully exhausted and solidly loyal.
Great brands take no prisoners.
A commanding brand delivers the full force of its message on its own terms, never compromising a note of authenticity. It exudes confidence and shrugs off critics. Everything about the experience is seamlessly reinforced at every turn, every form aimed at exceeding consumer expectations. Beyoncé's brand delivers its promise brilliantly night after night at each sold out stadium.
My only criticism was that the show started an hour late. This was probably a deliberate tactic to build anticipation, but it also meant that the audience needed to suffer through a mixed bag of rappers as the warm-up act. From a branding standpoint I found this to be a sour note; however, the moment she appeared on stage all was forgotten and forgiven.
Beyoncé is an unparalleled pop icon and a sophisticated marketer. She nimbly exploits the 21st century's fascination with celebrity, spectacle, and sex as a framework for her brand to in turn build on the commercial success of Lemonade. Together, this and the "Formation" Tour undoubtedly add a high polish to her already brilliant career.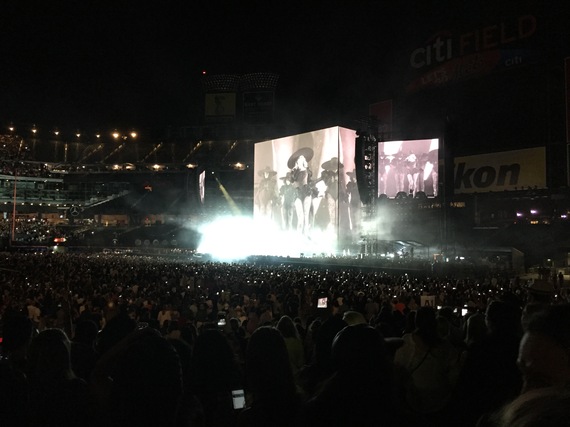 REAL LIFE. REAL NEWS. REAL VOICES.
Help us tell more of the stories that matter from voices that too often remain unheard.