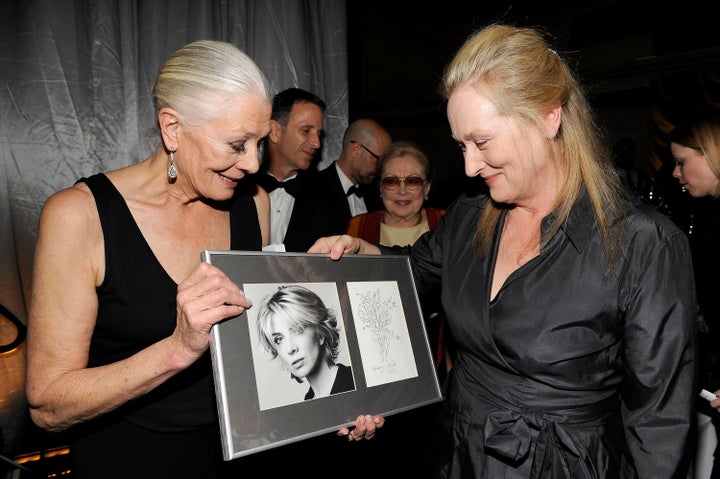 The actress Meryl Streep melted audiences everywhere (like chocolate in a bain marie) with her Oscar-nominated performance in Julie & Julia, the quirky and wonderful movie about Julia Child and a young woman who seeks to replicate her cooking success.
I'm certainly not a film critic but I believe that no one can transform herself into a character like Meryl. I am an environmentalist, though, and I can testify to another role that Meryl has held with great passion -- environmental health activist. Meryl has been a transformative leader in the environmental health and green consumer movements for over 20 years. Early on, she was able to connect the dots for people, showing how seemingly abstract environmental issues touched us personally, from the food we fed our kids to the everyday products we brought into our homes. And as an activist mom, she became a role model, encouraging us all to be vigilant in the supermarket aisles and to vote with our dollars for the safest products.
Meryl Streep and I first met in September 1988. That summer, the ozone hole had been discovered over Australia, where she was filming A Cry in the Dark, and she was moved to act. Upon her return to the states, she offered to help NRDC raise awareness about environmental issues. At that time, NRDC scientists were working on a report about weaknesses in the regulation of pesticides used in food production. The report's release in March 1989 became known as the Alar report (for the growth regulator used on apples), and Alar in turn became the symbol for lax regulations of toxic pesticides that could be found in and on common fruits and vegetables. Meryl and I worked together to create Mothers & Others, a group of concerned citizens that rallied to support NRDC in the fight for tougher pesticide residue standards, standards that thanks to a law passed ten years later would protect particularly vulnerable sub-populations such as infants and young children.
It's been 21 years since NRDC's pesticide report was released and Mothers & Others was launched. Now back at NRDC, working on Simple Steps, a consumer-oriented news-you-can-use site, I wanted to take stock of all that has happened, and catch up with Meryl to recall what really mattered to her most back then and what still matters today. I had that chance recently, over breakfast in a quiet tea room in New York City. I've shared some of our conversation, including a few audio clips here.
Popular in the Community