Often contextualized by war and conflict, many in the Arab world are portrayed by some of the media as either victims or perpetrators of violence.
In order to shatter these stereotypes, it's important to step back and examine how other cultures live. I spent six months living in Damascus, Syria, producing a documentary about a family of Iraqi refugees who'd fled the violence of pre-surge Iraq, back when the bloodshed was at an all-time high. Most of my work has focused on their plight, which is violent and traumatic, but I'd like to acknowledge just how much resilience, humor, and graciousness I found in those Iraqis who eventually became my good friends.
I also had the opportunity to live in a country that wasn't technically part of Bush's "Axis of Evil," but might as well have been, with the way it was vilified by the former administration. To add insult to injury, Syria received nary a thank you for absorbing two million Iraqi refugees displaced by the American invasion.
Politics aside, Syria is a fascinating place.
With a one-bedroom apartment as my home base, I was well positioned to hit the streets and explore the capital of Damascus. Sure, Syria is a US-designated State Sponsor of Terrorism, due to its support for organizations such as Hezbollah and Hamas, but as a visitor, you wouldn't know it.
The way I'd describe Damascus is a "magical playground." Visit the city center, and you'll find the magnificent Old City; a labyrinth of shops, spice markets, and restaurants enclosed by a wall that dates back to the 13th century. But the most breathtaking sight is the Ummayad Mosque, the most important religious structure in all of Syria.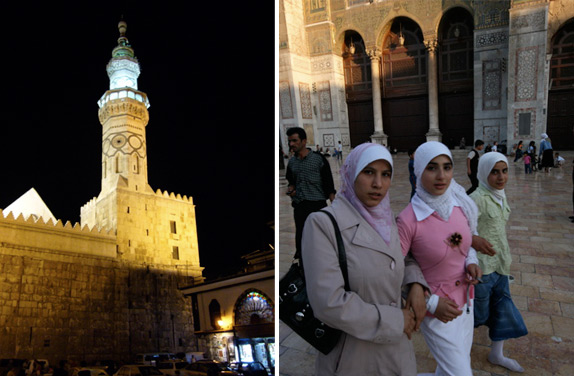 Taking in the sights, I was subjected to the requisite hawkers hoping to peddle their wares at a "special price" (twice as expensive because you are an American). But I also felt a sort of celebrity status with the locals. Because Syria is quite insular (websites such as YouTube and Facebook are banned), visitors from outside provide an opportunity for dialogue that's missing. The locals were eager to invite me over for tea or dinner, anxious to discuss world affairs with a Westerner.
No one had a problem with the fact that I didn't cover my head. I dressed just like I do at home, and like most of the other Syrian women I saw. Contrary to popular belief, Syria is a secular system of government. There are no 'morality police' roaming the streets to crack down on violators of a dress code. About half the women I saw were covered. The rest dressed like women you might see in the US - tight shirts, gold jewelry, and enough makeup for a runway show.
I tagged along with locals to art exhibits, sipping white wine and sampling hors d'oeuvres as I perused the work. The art scene in Damascus is thriving - a motivated new generation of contemporary artists is beginning to find recognition on the international scene.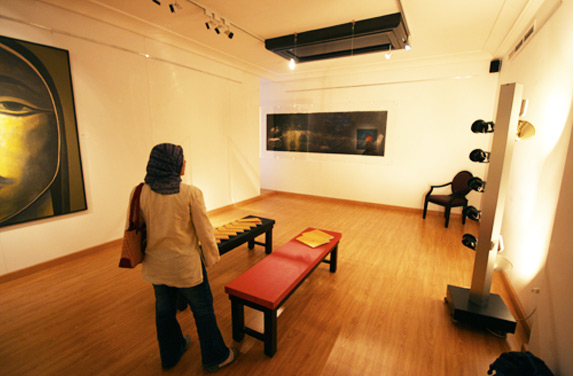 I sipped cocktails and danced until four am at nightclubs, where the DJ's played a mix of Arabic and American pop-culture music, like Justin Timberlake and Beyonce.
With the weather at well over 100 degrees, I chose to spend my afternoons at the local swimming pool. Most gyms split their days into men's and women's hours. Women's swim time meant shedding the headscarves, sunbathing in skimpy bikinis, smoking nargila, a hookah tobacco pipe, and gossiping with their girlfriends. Sometimes I felt as if I'd been transported back to the US.
At sundown, the city truly came alive. The downtown shopping area was always teeming with people. Women wearing abayas browsed gold jewelry and sexy lingerie. Parks were packed with families, young couples enjoying ice cream on park benches, and parents pushing children on swings.
Teens and twenty-somethings also gathered for social hour - flirting in the park with members of the opposite sex, enjoying nargila at coffee shops, or shopping at Mango, Zara, or Benetton.
UNEXPECTED REFUGE WITH IRAQI REFUGEES
Some people who weren't doing much shopping and dancing at nightclubs were the Iraqi refugees who were living on visitor visas in the slums of Damascus and its outlying areas.
For the first four and a half years of warfare in Iraq, Syria kept its borders open to those wishing to flee, absorbing 2 million Iraqis into a country whose population is 19 million.
I spent many days with the Hashem's, a formerly upper-middle class family who'd left Baghdad for the save haven Syria provided. With half of their family still in Baghdad, living on a street where multiple car bombs had blown out all the windows and doors of their home five times in a matter of months, they had plenty to worry about.
But somehow, they were able to keep a sense of humor about their situation. Once I was grabbing something out of the kitchen cabinet, and the entire door came off its hinges and crashed to the floor. I was mortified. I felt I had inadvertently exposed something I'd been pretending not to notice - the horrible shape of the apartment. While I turned beet red, the Iraqis simply burst into laughter.
Though I had my own flat, I frequently opted to sleep on the floor of their apartment in Yarmouk, a neighborhood that was formerly a refugee camp for Palestinians. The eight people living in this one-bedroom apartment would typically stay up all night and sleep all day, so it felt like a big slumber party.
We'd watch satellite television, consuming hours of Western pop culture. Oprah and Dr. Phil were some of their favorite shows. We made a point of getting our celebrity gossip fix by catching "Access Hollywood" each night.
I grew to adore five year-old Noona, who loved the novelty of having an American in the house. We spoke in a strange hybrid of sign language and Arabic. We played a game I myself had played as a child, "Airplane," with Noona perched on the soles of my feet, giggling uncontrollably.
Noona's 28 year-old mother Wudian was a quiet, yet funny one. Often, she'd sneak off to the Internet cafe. Using a fake screen name, she'd attempt to catch her husband flirting with girls online.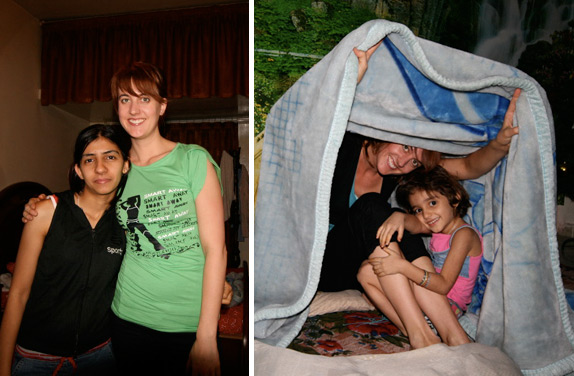 Jasmine, 25, reminded me of an Upper East-Side girl. She would spend hours on her hair and makeup each day. With nowhere to go and nothing to do, she'd take her beautiful self back to the couch to watch movies.
Each morning, the family matriarch, Asafa, would insist upon making me coffee and breakfast, much like my own mother does when I visit home.
When it came to the war, I found Iraqis to be resilient and forgiving. They'd had friends and family members brutally murdered, and had been displaced from their home because of a war the US started. But they'd never speak ill of American citizens; they recognized that many of us had opposed the war. They wouldn't criticize President Bush either - as a head of state he deserved respect, regardless of whether or not they agreed with his actions.
Iraqis are eager to give as well. They'll stuff you with traditional meals, to the point where you feel your stomach might burst. The moment you remark on something that you like in their home, they'll give it to you. One time, a woman gave me the shirt off her back when I told her that I thought it was pretty.
My time in the Middle East was invaluable - conversation is the best way to connect cultures. Syrians and Iraqis are not "others", as some in the media would have us believe. We are subconsciously taught that they're so different from us that we can't possibly forge ties of friendship. But we can, and there are many ways to do so, whether you buy a plane ticket to the Middle East or choose to reach out closer to home.
In the past year, we've finally seen more Iraqi refugees resettled across the United States. A new program called Netroots allows US citizens to connect with Iraqis in the United States who need help settling in. You can start by sponsoring a family in your community.
Iraqis are ordinary people who all have similar dreams of providing for their families and living in peace and security. The more we realize this, the more we can close this gap of understanding, and perhaps decrease the likelihood that a war like the one in Iraq will be allowed to happen again.
To see video pieces from Syria, including footage of the family described above, visit JennyJo.com
Popular in the Community