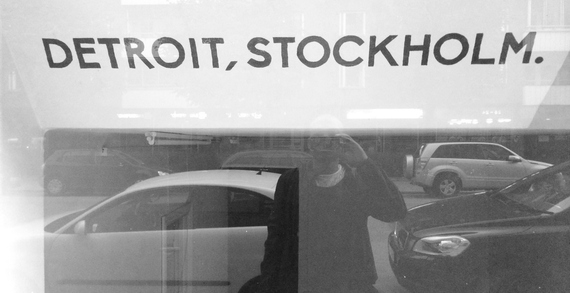 As Sweden prepares to put Avicii's face on a new stamp, it seems that this country of less than 10 million people is dominating the global mainstream music scene more than ever. From Max Martin's recent collaborations with Ariana Grande and Taylor Swift sitting in the global top ten, to the fact that (unfortunately) House Music has become synonymous with the term EDM....Swedish music production (or at least its influence) is just about everywhere.
But during a recent visit to Stockholm, what surprised me (or comforted me I should say) is that amidst the sea of white noise and radio driven pop being created, there is also a sophisticated underground and techno scene, providing a refreshing sound and being led by a host of female Ds.
My first encounter with the underground sound of Sweden (even before my late discovery of Adam Beyer, a pioneer of the techno scene) was through Axel Boman's track, "Purple Drank."
And what I heard this fall blasting out of Stockholm's sound systems and into the night was an evolution of this sound....into a vibrant, groovy and danceable techno.

In Stockholm, house and techno is not only reserved for the underground. The genre is given an almost commercial platform in the form of the F1 events at the Fotografiska Museum. Bringing in some of the best DJs and live acts in the world, and allowing people to experience the visceral power of house and techno for the first time, helps the music reach new audiences and continue to grow.
And since the scene in Sweden is still small, it seems everyone knows (or knows of) the local heroes: Nadja Chatti, Nima Khak (no stranger to the Berlin scene), and the one that seems to be changing the game, Jessie Granqvist. A beautiful blonde with the ability to ignite a dancefloor...be it at Berns or an underground party, all with a smile and always with a sound uniquely her own.
In Stockholm you can see how the music truly does bring people together. Here, there is a unique sense of community amidst the pounding drums and booming bass, echoing the origin of this sound in 1980s America. House in Chicago (and subsequently techno in Detroit), evolved in a space that allowed people to be free, to let go, to party, to feel a sense of community in a segregated society... regardless of race, sexual orientation, or gender. And though the sound has evolved, it somehow still reminds us that we are all human, and that we are all connected. Nina Kraviz (not Swedish, but relevant to the topic of driven female DJs) discussed in a recent interview the power that music has to unite people.
Hopefully proper house and techno will one day be exported to the same dance floors pumping Avicii and help to change the way we party, creating a collective celebration of the night and this life together. But for now, it's exciting to know that this music is continuing to reach new audiences and bring people together on the other side of the world and 30 years after the beginning of this sound on the West Side of Chicago.
Calling all HuffPost superfans!
Sign up for membership to become a founding member and help shape HuffPost's next chapter